Interventional Therapy & Cryotherapy Give a New Lease of Life for Lung Cancer Patient
KHO HADI KARNO, a lung cancer patient, comes from Indonesia. In August 2015, he always felt fatigued and had worse memory gradually, easy to forget the recent events. And then, accompanied by his family, KHO HADI KARNO took check-up that showed he got lung cancer with mediastinum, lymph node and brain metastasis. The doctor in Indonesia asserted that if he did not take surgery immediately, he would only have 2-month survival time. This bad news gave them a sense of doom and gloom, but they were not knocked down and continued to find better treatment instead of surgery.
Later, they knew about Modern Cancer Hospital Guangzhou which can treat cancer with advanced minimally invasive technologies instead of surgery. After consultation in Surabaya office of the hospital, KHO HADI KARNO decided to receive treatment at the hospital. On Sep. 2, 2015, he arrived at Modern Cancer Hospital Guangzhou with his wife and son. Professional MDT (multidisciplinary team) customized an individual treatment program of interventional therapy and cryotherapy for him. From Sep. 2015 to Jan. 2016, he received 6 sessions of treatment. Now, his pain has been reduced and memory has been improved. All of the targeting and non-targeting lesions have disappeared and the tumor markers become normal.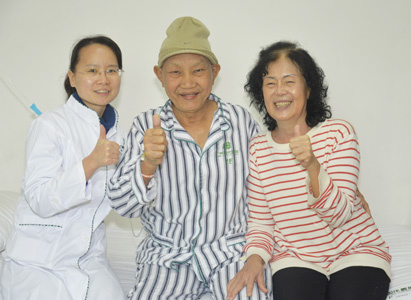 The couple and doctor Lin Jing
Although it was asserted that he was on the brink of death with only 2-month survival time before, he has lived for 6 months with better and better condition now. He said that he received heartfelt care from doctors and nurses in Modern Cancer Hospital Guangzhou, who constantly concerned about his condition changes, and he proceeded with confidence due to the company of his wife and son. While remembering this anticancer marathon, he said that the advanced technologies in Modern Cancer Hospital Guangzhou offered him a glimmer of hope in the dark. He hoped that more cancer patients can take effective treatment here and all of the patients can become better and better as him and beat cancer finally.
If you have any questions, please contact us via online consultation, email or phone call. If you find our website useful, please follow our FaceBook and YouTube, health information will be updated regularly.
Online Inquiry
CLICK HERE!
Let's Have A Healthy Life!
Video
To show you
what is cancer by
videos
Chatting on Facebook

Become a fan of us!
+Follow
We are waiting for you.