ANG LIM HUAT: Positive and Optimistic Attitude Helps Cancer Treatment more Effective
"My wife has accompanied me with patience and encouragement all the time, which brings me strong power to fight against cancer. The advanced cancer technologies, thoughtful treatment and care of doctors and nurses also strengthen my confidence."
ANG LIM HUAT from Indonesia was fifty four years old. In 2011, there were two lumps in his neck, which can be seen by eyes. Though he thought he got sick, he did not worry about these because he had been healthy and two small lumps did not take any bad effects on his body and life.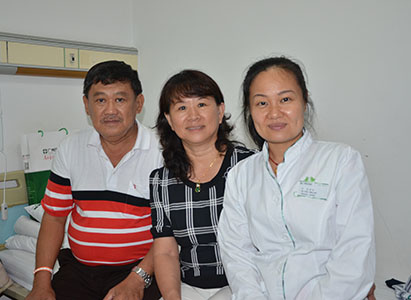 Mr. and Mrs. ANG LIM HUAT took joint photo with his chief doctor, Hu Ying.
In a year before July, 2011, there were many small problems on ANG LIM HUAT's body. For example, he woke up at the midnight and after that he can not go back to sleep. What's more, he was also difficult to breathe, coughed with much phlegm. Until one day, he took a long call with his child and he showed symptoms of tinnitus and the hearing had some problems, too.
ANG LIM HUAT took a body inspection in Malacca. The local doctor asked him to cut his meat and take chemical examination. He and his wife guessed it was cancer and they thought the inspection method was not good so he refused to take inspection there. Later, he went to Singapore, he found an experienced clinical doctor to take an inspection. He took a blood test and the result showed that it was cancer. The doctor suggested him to seek for a professional hospital to take cancer treatment. After confirming the disease, his wife felt terrible and worried. Their children in Jakarta consoled her on phone call and persuaded her to keep calm in case ANG LIM HUAT's condition got worse. Their children said that they should look for solutions and find a proper hospital to treat cancer so they gathered information about cancer hospitals in Guangdong on the Internet. After comparing with the medical level, service quality, etc, they chose Modern Cancer Hospital Guangzhou.
In July, 2011, ANG LIM HUAT and his wife arrived at Modern Cancer Hospital Guangzhou. He received the interventional therapy, which was doctors suggested, and he discharged from the hospital. On November 6th 2011 and December 14th 2011, he took return checks. After careful inspections, doctor told him that his cancer was gone. When he took the interventional therapy, ANG LIM HUAT did not show any symptoms of vomiting, bad appetite and other side effects. After taking cancer treatments, ANG LIM HUAT and his wife took a bus to go round Guangzhou. They also joined the travels which were held by Modern Cancer Hospital Guangzhou and went to Beijing Road, Shangxiajiu, etc. On May 11th, 2015, when he took a return check again in Modern Cancer Hospital Guangzhou, they were nervous and worried that the cancer would relapse. However, the result showed that his condition was in good control and there was no sign of relapse. Her chief doctor, Hu Ying, shared the good news to them. ANG LIM HUAT said her child made a right decision.
During the interview, Mr. and Mrs. ANG LIM HUAT expressed their thank-you to doctors and nurses of Modern Cancer Hospital Guangzhou. He said that doctors and nurses carefully and thoughtfully took care of me. Every staff here was nice and amiable and provided good services.
Mr. ANG LIM HUAT, whose condition was in effective control, sincerely suggested all cancer patients can listen to doctors'
After going through this cancer, Mr. and Mrs. ANG LIM HUAT decided to travel around the world and broaden their horizon. Wish them happy forever!
If you have any questions, please contact us via online consultation, email or phone call. If you find our website useful, please follow our FaceBook and YouTube, health information will be updated regularly.
Online Inquiry
CLICK HERE!
Let's Have A Healthy Life!
Video
To show you
what is cancer by
videos
Chatting on Facebook

Become a fan of us!
+Follow
We are waiting for you.