KOK KAH LEONG: "Interventional therappy + cryotherapy", no fear of nasopharyngeal cancer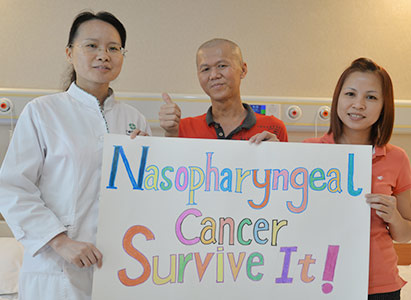 KOK KAH LEONG's couple and Dr. Lin Jing
KOK KAH LEONG, a nasopharyngeal cancer patient from Malaysia, was found cancer recurrence and liver metastasis.
In January, 2014, it was supposed to be hopeful and happy festival but he and his family went trough a long and unhappy period because he was diagnosed with nasophayrngeal cancer.
At first, he noticed some symptoms like dizziness, headache but he did not pay attention to it. Until the symptoms aggravate, he went to see a doctor with the company with family. However, his world turned upside down when he knew the result. He never thought that it would happen on him, fear and pain broke him down, but he cannot give up because his elder patients, young child and beloved wife and other relatives were supporting him.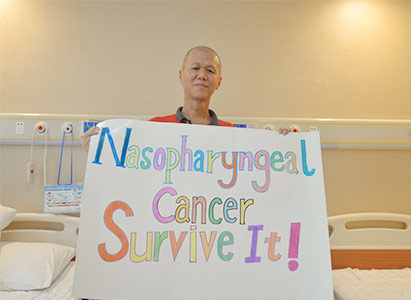 KOK KAH LEONG
Under the suggestion of the local doctor, he took chemotherapy, radiotherapy and other medicines. His body is weaken day by day duo to the treatment. One day, a good news came to him that his condition was improved. He was very happy because he saved from cancer.
Wonderful time had gone so fast. He witnessed his son grew from 9 years old to 11 years but he faced a threaten again at this time. Cancer came back to him and it already spread to liver. Facing with this fact, he was desperate and hopeless. Chemotherapy and radiotherapy had made him suffered a lot and he did not want to go through it again or leave his family. Thus, he looked for other cancer options.
A surprising news was that his neighbor told him that St. Stamford Modern Cancer Hospital Guangzhou is a good cancer hospital. His neighbor is a 70 years old lady who was diagnosed with liver cancer and took treatment at St. Stamford Modern Cancer Hospital Guangzhou before. Her story inspired him so he went to Malaysia office for face-to-face consultation. After that, he decided to go to Guangzhou for treatment.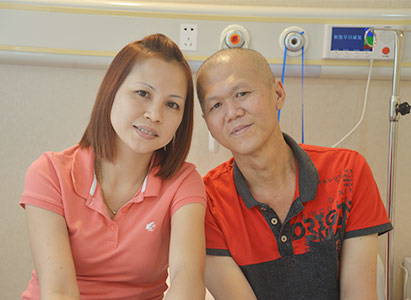 KOK KAH LEONG and his wife
On March 7th,2016, KOK KAH LEONG with the company with his wife came to St. Stamford Modern Cancer Hospital Guangzhou. After careful check-up, MDT(multidisciplinary team) made a plan of " interventional therapy + cryotherapy" for him. KOK KAH LEONG said he felt more relaxed after the first session of interventional therapy and the symptoms of ache of shoulder and head relieved. On March 17th, he underwent cryotherapy and on March 27th he took interventional therapy. Especially at the second session of interventional therapy, his body recovered a lot with improving sleeping quality and better physical condition. He also showed around Guangzhou.
April 18th is the reviewed check-up day for KOK KAH LEONG. The results showed that his tumor shrank by 60%, compared with the first time he took the check-up result. KOK KAH LEONG kept on taking interventional therapy three times. Now he can happily said that pain was not with me anymore. After a few session of treatments, he did not show any side effects.
KOK KAH LEONG said when he first went to this hospital, he felt very comfortable because every medical staff is passionate with smile which helps me remove the fear and feeling of strange. He said doctors and nurse from MCHG are responsible and kind. He took treatment here where he can see a hope of future, wishing to make a life happily.
If you have any questions, please contact us via online consultation, email or phone call. If you find our website useful, please follow our FaceBook and YouTube, health information will be updated regularly.
Online Inquiry
CLICK HERE!
Let's Have A Healthy Life!
Video
To show you
what is cancer by
videos
Chatting on Facebook

Become a fan of us!
+Follow
We are waiting for you.