Information
Date:April 25, 2015
Time:9:00am —- 1:00 pm
Free Reservation:02-8221222
Venue:Diversion 21 Hotel, ILOILO
Content:
In this symposium, we will invite international oncology expert, Chen Bing, to introduce the latest technologies in cancer treatment. The forum will also cover topics such as cancer prevention and the application of stem cell therapy in the medical field. There will also be a free consultation with our expert. For those interested, just bring your latest medical report, such as PCT/CT、SCAN/MAR, etc so our experts can provide comprehensive treatment advice.
Innovative Anticancer Technology Brings New Hopes to Cancer Patients
According to the latest statistics, the incidence and mortality of cancer ranked third in Philippines. In 2014, the cancer accounts for 10% of the deaths in Philippines. The mortality of lung cancer ranked the highest, followed by breast cancer and colorectal cancer. While the incidence of breast cancer ranked the highest, followed by lung cancer and colorectal cancer.
With the advanced development in medical technology, apart from traditional therapy, there are still a lot of innovative technologies for cancer treatments, such as particle knife, cryosurgery therapy, interventional therapy, biological immunotherapy, etc, which bring patients new hope. Modern Cancer Hospital Guangzhou has helped thousands of cancer patients fight cancer utilizing these sixteen minimally invasive therapies.
Introduction
Chen Bing President
Director of Modern Cancer Hospital
Guangzhou China
Leading Director of MDT discipline of
Modern Cancer Hospital Guangzhou China
Member of Chinese Medical Association
Member of Immune Treatment Committee
Member of Guangdong Anticancer
Association Council
Member of CSCO (Chinese Society of
Clinical Oncology)
President Chen Bing has engaged in medical clinical work and hospital administration work for about 30 years, with rich medical theoretical knowledge and hospital administration experience. He is specialized in diagnosis and treatment of general surgery and conducting laparoscopic surgery. President Chen Bing has accumulated rich clinical experience of diagnosis, surgery and treatment of cancers, such as lung cancer, breast cancer, prostate cancer and esophageal cancer, etc, taking patients as the center and strictly monitoring medical service quality. He has been awarded with the title of "excellent hospital manager"of provincial level many times. Dr. Chen has been invited for several times to many national big cities to attend academic forums for discussing and communicating with renowned specialists. Also, he has published more than 30 academic articles. His comments as a doctor are, "Respect for life and treat patients with kindness."
Event Information
Highlight of Symposium:
1.The presence of international
authoritative cancer experts
2.Free consultation
3.Knowing the latest international
anticancer technology
Our Experts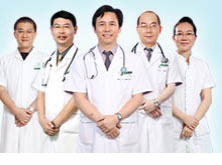 In MCHG, each of our patients will have a professional team consisting of multidisciplinary experts to follow the whole process of diagnosing, treating and nursing. Our MDT group will include doctors and nurses of various departments such as oncology treatment, pathological diagnosis, pain management, rehabilitation care, etc. [Read More]