Information
Date:May 30, 2015
Time:9am-1pm
Location:L Fisher Hotel, Bacolod
Content of Activity:
Cancer is a kind of life-threatening malignant disease, which brings pain and desperation to the patient and his family. The side effects brought about by traditional surgery, chemotherapy and radiotherapy are obvious, unbearable and painful. Many patients cannot tolerate these side effects even resolving not to undergo any treatment. But cancer does not necessarily equates to death; and surgery, radiation and chemotherapy are not the only treatments we've got. Many cancer patients can get good therapeutic effects as long as their diseases can be diagnosed and treated early on with the correct therapies, to live a normal and healthy life.
International Minimally Invasive Technologies: Treating cancers with lesser trauma and faster recovery
On May 30, the 2015 Philippine Health Forum on Medical Innovations will be held at L Fisher Hotel Bacolod. The speaker invited is Dr. Li Xiaoshi from Modern Cancer Hospital Guangzhou, who will bring you 18 new cancer treatment technologies with the advantages of smaller trauma, quicker recovery and fewer side effects, among which are the interventional therapy, cryotherapy and radioactive particle implantation. These new technologies can bring you new hope and help you avoid traditional surgery, radiation and chemotherapy. After the seminar, our expert would be providing free consultation and design a personalized treatment plan based on your actual condition. Choosing the appropriate minimally invasive technologies can help you alleviate pain, improve your quality of life and prolong your life-span. For reservations, kindly contact these numbers as seats are limited. Registration is free. For those interested to have free consultation, kindly bring your latest laboratory results.
For reservations, contact:822-1222 / 09154642818 / 09228083333
Introduction
Professor Li Xiaoshi
Professor of Advisory Board in Modern Cancer Hospital Guangzhou
Editorial Member of Chinese Pratical Oncology Journal
Professor Li Xiaoshi, Chief Surgeon of Modern Cancer Hospital Guangzhou, Member of Chinese Medical Association and Editorial Member of Chinese Pratical Oncology Journal, has engaged in clinical work and hospital administration work over 30 years with rich experience. He is specialized in minimally invasive therapy of cancer and has an in-dept study of biological immunotherapy (gene therapy & immune therapy), particle targeted therapy, Chinese medicine therapy. Also, he has published about 40 academic articles, ten of which were awarded and won six prizes of technology outcome at provincial level and wrote Handbook of Bone Marrow Inspection and Health Guidelines of Oil Workers.
Event Information
Highlight of Symposium:
1.The presence of international
authoritative cancer experts
2.Free consultation
3.Knowing the latest international
anticancer technology
Our Experts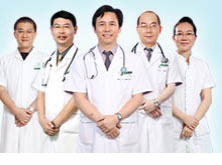 In MCHG, each of our patients will have a professional team consisting of multidisciplinary experts to follow the whole process of diagnosing, treating and nursing. Our MDT group will include doctors and nurses of various departments such as oncology treatment, pathological diagnosis, pain management, rehabilitation care, etc. [Read More]