Comprehensive therapy successfully resists lung cancer
  No one would ever expect that cancer is likely to happen to a man in his energetic 30. However, it did happen to Mr. Liang from Jakarta, Indonesia. In April, 2011, a tumor was detected in the left lung of Mr. Liang by a routine heath examination. He said it was rather unacceptable and no one healthy could ever image how awful it was when hearing the news of having cancer. "At that moment, I thought of my parents and my young life, tears uncontrollably came down from my eyes." Although has been overwhelmed by painfulness and confusion for a long time, Mr. Liang still persisted in seeking for the best treatment. However, the treatments in Indonesia and Philippines were not effective as expected. Later, he heard about the minimally invasive therapies of Modern Cancer Hospital Guangzhou, knowing that his cancer can be treated without surgery. He then determined to go to China for treatment. Although he had no idea what would happen in China, he would not give up every hope that he had.
  As soon as he got off the plane, Mr. Liang saw the hospital staffs to pick him up from the airport. After his arrival at Modern Cancer Hospital Guangzhou, Mr. Liang was accepted by the warm-hearted interpreters and nurses. After the admission procedure, interpreters introduced to Mr. Liang about the hospital and its circumstance, so as to help him get used to the life circumstance as soon as possible. Chief surgeon Dr. Peng Xiaochi and attending Dr. Tang Xiangzhuan came to see Mr, Liang. They learned about his condition and told him to take good rest. Mr. Liang was moved by their friendliness and consideration. He thought that he had made a correct choice.
  The next day, Mr. Liang was arranged to do a comprehensive examination, which suggested high differentiated adenocarcinoma in his left lung. Dr. Peng and Dr. Tang, together with interventional therapy specialist Wang Ronghua, chief surgeon Dr. Liu, cryosurgery specialist Zhen Yanli and Chief surgeon Dai Wenyan, had a study on Mr. Liang's CT images and discussed about the treatment plan. They finally determined a treatment plan for Mr. Liang, which consisted of cryosurgery, surgery, interventional therapy, chemotherapy and natural therapy. Combination of Chinese medicine (mainly aweto) was also used to adjust and nurse the patient's physiques.
  Conformal cryosurgery in Modern Cancer Hospital Guangzhou precisely focus on the cancer and kills the cancer cells. It requires the doctor to possess skillful operating skills and solid foundation of both medical imaging technology and anatomy, so as to precisely determine the direction, angle, quantity and force of the puncture of Ar-He knife. Only in this way, can the cancer be killed with minimal harm to the normal tissues. After a series of comprehensive therapy, the 2.3X2.1cm tumor was found shrunk under PET/CT and Mr. L's condition was improved. In addition, with the enhancement of natural therapy and the nursing effect of Chinese medicine, Mr. L's immune system was repaired and his immunity was improved.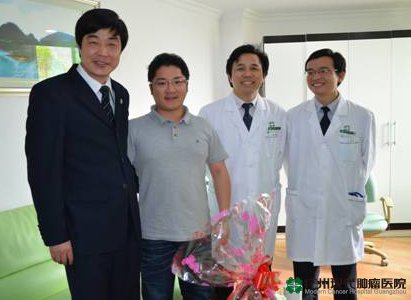 During the treatment procedure, attending doctor Tang Xiangzhuan attentively cared about Mr. Liang. He went to his ward to see him, ask him about his treatment history and physical condition to ensure there was no mental burden and discomfort in his diet and life. Dr. Tang also told Mr. Liang to maintain positive attitude, so as to better fight against cancer. After the treatment plan came out, Dr. Tang immediately came to Mr. Liang's ward companied by the interpreters to tell him the development of his condition, treatment to be practiced and expected treatment effect. He encouraged Mr. Liang to trust him and keep an optimistic mind, instead of carrying mental burden.
  Mr. Liang was very grateful with Modern Cancer Hospital Guangzhou for the treatment and the medical nursing staffs' attentive care. He said it is a tough journey to fight against cancer, but he will persist to fight against it. He hoped that every cancer patient can face his own life actively.
If you have any questions, please contact us via online consultation, email or phone call. If you find our website useful, please follow our FaceBook and YouTube, health information will be updated regularly.
Online Inquiry
CLICK HERE!
Let's Have A Healthy Life!
Video
To show you
what is cancer by
videos
Chatting on Facebook

Become a fan of us!
+Follow
We are waiting for you.