Panoso: a Sunny Story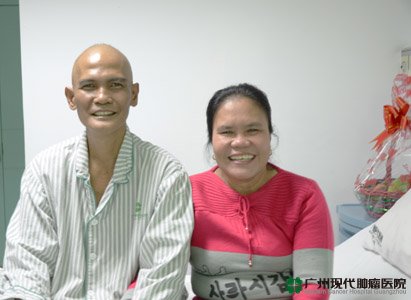 Panoso, 47 years old, was living in Manila with his tender wife and cute daughter. Engaging in kitchen decoration, he deeply loves his job, and said that there are many people asking me to help decorate their kitchens, and I am really pleased to do this. I was used to picturing that a family is cooking happily in kitchen, just like my family is."
  Panoso was strong and energetic. "When I was told I got cancer, I was shocked and did not know how I felt. My body was falling apart and I lost the strength to talk and work", Panoso said.
  His wife said she could not forget the moment either. Her husband is sun of the family full of activity and enthusiasm. With a long thinking about the cause of his cancer, she believed it was smoking. Panoso smoked almost 4 boxes of cigarette every day. She said she should have persuaded him to quit smoking when he started coughing.
  Refusing to Do Biopsy, He Needs Courage even to Confirm His Condition
  Since June, 2012, Panoso had been developing severe cough but he thought it was just pneumonia or bronchitis, so he only got a period of anti-infective treatment, however it did not get any better. At the end of June, he did a check-up, CT scan showed he was highly suspected with lung cancer and his doctor advised him to do biopsy to further confirm it, however, Panoso refused.
  He said: "my father died when undergoing biopsy. It is very dangerous to do biopsy in Manila." His wife added: "He is still under the shadow of his father's death, so he does not have the courage to do this." Then his fear blocked his treatment and his condition was getting worse, his weight decreased to 43 KG like a young girl's.
  Attracted by Technology and Facility
  Panoso's cousin brought this upset couple good news from an article about Modern Cancer Hospital Guangzhou on "The Sun" and cannot wait to encourage them to go to China. The advanced technology and facilities which saved numerous people were only mentioned in a single large hospital of Manila. "The technology attracted me to come here and have a try, I believed science and technology would alleviate all my fear", Panoso said.
  Undergoing Treatment without Mental Burden
  They contacted with Manila branch office of Modern Cancer Hospital Guangzhou and then in September, 30th, Panoso and his wife went to China. In fact, advanced technology does create the opportunity to regain his health. Furthermore, the highly cooperating medical team also gave his great help.
  "They explained the applications and prohibition of biopsy and told me my father's death was only an accident that can be avoided. I did an overall check-up and my fear was gone." After admission, he firstly underwent PET-CT, biopsy and EGFR to accurately confirm the cancer type and its location. Doctor said he had left lung cancer with metastatic lymph nodes of left hilar and obstructive pneumonia and invasion in pleura, but Panoso was not afraid for this result, on the contrary, he had been fully convinced by the technical capability of this hospital.
  In the following treatment, without any mental burden, he underwent Ar-he knife and three sessions of interventional chemotherapy. "For the whole process, I felt very relaxed and did not feel any pain and discomforts." Panoso said.
  Becoming a Cancer Survivor
  His chief doctor said: "Panoso positively cooperated with our treatment and because his cancer was found very early, the therapeutic effects are very good."
  In November 20, he just finished the third session of interventional chemotherapy and the CT showed the cancerous tissues in left lung and left hilar have shrunk by 90% and the obstructive pneumonia has been absorbed primarily.
  Finally, Panoso and his wife went back to Philippines and would come back to do regular follow-ups according to doctors. " I am really thankful for everyone here, the doctors, nurses, interpreters and the cleaners. They let me feel happy and warm here. I become a cancer survivor and maybe my story will bring hope to many cancer patients like me." Panoso said this with a sunny smile.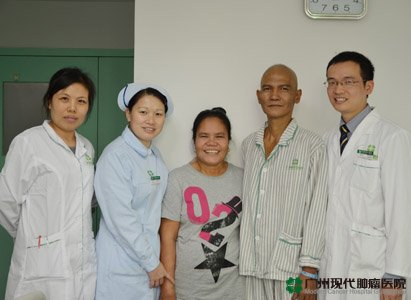 If you have any questions, please contact us via online consultation, email or phone call. If you find our website useful, please follow our FaceBook and YouTube, health information will be updated regularly.
Online Inquiry
CLICK HERE!
Let's Have A Healthy Life!
Video
To show you
what is cancer by
videos
Chatting on Facebook

Become a fan of us!
+Follow
We are waiting for you.