The Former King -- Sihanouk of Kampuchea Passed Away in Beijing The Medical Legend of Three Times of Successful Fighting
  China's old friend, the former King of Kampuchea--Norodom Sihanouk was dead in Beijing, China on October 15, 2012, with age of 90 at death. In the legend life of Sihanouk, his was elegant, gentle, yet tough and had devoted his life to national independence and autonomy of Kampuchea. He was definitely the Kampuchean people's great leader! Not only that, in the last 20 years of Sihanouk's life, he had successfully fighted off the cancer three times with the spirit of perseverance, which composed a life song that shocked the whole world.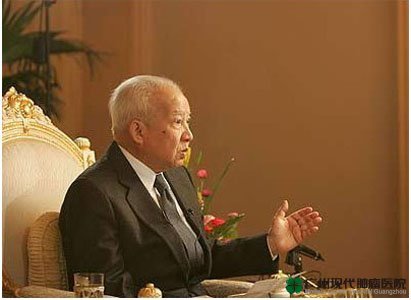 Three times of successful fighting off cancer, creating the miracle
  Since 1993, Sihanouk had been diagnosed with lymphoma, prostate cancer and other cancers. While sustaining a variety of pains or illnesses, Sihanouk never gave up but just acted the way as he did. In 2009, Sihanouk published a personal letter in his personal website to announce the third time of successful fighting back cancer. In the letter, Sihanouk expressed immense gratitude to Chinese doctors who had help him, he said : " If I have two times of experiences of fighting back cancer and live to the age of 85 and still alive, all these shall be contributed to the great, friendly, generous country-- China, for there has skillful doctors and unparalleled nurses. "
  Integrated TCM and western medicines, bringing new hope to patients
  Anticancer course of Sihanouk is so admirable that it has greatly inspired the patients all around the world. Sihanouk told us with his personal experience: cancer is not terrible, and cancer is not equal to death. As long as actively adopted with scientific and reasonable treatment, cancers can be treated.
  Member of the Chinese People's Political Consultative Conference, the former Director of the Asian Department of the Chinese Foreign Ministry, Zhang Jiuhuan contacted Sihanouk many times for work reasons, and Mr. Zhang recalled that Sihanouk had said many times that it was China gave him the second chance to live. The fact was that after Sihanouk got sick, many famous medical experts from France and other Western countries believed that he was doomed; however, Chinese doctors had proved that integrated TCM and western medicines had successfully treated him and made him be able to live to 90 years old.
  The new anti-cancer direction owned only by China
  Integrated TCM and western medicines therapy is a featured and favorable treatment in China, meanwhile, it is the medical health system owned only by China. It is not simply the combination of Chinese medicines and western medicines, but also includes the combination in diagnosis of disease and syndrome combined, comprehensive coordination in treatment and theoretical mutual use as well. This therapy draws advantages of TCM and western medicines and complements the shortages of them, so that it can effectively improve the therapeutic effect.
  With long-term medical practice, medical experts have recognized that both Chinese medicines and western medicines have their own advantages and disadvantages in the treatment of cancer. Western medicines often have strong power in killing cancer cells, but are often only through a single target so they are relatively weaker in the long-term efficacy. Chinese medicines are relatively poor in killing cancer cells, but are guided by TCM theory of overall concept combined with overall treatment through the mode of multiple targets and links, therefore effectively improve patient's immune system, and reduce the toxic side effects of chemotherapy and radiotherapy.
  Therefore, integrated TCM and western medicines methods like bio- natural therapy technology, not only can improve the curative ratio, but also make some patients be able to exempt from surgery, reduce complications and side effects; especially for patients with advanced malignancies, can effectively improve the quality of life and prolong survival period.
  Currently integrated TCM and western medicine therapy is flourishing, so are the research and practice in related field. It is definitely imposing great influence in international society and will become the new direction for treating cancer and even for conquering medical problems.
If you have any questions, please contact us via online consultation, email or phone call. If you find our website useful, please follow our FaceBook and YouTube, health information will be updated regularly.
Online Inquiry
CLICK HERE!
Let's Have A Healthy Life!
Video
To show you
what is cancer by
videos
Chatting on Facebook

Become a fan of us!
+Follow
We are waiting for you.