Kindness and Blessings from Indonesian Cancer Patients
  Author: He Liangqiong, Nursing Department, Modern Cancer Hospital Guangzhou
  The quiet and sweet nurse station of 5th floor became busy suddenly in the morning on May 7. President of hospital, Wang Huaizhong and leaders of department of medical administration, nursing department and other medical staff on the same floor gather at the nurse station and received an artificial embroidery from two Indonesian patients, Miss Zhong and Mr. Wu and their families.
  Miss Zhong and Mr. Wu came to Modern Cancer Hospital Guangzhou for cancer treatments last year. Miss Zhong came for her ovarian cancer while Mr. Wu was because of lung cancer. Through a series treatments specially planed and performed by specialist team and nursing care form nursing team in Modern Cancer Hospital Guangzhou, these two obtained satisfied cure effect and returned times for post treatments. In order to express their thanks to doctors and nurses, unexpectedly, family members of them made the artificial embroidery together with remarkable perseverance and tacit understanding, even though the family members were over 60. They made it alternatively, when one of them discharged, the job would be transferred to the other. The two families made the job with more than half year stitch by stitch. Finally the great artificial embroidery named Bloom and Honor was finished and was sent to the doctors and nurses of 5th floor to express their thanks. Director Wang, director of hospital and other leaders of departments, attending doctor and nurses solemnly received this special but precious gift.
  May 23, 2012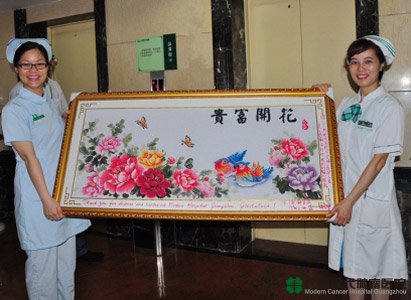 Artificial Embroidery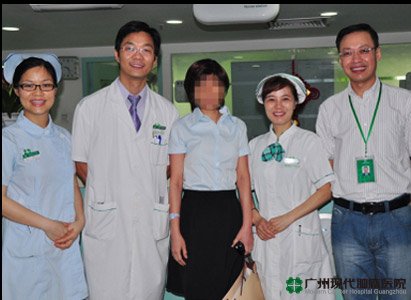 Miss Zhong smiles happily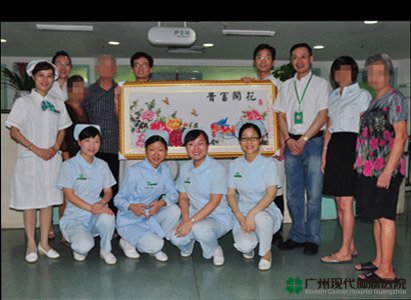 Photo of two patients, their family members, leaders of hospital and medical staff
If you have any questions, please contact us via online consultation, email or phone call. If you find our website useful, please follow our FaceBook and YouTube, health information will be updated regularly.
Online Inquiry
CLICK HERE!
Let's Have A Healthy Life!
Video
To show you
what is cancer by
videos
Chatting on Facebook

Become a fan of us!
+Follow
We are waiting for you.