New Method Shrunk the Tumor Which Was the Size of an Egg
  With bright, enthusiastic and cheerful personality, CHAU THI CHUNG, from Ho Chi Minh City of Vietnam is not only the crowd-pleaser among ward mates but also has defeated breast cancer with strong and positive attitude.
  CHAU THI CHUNG, 58 years old, had a lump on her right breast more than 10 years, which was like an egg in size but because it caused no pain, so she just ignored. On October, 2010, her right nipple begun to wrinkle, crack and fester, with yellowish discharge from it and whole breast ached with a lump under the right armpit which was like a bean in size. Through series of examinations in a local hospital, she was diagnosed as breast cancer. The doctors advised to do surgery while refused by the patient. She just took herbs from Vietnam and Laos for a year at home but it did not work, the ulcer became so painful that she cannot walk and even her stool became dark.
  Her father died of neck cancer and sister died of breast cancer, thus made her family very worried about CHAU THI CHUNG. The whole family has deep feelings with her farming husband, herself as a housewife taking care of two sons and two daughters. Then CHAU THI CHUNG's daughter found Modern Cancer Hospital Guangzhou online and got to know they can treat breast cancer without doing surgery. Her children and son-in law are very filial, especially the son- in law who said: "as long as mother can live, I can do anything for her." Then, he paid for the cost to send his mother-in law to the hospital in China.
  Admitted into Modern Cancer hospital On 22, October, 2011, her CT scan result showed the cancer in her right breast measuring 5cm*6 cm and then doctors designed a comprehensive and minimally invasive treatment plan which made the whole family think the combination of various treatments in this hospital is more effective than the conventional single treatment, telling the patient to positively cooperate with her doctors for treatment.
  Right before doing the first time of interventional therapy CHAU THI CHUNG felt scared and nervous while thought this can control her tumor like a life-saving straw, she positively and firmly underwent this. During the therapy, she just felt little pain thus cleared her fear. Through the comprehensive and minimally invasive treatment, the lump shrunk from 5*6 cm to 1*1 cm like a bean in size, the ulceration and nipple discharge cured. Furthermore, the immunotherapy was performed to improve her overall immunity to prevent the reoccurrence of the tumor.
  The minimally invasive and comprehensive therapy made the Vietnamese aunt become a crowd-pleaser again and she wants to tell all the cancer patients: when found tumor, you should go to a regular hospital for treatment immediately.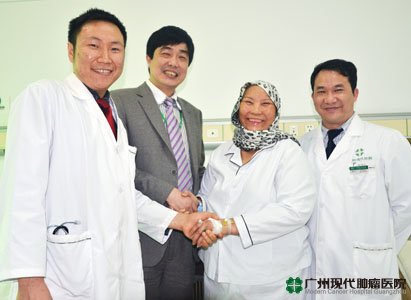 A group photo of CHAU THI CHUNG, Director Dr. Li Zhifei and her doctor in charge Dr. Mei Miao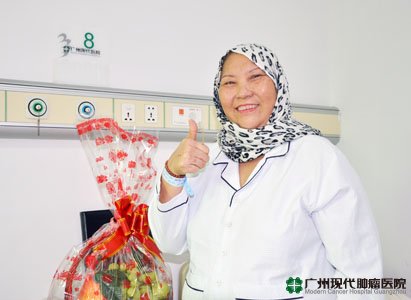 "Crowd-pleaser" CHAU THI CHUNG
If you have any questions, please contact us via online consultation, email or phone call. If you find our website useful, please follow our FaceBook and YouTube, health information will be updated regularly.
Online Inquiry
CLICK HERE!
Let's Have A Healthy Life!
Video
To show you
what is cancer by
videos
Chatting on Facebook

Become a fan of us!
+Follow
We are waiting for you.