The Fate Is on Our Hand
  We will never believe that we got that power if we did not come to China for medical treatment. We felt in agony when cancer attacked my wife. We did not give up but come to Modern Cancer Hospital Guangzhou. It turned out that we are right, we came over it. I love my wife, my children love their mother, and doctors love their patients. I believe that the endless love and advanced medical technologies are the key to overcome cancer. We here to share our story and hope this would encourage other cancer patients to fight cancer confidently.
  She was attacked by lung cancer
  We live in Ho Chi Minh, a city in Vietnam. My wife, Quach Thi Nam is a kind and beautiful woman of 54 years old. She runs a shop supplying sea fodder and I work in a local organization unite. Our three children all got their own family and are busy every day. The life was so peaceful and happy. However, my wife had felt pain in her bones, chest and back since the summer of 2010, so I took her to the hospitals in Ho Chi Minh for examinations. But each doctor got their own words, some said it is calcification of bones, some said it is proplapse of lumbar intervertebral disc. Only some medicines were given, but that did not work. The pain became serious that she cannot sleep at night. I doubted it was misdiagnosis that I took her for other examinations. And this time, our life was turned upside down. A tumor was found in her lung with metastases to bones of whole body through CT and pathologic diagnosis. We were all in agony. Our children could not imagine that their mother was so terribly sick.
  We found the hope in this hospital
  My wife admitted to this hospital. During her hospitalization, she was further diagnosed lung cancer of late stage with multiple bone and brain metastases. Apart from that, the hospital cannot offer effective treatment because of poor facility and condition. We could do nothing but kept silent. Watched her getting weaker, suffering from pain or even could not go to washroom on her own, I bought kinds of newspapers and magazines with the hope that I can find some treatment of lung cancer. Thank God, we found Modern Cancer Hospital Guangzhou on Báo Thanh Niên. I had the medical materials of my wife to Ho Chi Minh office of Modern Cancer Hospital Guangzhou, where the specialist brought us the good news that they can save my wife after studied her case. With this hope, we decided to go to Modern Cancer Hospital Guangzhou in China for treatment.
  Treatment in Modern Cancer Hospital Guangzhou, China
  Couple of days later, we came to Guangzhou, China. Soon after admission to Modern Cancer Hospital Guangzhou, Dr. Peng Xiaochi, the director of Oncology and other specialists performed comprehensive examinations on my wife and the diagnosis was poorly differentiated adenocarcinoma of right lung with metastases to lungs, brain and multiple bones. She was extremely weak and unconscious when reaching in China. Her primary Dr. Ma Xiaoying planned a combined treatment of interventional embolism + biological immunotherapy, after that is medicine for symptomatic supportive therapy for my wife. Dr. Ma explained me the technologies and procedures of each therapy. Interventional embolism is to block the vessels supplying blood to tumor and biological immunotherapy is to fight cancer cells by the immune cells from patient. I'm confident to these therapies though they were new to me. My wife turned out improvement after one month's treatment, she became vigorous obviously and can talk to me frequently. The result of checking surprised me too: the tumor in her lung has disappeared completely.
  We came back for follow-up three months later
  After the first cycle of treatment, Dr. Ma also prescribed anticancer medicine for my wife to go home. We went with a clear list of medicine and diet happily. Three months later we came back to Modern Cancer Hospital Guangzhou, China. My wife was in good condition, thought she cannot walk right away. Dr. Ma performed the examinations for her, from which we knew that the tumors in her lungs, brain and bones disappeared. It sounds unbelievable, but it did happen. We sincerely thank Modern Cancer Hospital Guangzhou, their doctors and nurses. My wife likes to do the good things to others that she thinks it is necessary to share this experience and hopes the cancer patients in Vietnam can come to Modern Cancer Hospital Guangzhou for treatment.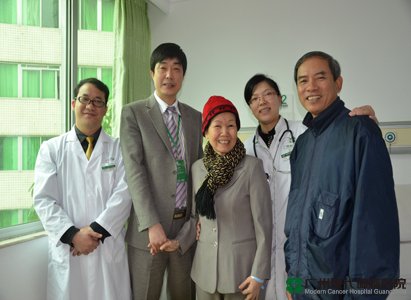 My wife Quach Thi Nam (the third from right) and the doctors from Modern Cancer Hospital Guangzhou
If you have any questions, please contact us via online consultation, email or phone call. If you find our website useful, please follow our FaceBook and YouTube, health information will be updated regularly.
Online Inquiry
CLICK HERE!
Let's Have A Healthy Life!
Video
To show you
what is cancer by
videos
Chatting on Facebook

Become a fan of us!
+Follow
We are waiting for you.