3D Printing Template Assisted Seed Implantation
Prior to operation, a seed implantation plan is designed based on the required radiation dose of a specific tumor. During the planning, an individualized template is made with 3D printing technology with the guidance of which a simulation of 125I seed implantation is conducted to ensure the puncture's accuracy in location, depth and seed distribution. Thus, compared with previous freehand puncturing, the latter is technically effective to prevent blind spots during the operation. This calls for a more precise and thorough procedure and enhance the efficacy of treatment.
Is 3D printing template assisted seed implantation applicable to all cancer patients?
3D printing template assisted seed implantation has obvious effect when applying to prostate cancer, cervical cancer, breast cancer, liver cancer, lung cancer and clinical rarely case of difficult tumor and tumors that metastasize to retroperitoneum, pelvic and vertebral organs.
Am I accessible to 3D printing template assisted seed implantation? Consult online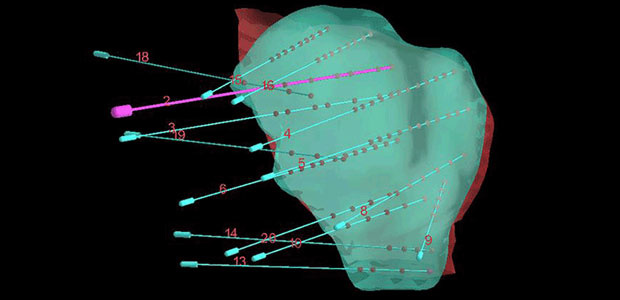 Before the operation, planning the track and seed distribution
The advantages of 3D printing template assisted seed implantation comparing to conventional therapies:
Bai Haishan, the director of minimally invasive treatment department in MCHG, pointed out that as a brand new technology for cancer treatment, 125I seed implantation features strict requirements on dosage. The quantity of seeds implanted in tumor area has direct effect with the efficacy and an accurate plan is the key to successful operation. In order to discern precise distribution of seed dosage, MCHG adheres with scientific based development of 3D printing technology.
3D printing template assisted seed implantation has six advantages over traditional surgery:
1. More flexible- the probe can be placed in any angle, giving an absolute thorough view such as of veins, intestine and bone
2. Cover every inch of targeted area- Because of the flexible puncture location and angle, the operation won't miss out any tumor spot.
3. Time-saving – easy and specific which greatly shortens the time for CT scans and puncture.
4. More accurate- puncture is performed via preset route on the template, thus, it greatly improve the preciseness of puncturing.
5. Lower risk- As operation preciseness is greatly improved, several probes can be placed at the same time, thus avoids repeating probe location, lowers the risk of operation and reduces CT scans performances, hence decreases radiation to patient's body.
6. More scientific - Seeds are implanted as planned both in location and dosage.
The successful operation of seed implantation with the assistance of 3D printed template radioactive seed implantation marks the new era of accurate treatment.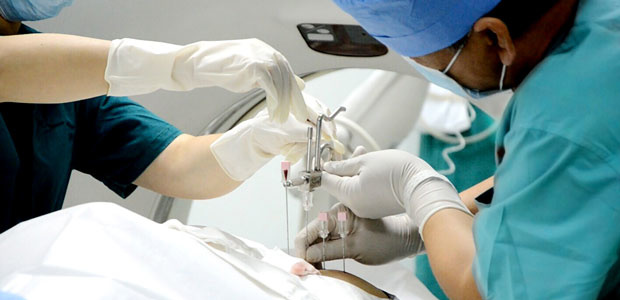 Puncture during the operation
How 3D printing template assisted seed implantation being conducted?
Step 1: During the week before the treatment, doctor performed a CT scans to Ms Wang to determine the puncture route accordingly and calculate seed quantity of each puncture probe based on prescribed dosage, and then print out the directing template with 3D printing technology.
Step 2: During the operation, as planned, doctor placed the sterilized 3D printed directing template on patient's body, above the tumor location and under the projection.
Step 3: The doctor confirmed that the template was fixed in accurate location under CT scans and then performed puncture through the prepared probe route.
Step 4: Channeled the seeds into probe route and calculate the dosage needed. Based on real-time plan, precisely counted the number of seeds for each probe and implanted the seeds into patient's body.
Last step: Dosage verification was conducted after the treatment.
What should patients do before undergoing 3D printing template assisted seed implantation? Click to know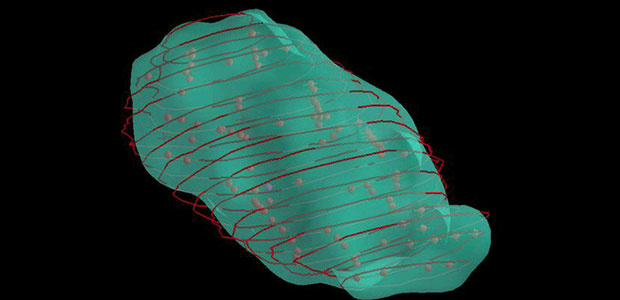 Seed distribution after the operation
The reason to introduce 3D printing template assisted seed implantation
AS an indispensable part in tumor treatment, conventional radiotherapy equals to outside radiation, which generates great harm to other organs involved in the operation due to the toxic and severe side effects of its large dose.
Comparing to conventional therapy, 125I seed implantation is a brand new technology for cancer treatment, which is called inside radiation. The principle is to precisely locate the seeds with CT guidance and B ultrasound and inject the seeds into tumor with puncture guided by imagine equipment, therefore, the operation releases continuous radiation in close distance and shrank the tumor and totally remove it in the end.
However, 125I seed implantation features disadvantages such as lacking of replicative pattern, inaccuracy in location of seeds dosage and being inapplicable to difficult case. The wide application of 3D printing template assisted seed implantation in medical field greatly shortens the operation period and relieves patient's suffering, most importantly, strictly guarantees the seeds dosage and improves the living quality for all patients.
The importance of 3D printing template assisted seed implantation
3D printing template assisted seed implantation recognizes the accuracy, customization and individualization. Currently, it has been accredited by FDA, CFDA and become the only seeds technology with specialized template and dosimetry guidance.