Official launching of China-Singapore Joint Venture St. Stamford Modern Cancer Hospital Guangzhou project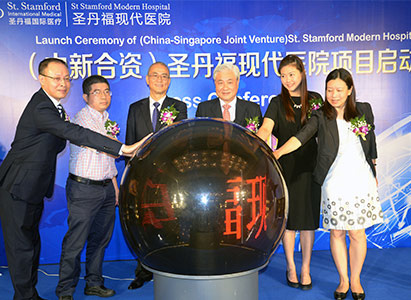 Launching of St. Stamford Modern Cancer Hospital Guangzhou project

Guangzhou Sunrich, which means that Modern Cancer Hospital Guangzhou will rename as St. Stamford Modern Cancer Hospital Guangzhou and open the brand new range in international medical health. As an international hospital based on Singapore quality standards, it is be closely linked with its core competitiveness that St. Stamford Modern Cancer Hospital Guangzhou can stand out from the competition and win Singapore capital's favor.
Minimally Invasive Technology, Broad and Profound
The successful case of CT guided general anesthesia nanoknife pancreatic cancer ablation performed in St. Stamford Modern Cancer Hospital Guangzhou shows that the hospital has color the minimally invasive treatments and bring hope for advanced cancer patients. It's known that nanoknife is overturning traditional treatment of thermal ablation or cryoablation and the bane for advanced pancreatic cancer and bile duct carcinoma which would be closed to large vessels, bile duct and pancreatic duct.
According to Professor Bai Haishan, the clinical application of nanoknife ablation has offer radical therapy opportunity for pancreatic cancer that can't be performed surgery or ablation and bring hope for advanced pancreatic cancer patients. Recently years, through constant exploration and practice, St. Stamford Modern Cancer Hospital Guangzhou has mastered totally 18 minimally invasive treatments including vascular intervention, cryotherapy and microwave ablation etc. All these treatments contain advantages of small trauma, less side effects and less pain, which have made up for the disadvantages for patients caused by traditional chemotherapy and radiotherapy.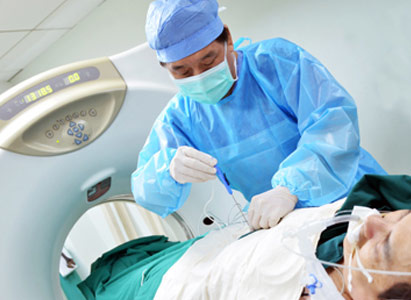 St. Stamford Modern Cancer Hospital Guangzhou Successfully Performed Nanoknife Ablation
MDT Diagnosis Model
In recent years, incidence of breast cancer trends to rise year by year and it has become one of the women principal diseases. Generally every 3 minutes there will be one woman suffering from the threat of breast cancer. On April 28, Breast Cancer Center of St. Stamford Modern Cancer Hospital Guangzhou emerged at a historic moment. It is known that this center is one-stop diagnosis service platform based on MDT (Multidisciplinary Team) (which is made up by general surgery department, medical oncology, radiology department, radiotherapy department, pathology department and endoscopy center, etc. in order to realize special therapy for special disease.
MDT is the new one-stop medical service mode in recent years, which has obvious advantage regarding with breast disease diagnosis and treatment. This kind of model can not only change the situation of first diagnosed department determined patient's treatment, but also avoid the individual and empirical pattern diagnosis of attending doctor. However, based on the cooperation of MDT, we can achieve patient oriented and to make it make it more specialized, standardized and convenient in order to maximize the effectiveness of treatment.
Establishment of Breast Cancer Center of St. Stamford Modern Cancer Hospital Guangzhou has joined a team of experts including comprehensive treatments advocate Dr. Peng Xiaochi, famous Chinese minimally invasive treatment expert Dr. Zhen Yanli and breast surgery leader Dr. Wang Xin and also combining with the best quality nursing team, so as to make up the suitable treatment plan in order to increase the cure rate, improve patient's life quality and prolong their life span through knowing well of patient's pathological type, physical condition and psychological enduring capacity.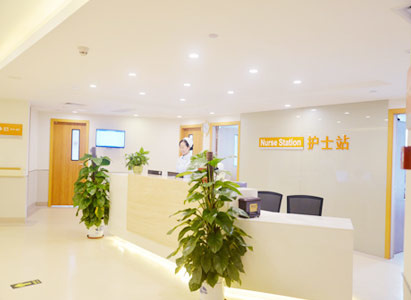 St. Stamford Modern Cancer Hospital Guangzhou Breast Cancer Center
Concern Service, Patient Oriented
Cancer patients are so depressed and anxious since they were guided by the public opinion that people always turn pale at the mentioning of cancers and believe that getting the death sentence when diagnosed with cancer. In order to turn the situation around, St. Stamford Modern Cancer Hospital Guangzhou has forged more than 60 humanize value-added services to relieve patient's pain during the treatment including holiday activities regularly, outside touring and shopping activities, "five-star service", "whole-course concierge escort services", "the mandarin class" and "translation service", etc. Moreover, would also hold celebration activity for patients in special days.
In July 2014, a traditional and unique golden wedding ceremony was on show in the ward of St. Stamford Modern Cancer Hospital Guangzhou. On that day, with the blessing of witnesses Mr. Wang Huaizhong, breast cancer patient INDAHWATI JUTIAMI who is from Indonesia wearing a phoenix coronet, jades and Han clothing complete the whole ceremony. On 2015's Children' s day, the ward of bladder cancer patient DAMARA SYIFA ADISTYA has become a fairy tale world. This is a 3 years old little girl who is from Indonesia. Colorful balloons and lovely Winnie the Pooh are full of the whole room. Our doctors and nurses took off their white cloak to play as Mickey and Minnie Mouse to offer her the best gifts for children. Mid-Autumn festival in 2015 coincided as Filipino patient Grace's birthday. On that day, support workers from St. Stamford Modern Cancer Hospital Guangzhou surprised Grace with a well-planned birthday party but scarify their reunion moment with their families.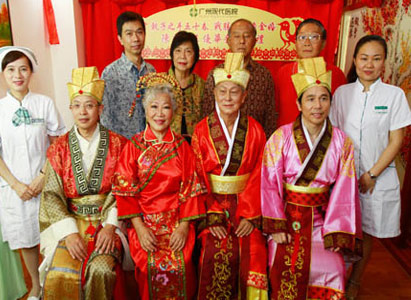 St. Stamford Modern Cancer Hospital Guangzhou Held Golden Wedding Ceremony for Patients
DAMARA SYIFA ADISTYA Enjoy Children' s Day in St. Stamford Modern Cancer Hospital Guangzhou
Director of St. Stamford Modern Cancer Hospital Guangzhou, Mr. Wang Huaizhong said, this kind of meticulous service would continue daily and staff there are still trying to explore and optimize. "Doctors and nurses here are so nice!" "It's just like home." These can be heard from the patients from mouth to mouth. In June, 2016, nasopharyngeal cancer patient from Malaysia, NG MAN HONG encouraged other patients that hope all the cancer patients can receive treatments in St. Stamford Modern Cancer Hospital Guangzhou. As a China-Singapore Joint Venture and JCI Accredited hospital, St. Stamford Modern Cancer Hospital Guangzhou has always followed the principle of "patient-oriented". "Treat me, don't hurt me more and be good to me." This is the Singapore hospital service creed, which will be expected to be realized in St. Stamford Modern Cancer Hospital Guangzhou.
*Surgery, in addition to the appropriate chemotherapy and radiotherapy, are effective in treating early cancer, but certain patients in late stage of cancer may not be tolerate surgery well as they can be relatively weak. A combination of carefully planned minimally invasive therapy, chemotherapy or radiotherapy can effectively reduce the side effects and discomfort of treatment and may help patient get better efficacy.