"A New Hope, A New Choice"-Medical Lecture on Cancer Treatment and Prevention Successfully Held in Cebu Station
(reproduced from worldnews of philippines)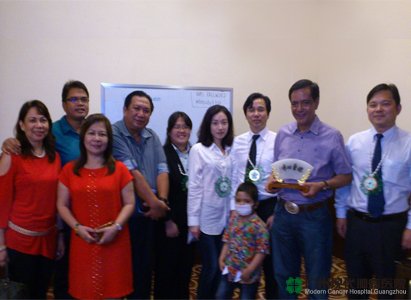 October 27, 2012, Modern Cancer Hospital Guangzhou successfully launched a " 2012 Modern Cancer and Health" Forum at Harolds Hotel in Cebu City, Philippines.
  Subject to the invitation of local cancer patients and health associations, Modern Cancer Hospital Guangzhou International Cancer Expert-Professor Peng Xiao Chi and Philippine Office General Manager-Mr. He Lang Bing, participated in the forum. Cebu Mayor Atty. Micheal Rama also visited the venue of lecture and activities to congratulated the organizers. Expressed deep gratitude on such help to make more people aware cancer and prevent cancer development. Nearly 300 participated the lecture with attendees of local medical professions, health associations, universities, public servants and civilians.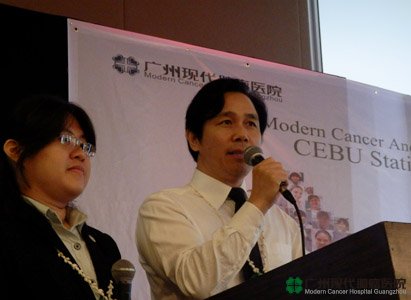 Professor Peng Xiao Chi introduced first in the lecture the status quo of cancer patient in modern society. In the Philippines, most patients suffer from lung cancer, breast cancer and colon cancer. These three became the most common cancer among Filipino patients. Analyze the causes and pointed out that cancer patients once discover it is in the late stage which makes treatment difficult and patients themselves have relatively poor quality of life.
  He pointed out that with technological innovation, cancer itself is not incurable. Regardless of detection, treatment or prevention have a lot of new technology that can be given to cancer patients as new choice and also brought new hope. Highlights on introducing new advanced treatment approach aside from traditional surgery, radiotherapy and chemotherapy. Base from years of experience in the treatment of Guangzhou Modern Cancer Hospital which has been recognized by the China and International Institute as well. Professor Peng Xiao Chi discussed to the audiences with the use of projector the details about currently used Intra-arterial Embolization, Iodine Seed Implantation, Ar He Knife Cryoablation Technique, Biological Immune Therapy etc as variety advanced mainstream technology. These technology is based from the formation of " Minimally Invasive Targeted Treatment Combined with Integrated Traditional Chinese and Western Medicine" treatment method. Proven to be safe and effective also improve quality of life and life time as new choice. A number of Filipino patients has been introduced with such treatment which gave them new hope.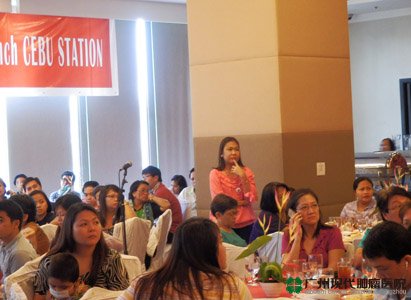 Finally, the participants were provided many new approaches for cancer prevention and were recommended to maintain regular medical check-ups. Early detection for early treatment in which cure rate can reach more that 90%; And for viral cancer in origin such as cervical cancer etc, there has been a vaccine that can be inoculate with!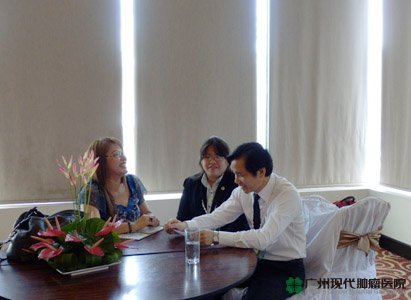 A number of doctors and and civilians raised questions about cancer in which Professor Peng Xiao Chi have given them answers and expressed willingness to help more Filipino cancer patients.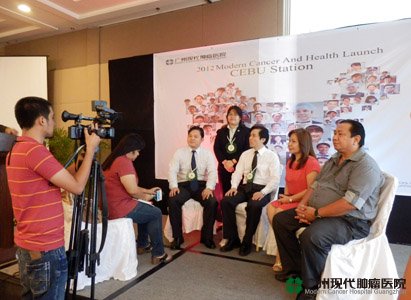 If you have any questions, please contact us via online consultation, email or phone call. If you find our website useful, please follow our FaceBook and YouTube, health information will be updated regularly.
Online Inquiry
CLICK HERE!
Let's Have A Healthy Life!
Video
To show you
what is cancer by
videos
Chatting on Facebook

Become a fan of us!
+Follow
We are waiting for you.