5 Everyday Foods That Fight Cancer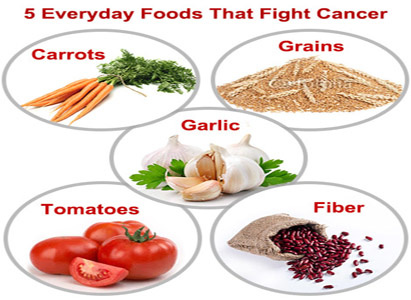 More than any supplement or vitamin, getting certain nutrients through eating whole foods can help block tumors.
Carrots----Like kale and spinach, carrots pack carotenoids, an antioxidant group that may help prevent rectal cancer.
Grains----All prepackaged bread, cereal, flour and pasta contains folic acid, which wards off birth defects and can lower your risk of colon cancer.
Tomatoes----Cooked tomatoes are especially good for the guys in your life. They contain a carotenoid called lycopene that might lower prostate cancer.
Fiber----Fare rich in fiber, including certain cereals, root and other types of vegetables, and legumes, seems to protect against colon cancer.
Garlic----Oncologists of Modern Cancer Hospital Guangzhou advise adding about a clove a day to foods; it may lower your risk of colon, stomach and breast cancers.
If you have any questions, please contact us via online consultation, email or phone call. If you find our website useful, please follow our FaceBook and YouTube, health information will be updated regularly.
Online Inquiry
CLICK HERE!
Let's Have A Healthy Life!
Video
To show you
what is cancer by
videos
Chatting on Facebook

Become a fan of us!
+Follow
We are waiting for you.