ALIAS HOSMAN DJATIMAN: Minimally Invasive Individualized Comprehensive Techniques Made Me Trust Here More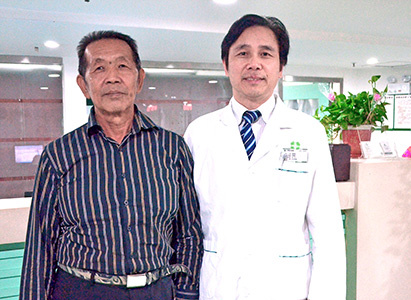 Joint photo of ALIAS HOSMAN DJATIMAN and doctor
August 2014 is a special month to ALIAS HOSMAN DJATIMAN. He was always strong since he could go sea fishing at 13 years old. He never thought that he would have liver cancer. "I never smoke nor drink alcohol,no other unhealthy habit. I have no idea why I got this disease" he said.
Purely by chance ALIAS HOSMAN DJATIMAN found himself got liver cancer during a routine physical examination in Malaysia in August 2014. He was told that there was 2-3cm tumor in his liver and suggested for operation but he refused. "I was afraid to have operation although the tumor was not big and still at the early stage" he said. Unaware of cancer, ALIAS HOSMAN DJATIMAN thought in his cognition that operation equaled death. He planned to consider for a while to decide which treatment should be adopted, but the unceasing expanding of tumor stopped him and pushed him to make a decision soon. According to the checkup, tumor became 5cm in October and 7cm in December and it turned to stage IV "primary liver cancer with multiple liver metastases".
When he was anxious to choose hospital to undergo treatment, his friend's suggestion enlightened him. His friend has a relative who was also a cancer patient received good treatment effect in Modern Cancer Hospital Guangzhou. He decided to accept friend's suggestion and went to Guangzhou for the treatment. "The other reason why I chose this hospital was that I had joined in a seminar which was given by an oncologist of this hospital. His patience and professional knowledge impressed me and offered me trust" ALIAS HOSMAN DJATIMAN said with smile when he explained the reasons why he chose Modern Cancer Hospital Guangzhou.
On December 9, 2014, ALIAS HOSMAN DJATIMAN came to Modern Cancer Hospital Guangzhou for the third visit accompanied by his son. This time, Dr. Hu Ying told him that the tumors completely disappeared. He didn't need treatment any more except routine inspection .
ALIAS HOSMAN DJATIMAN was quite excited talking about treatment course: he received two sessions of interventional therapy, one cryotherapy and one radioactive seed implantation totally during hospitalization. "Differs from general anesthesia during surgery, interventional therapy applies local anesthesia. Doctors continually comforted me to ease my tension during the therapy. When the anticancer drugs were injected through catheter, I just felt a little cold, no other pain during the whole session. The therapy finished after half an hour, and there was only 1-2cm wound left. I could eat normally without vomit or nausea, it was amazing. Afterward I didn't feel worry when undergoing cryotherapy and radioactive seed implantation" ALIAS HOSMAN DJATIMAN described his feeling of undergoing minimally invasive treatments.
According to Dr. Hu Ying who was the attending doctor of ALIAS HOSMAN DJATIMAN, arterial interventional therapy is a treatment that applies drugs, radioactive substance or other physical therapy agent into local tumor directly under certain assistant methods, with simple operation and less trauma, to relieve symptoms and ease patients' suffering. Radioactive particle can give off γ-ray to kill tumor cells continuously after inserted into the tumor. Its destructive power to cancer cell is several times higher than external radiation or intravenous administration, but it won't damage nearby normal tissues since its radiation range is short within a radius of tumor invasion. Cryotherapy can inject Argon and Helium separately into tumor through cryoprobe, making ultra-low temperature and high temperature to freeze and ablate tumor. At the same time, it won' t cause harm to normal tissue. This minimally invasive individualized treatment plan based on his physical condition was the key factor that ALIAS HOSMAN DJATIMAN could recover soon.
Mentioned of ALIAS HOSMAN DJATIMAN's attitude during treatment, he said he believes his choice and he trusts doctor and technique, also holding a positive mind is the primary premise to fight against cancer. "I trust Modern Cancer Hospital Guangzhou more after receiving minimally invasive individualized treatments " said ALIAS HOSMAN DJATIMAN happily after the interview.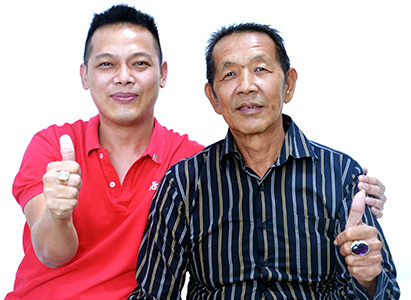 ALIAS HOSMAN DJATIMAN and his son
If you have any questions, please contact us via online consultation, email or phone call. If you find our website useful, please follow our FaceBook and YouTube, health information will be updated regularly.
Online Inquiry
CLICK HERE!
Let's Have A Healthy Life!
Video
To show you
what is cancer by
videos
Chatting on Facebook

Become a fan of us!
+Follow
We are waiting for you.