A Thank-you Note from a Rectum Cancer Patient--The most Beautiful Chinese Dream
  During the Spring Festival of 2007, Mr. Hatta was occurred to bloody stool suddenly. Neither ate anything wrong nor felt any pain in the abdomen, while the bloody stool came for no apparent reasons. This made him scared and worried extremely. Accompanied by her family, Mr. Hatta went to Malaysia for an answer. While the doctor's words: "What you are suffering from is moderately differentiated rectal cancer." made him feet that it was almost the end of the world. However, the doctor's next suggestions "you'd better undergo surgery to remove the tumor and then have artificial anus as soon as possible" made him feel more hopeless. Once think of the life with ostomy bag, he can hardly bear. After declining the doctor's suggestion, he started to take medicine at home by his own. However, the disease was not eased, but more serious instead. Even more, the frequency of daily stool reached to 7-8 times and the blood amount had never reduced. What's worse, his limbs become numbness and weakness. Finally, Mr. Hatta decided to take treatments in hospital.
  After comparison and research, Mr. Hatta chose Modern Cancer Hospital Guangzhou, China for further treatments. After a series of examination and discussion, doctors made him a comprehensive treatment program which is interventional therapy + DC-CIK cells natural therapy + traditional Chinese medicine + radiotherapy. This integrated approach can not only improve the efficacy of treatments, but also eliminate surgery, his most worried issue. After a period of treatment, Mr. Hatta's condition is improved obviously. Blood in the stool is reduced gradually, and the limb numbness & weakness also disappeared slowly. For the past six years, Mr. Hatta's is strictly adhering to the doctor's orders, having reasonable diets and daily cares, insist on having regular follow-ups in the hospital. Till now, his cancer is not recurrent, and the spirit state is as good as before. To express her gratitude, together with his family, Mr. Hatta wrote a letter of thanks to Modern Cancer Hospital Guangzhou, China specially.
  The full letter reads as follows:
  The most beautiful dream—Chinese dream!
  Modern Cancer Hospital Guangzhou, the best hospital for cancer treatment.
  First-class expert team, excellent medical skills, meticulous nursing cares, warm smile, hardworking cleaners, Modern Cancer Hospital Guangzhou gave me joy. Now we are showing you the noblest salute! Along with your smile, we will back to Indonesia! But we will remember you always!
  I wish you all good health and good luck!
  More power for Modern Cancer Hospital Guangzhou!
   Indonesian
   Yours Hatta and Lam Ching
   7th, Floor, May, 20, 2013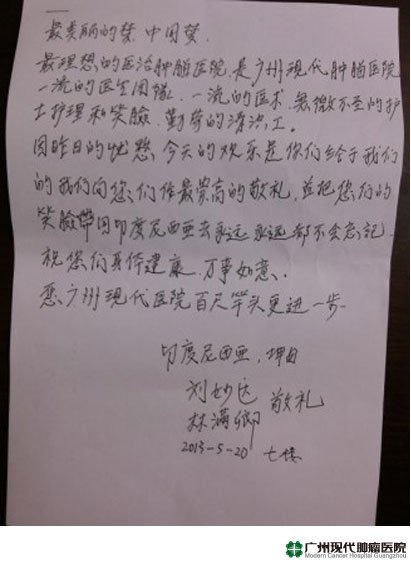 If you have any questions, please contact us via online consultation, email or phone call. If you find our website useful, please follow our FaceBook and YouTube, health information will be updated regularly.
Online Inquiry
CLICK HERE!
Let's Have A Healthy Life!
Video
To show you
what is cancer by
videos
Chatting on Facebook

Become a fan of us!
+Follow
We are waiting for you.