Ophelia Ana & Anti-braincancer Story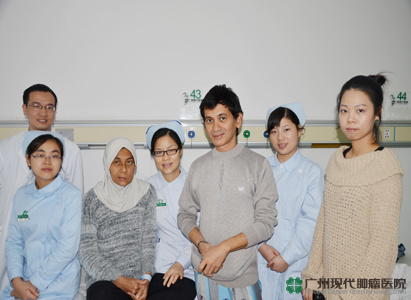 Ophelia and his families took photo with doctor and nurses.
Unfortunate fell into my life one day in 2009. There was a left skew on my corner of mouth. It was severe but doctors can not find out the reasons. Days by days, my condition was gradually serious. The nerves in my face were numb and saliva poured from my corner of mouth but I can't control. My eyes also had problems, too. It was supposed to one feature but I saw it as two things and my eyes can't close completely,too. Even worse, I was in coma. I also lost 10 kg weight. The miserable life tortured me and my husband and families were concerned with my condition. We went through all the hospitals, the large-scale or small one, but no one found out the cause. Finally, in Jakarta, a doctor inspected that there was a malignant tumor in my brain with cervical lymph nody metastasis.
We looked for a hospital to treat brain cancer. Later, we knew that a relative who was diagnosed with brain cancer had lived well after treatment. That relative recommended Modern Cancer Hospital Guangzhou to us where he had taken treatment before. Thus, we brought medical reports and consulted the office in Indonesia. Finally, we decided to receive treatment in China.
On November, 2011, we arrived at Modern Cancer Hospital Guangzhou. According to my condition, cancer experts conduct radiotherapy 32 times and interventional therapy 6 times for me. I thought I had to take surgery but actually they adopted jointed radiotherapy and chemotherapy as their remedial strategy. As I knew, when cancer patients took chemotherapy, some discomfortable side-effects would appear such as loss of hair, vomiting, etc. And a lot of cancer patients can not handle the combined action of radiotherapy and chemotherapy. However, my chief doctor drew up a suitable plan with dosage and period so that I did not suffer from any agony and had no side-effects. At the third radiotherapy, my sleeping problem solved.
After two months, my condition was stable and the symptoms, such as skew corner of mouth and drooling were better than before. My weight gained from 40kg to 46kg. Doctors told me that I can be discharged from hospital but needed coming back for review after two weeks. I did what doctors told me and came back for review on February 22, 2012. I got an exciting news that my lymph node of neck and brain tumor were gone and had not relapsed but I still received radiotherapy and interventional therapy to strengthen the condition. The greatest menace of tumor was relapse and metastasis so I needed to come back to Modern Cancer Hospital Guangzhou for periodic reviews but the interval were longer and longer. On July, 2012, I took review at hospital and again on January, 2013. The interval at this time was six month. After MRI of brain, my condition was still good and the tumor did not relapse. Except for a little bit skew, the symptoms such as drooling and diplopia were gone.
After one-year therapy, I had a pleasant life again. The effective therapies let me return to normal life and work. The happy smile appeared on my face again.
If you have any questions, please contact us via online consultation, email or phone call. If you find our website useful, please follow our FaceBook and YouTube, health information will be updated regularly.
Online Inquiry
CLICK HERE!
Let's Have A Healthy Life!
Video
To show you
what is cancer by
videos
Chatting on Facebook

Become a fan of us!
+Follow
We are waiting for you.