Living Means All
  In the 8th floor of Modern Cancer Hospital Guangzhou, a beautiful young lady with 32 years old called NURUSIAH BINTI SUMAR was a breast cancer patient from Jakarta. When we saw her, her gentle smile made us feel like she was not a cancer patient at all. Although she had lost her right breast, her face showed no sadness at all, maybe because she was going to home to get together with her family tomorrow.
  Fighting with breast cancer is very suffering
  The chief nurse recalled the scene that SUMAR was just admitted. It was 8, November, 2012 that SUMAR just came to the hospital, who looked very suffering and frown with moan of pain from time to time, as her right breast had been ulcerating with yellowish discharge and a foul smell.
  This miserable experience recalled SUMAR's memory. She said that she found a 2 cm of lump in her right breast when doing a physical check-up and the biopsy confirmed it as breast cancer with axillary lymph nodes metastasis. Then she went to Malaysia for chemotherapy, although its severe side effects made her get tongue ulcers and nose bleeding, the metastatic lymph nodes were gone after this. Unfortunately, half a year later, it came back again and the breast pain was intensifying, nipple hollowed and ulceration appeared. This was another blow for her both physically and mentally. She was so afraid of death, fear of not being able to see her three-year-old kid to grow up, so much dismay and nostalgia.
  The responsible doctors are very comforting
  Ended the treatment in Malaysia, SUMAR began to look for more effective treatment. After considering various treatment and places as well as family and friends' advice, they decided to choose Modern Cancer Hospital Guangzhou.
  After admitted into the hospital, SUMAR received a series of examinations and her doctor Mr. Zhang Weizhong discussed with his chief Mr. Bai Haishan and other specialists to design a treatment plan which gathered the wisdom of the specialist team and were confirmed by each of them, aimed at maximizing the efficacy and minimizing the side effects. SUMAR's treatment plan was interventional therapy+ Ar-He cryosurgery. Though never heard of these technologies, SUMAR did not feel any nervousness, as Dr. Zhang explained the procedures and principles as well the possible situation that may rise before she underwent them. The doctors' honesty, communication and modesty made her feel comfortable and at ease.
  Return home after treatment, reunite with her family
  After four times of interventional therapy and one time of Cryosurgery, her lump shrunk and the tumor marker was lower than 0.5, the ulcers in her breast were healing. However, to get better efficacy, doctor suggested SUMAR to undergo radical operation which refers to remove the sick breast and the near 5 cm skin as well as the fat tissues around. In a word, it meant SUMAR would lose her right breast. It was a very tough decision for a 32 year-old young woman although it was the best choice in order to prolong life. Then under the support of her husband and family, SUMAR bravely chose to do the operation to fight against with breast cancer.
  The good news was the operation was very successful and SUMAR will be discharged and go home tomorrow. She cannot be happier more because she will be able to see her little child very soon. She misses him so much since she has not seen him for one and half month.
  "Though I lost my right breast, I gain the precious time to reunite with my family in return, which is the most meaningful for my life. I sincerely thank my husband and my kid's accompany in this fight, thank the specialist team, interpreters, the nurses as well as all the friends who care about me."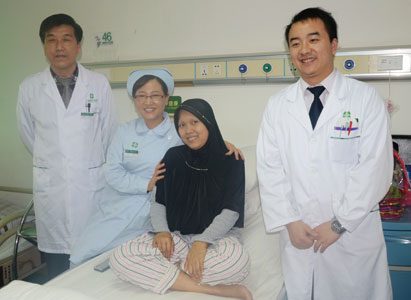 SUMMAR (2nd left), Dr. Zhang Wei Zhong (1st right), director Dr. Bai Haishan (1st left), and chief nurse
If you have any questions, please contact us via online consultation, email or phone call. If you find our website useful, please follow our FaceBook and YouTube, health information will be updated regularly.
Online Inquiry
CLICK HERE!
Let's Have A Healthy Life!
Video
To show you
what is cancer by
videos
Chatting on Facebook

Become a fan of us!
+Follow
We are waiting for you.