"Modern Cancer Hospital Guangzhou Makes Patients full of Hope" --- A voice from an Indonesian patient
  In a ward of the 3rd floor of Modern Cancer Hospital Guangzhou, Ms.Wang and her husband Mr.Chen who had just returned from the trip of Xinjiang and Inner Mongolia, were watching TV. On seeing us, she and her husband immediately got up and greeted us warmly. Ms. Wang, 60 years old, came to the hospital for her condition review after the Xinjiang and Inner Mongolia trip. This optimistic, ruddy and vigorous lady said happily: "I have been staying in good status, and when I was in Indonesia, others said that I didn't look like a patient at all."
  President Wang Huaizhong of Modern Cancer Hospital Guangzhou extended greetings to Ms. Wang Youhua and wished her a quick recovery with the blessings of the Dragon Boat Festival. Ms Wang was found having malignant tumor in right breast during the physical examination in 2011, after the surgery, her imaging data showed no obvious abnormality in whole body PET/CT. In the Spring Festival of 2013, the Wang couple sent the staff in the 3rd floor of Modern Cancer Hospital Guangzhou a red banner saying "世人求医不忘去现代(Medical-seeking goes to Modern)", which has brought warmth to all the staff. Ms.Wang said:"This time, I bought another banner engraved with '福'(blessing)", and her husband also said: "We have traveled a lot of places of China and we fully understand that your hospital has good therapeutic effect with good medical services."
  This couple is very talkative, as they talk China travel experiences or chat with the attitude of fighting disease. "Every year we travel to China twice, watching Chinese famous mountains and rivers. Now I feel good both mentally and physically. If there is no recurrence in five years, it is called a cure in medical. I have the confidence," she said and also set off her clothes for the author, "as you can see, now my wound is very small and gains good recovering effect. The surgical department director Jiao really owns very brilliant skill."
  During chatting, Mr.Chen wrote on his business cards this: love is regardless of frontiers. Modern Cancer Hospital Guangzhou always makes patients full of hope.
  "The rose's in her hand, the flavor in mine". Medical personnel abide by professional ethics and contribute love, patience, care and responsibility to each patient to gain their trust. Each trust from patient is an incentive for the staff in Modern Cancer Hospital Guangzhou, who will fully make patients feel the weight of "love" and make an extraordinary physician-patient relationship get extraordinary sublimation.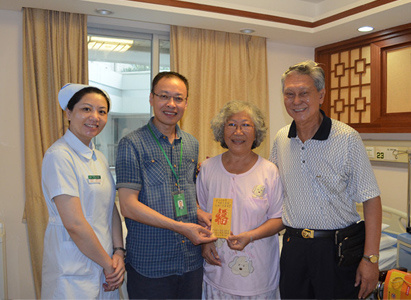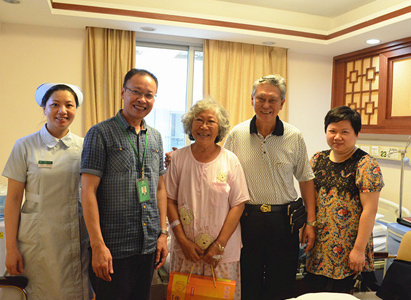 The Indonesian patient Ms.Wang and her husband taking joint photo with President Wang of the hospital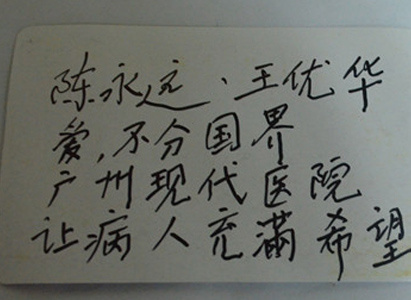 Handwritten testimonials from Mr.Chen – the Indonesian patient Ms.Wang's husband
If you have any questions, please contact us via online consultation, email or phone call. If you find our website useful, please follow our FaceBook and YouTube, health information will be updated regularly.
Online Inquiry
CLICK HERE!
Let's Have A Healthy Life!
Video
To show you
what is cancer by
videos
Chatting on Facebook

Become a fan of us!
+Follow
We are waiting for you.