The Light Shines Again
  Breast cancer metastases to bone
  "I can't believe that God gave me the toughest test in this way," NG GIOK TJU says. I was diagnosed of breast cancer in late stage with bone metastasis when I was in Malaysia in 2011. My doctor tried to persuade me to give up the treatment and predicted that I may have only 3-6 months left. Tears streamed down my face, I was so afraid to lose my life and my family. At that time, I couldn't walk independently and all what I could do was lying on the bed and suffering the pain, I even felt that death was around the corner. It's been two years until now, but I still couldn't help crying every time I recalled that miserable period. The pain in my body and the desperate feeling darkened my life.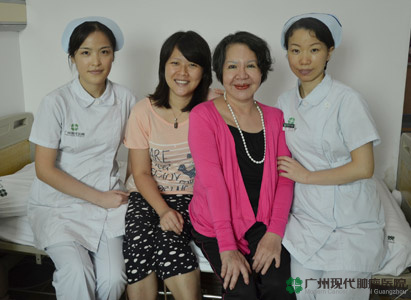 A turn in my life
  While I still sunk in my pain, a friend introduced a cancer specialized hospital by accident and told me that his brother received effective treatment there. So I went to the hospital's consultation center in Medan with my medical reports and with all my hope. After the doctor inquired my condition carefully, he suggested me a treatment plan. Knowing that there were new minimally invasive therapies without operation, I decided to go to China for the treatment. At least, they didn't give up on me!
  Hope
  I registered in Modern Cancer Hospital Guangzhou in Oct 11th, 2011. After a series of physical examinations, attending doctor Lin Jing from Oncology Department, chief physician Sun Jun and specialists from Invasive Technology Department, TCM Department and Pathology Department worked together to discuss my treatment plan. They tried to combine different therapies together to work out the most effective treatment based on my condition. The doctor first took the cryotherapy to kill the tumor on Oct 13th, and then killed the residual cancer with interventional therapy on Oct 18th. After that, another interventional chemotherapy and radiotherapy were operated. My condition was getting better obviously. I was able to walk and take care of myself, which was impossible before. The treatment effect encouraged me a lot. I took radioactive particle implantation therapy and another cryotherapy in May, 2013, which solved the bone metastasis problem. All my treatments in the hospital were minimally invasive with tiny scars, which were different from surgery, didn't cause much pain. During the last three years, the interval between every visit was getting longer and longer and I was also getting better every day. I took the medicine and visited the doctor on schedule according to his advice.
  During my hospitalization, I was not bored as the hospital organized all kinds of activities for us. I also had very precious memories in Beijing road where I had fun in shopping.
  I didn't give up my life or hope so I passed the test successfully. The prediction of 3-6 months dead line was broken and I still enjoy my life! I feel grateful to those who have helped me and to my family and myself, for they never give up on me. And the light of my life shines again.
If you have any questions, please contact us via online consultation, email or phone call. If you find our website useful, please follow our FaceBook and YouTube, health information will be updated regularly.
Online Inquiry
CLICK HERE!
Let's Have A Healthy Life!
Video
To show you
what is cancer by
videos
Chatting on Facebook

Become a fan of us!
+Follow
We are waiting for you.