Venny Nyototowijoyo: Maintain an optimistic attitude to beat cancer
  "I was an unfortunate woman due to cancer, but I am also very lucky because great doctors made me have a second chance of life, so I know the true meaning of life." This was what Venny Nyototowijoyo told when we met. She is the most optimistic patient we have interviewed. From the discovery of a breast lump to diagnosis of breast cancer, she always maintained a positive and optimistic attitude. She has been encouraging everyone around with this spirit of optimism.
  Even sick, but still mindful of their loved ones
  "I'm busy most of the time, because I like to keep my life meaningful and hope that through my own efforts, it would ensure my family members live a happy life." This is Venny Nyototowijoyo's life, and has not been changed even in sickness.
  In December of 2011, Venny Nyototowijoyo accidently found a 2cm tumor on the left breast, but it was not painful, so she went to hospital for examination and doctors told that it might be breast cancer and suggested to do further checks. However, she didn't take doctors' advice but addressed herself to kids' wedding as she thought this was more important. After a year later and at the beginning of 2013, Venny Nyototowijoyo's breast lump enlarged to as big as a fist, which has made her receive treatment a.s.a.p.
  "Life and death moment, God blessed me."
  "Perhaps God gave me instructions on how to treat when I was lost in going to where for treatment, at that time, a laryngeal cancer patient friend accidently visited me and took my hand and said:"you see, I have now returned to normal life, eating or drinking normally. It is all because of Modern Cancer Hospital Guangzhou, and I believe they can also be able to help you." The remarks really motivated Venny Nyototowijoyo and brought her new hope. Without too much preparation, Venny Nyototowijoyo decided to go to Guangzhou to seek treatment.
  As expected, Modern Cancer Hospital Guangzhou confirmed that Venny Nyototowijoyo had breast cancer. Because the disease has been dragging on for a year, the situation has deteriorated. At this moment, Venny Nyototowijoyo made the most difficult decision in life -- surgical resection of breasts. In those days of waiting for surgery, she did not shed a tear, like those warriors prepared to fight to the death with the devil, and wholeheartedly embodied the strength.
  The operation was successful, after that, doctors advised her to do interventional chemotherapy to reduce breast cancer recurrence rate. She worried that the side effects caused by chemotherapy, in order to dispel her concerns, the doctor explained to her that arterial infusion chemotherapy is to let the drug directly reach at the tumor lesions, reducing the side effects of treatment and achieving the best results. "The facts are just like what doctors have told, chemotherapy did not make me feel any pain. You see, I am still very beautiful, right?" Venny Nyototowijoyo said as she laughed.
  Now Venny Nyototowijoyo looks more vigor and charming. To be able to help more patients survive from cancer, Venny Nyototowijoyo often shares her anti-cancer experience with other cancer patient friends, doing all it can to send her warmth and encouragement.
  She said: "I just want to tell you that cancer is not terrible, we should maintain an optimistic attitude, bravely facing it and beating it. I have a brave victory, and you have to believe that you certainly can also have it."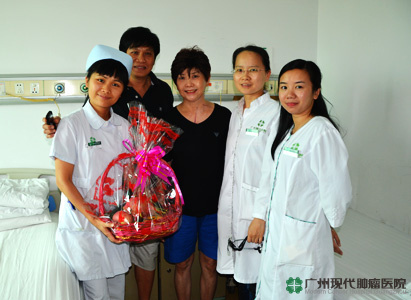 Venny Nyototowijoyo, her husband, Dr. Lin Jing and nurses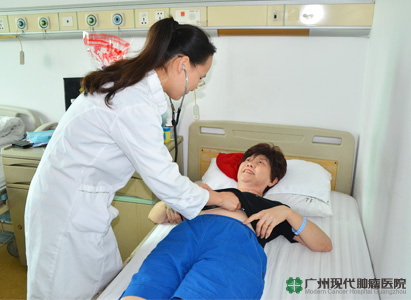 Dr. Lin Jing is checking Venny Nyototowijoyo's body
If you have any questions, please contact us via online consultation, email or phone call. If you find our website useful, please follow our FaceBook and YouTube, health information will be updated regularly.
Online Inquiry
CLICK HERE!
Let's Have A Healthy Life!
Video
To show you
what is cancer by
videos
Chatting on Facebook

Become a fan of us!
+Follow
We are waiting for you.