A Business Woman's 8 Years Anti-Cancer Story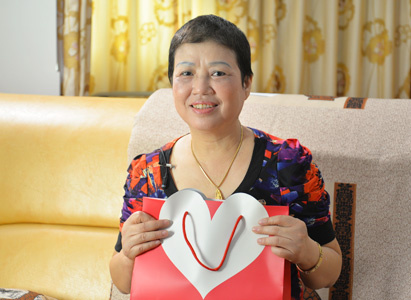 TRAN THI DIEP said her breast cancer was well controlled
TRAN THI DIEP is not only a kind, hardworking mother but also a successful, strong –minded business woman. Maybe because of her dual roles, she is trying hard to balance her work and family. However, breast cancer paid a sudden visit to her, though she was confused and anxious at first, it didn't affect her commitment to her business. While confronting the strike of breast cancer, how did this iron lady deal with her family and work?
When we first met TRAN THI DIEP, we saw a lady in blue and red dress. Her neat short hair, rosy cheeks and exquisite makeup, all of these cannot imagine her as a 57 year-old patient with 8 years anti-cancer history. Her eyes showed confidence and calm. When she told us her anti-cancer story, she was like talking about other people's story.
"8 years ago, which was Jan, 2006 I found my left breast painful and went to hospital for biopsy and CT scan checkup. However I was diagnosed of breast cancer and it was a bolt from the blue. At that moment, I felt so frustrated and confused. I came across a lot of hardship since doing business but none of those difficulties like cancer makes me feel so helpless. As I still need to work, I just took some herbal medicine hopefully to control the disease."
However herbal medicine can only lessen the pain, it did not improve my condition at all. I then took cancer treatments in Vietnam hospital in September, 2006. I took traditional surgery, 6 sessions of chemotherapy and 25 cycles of radiotherapy. All my hair dropped due to the treatment. Actually I am like most women, fond of long hair but it is hard to grow my hair now." talking about the past, she always kept her smile.
"Later I took 5 years of endocrine medicine. And until 2011, I came to Modern Cancer Hospital Guangzhou (MCHG) with the introduction of a friend and took health checkup and 2 times of natural therapy.
In December, 2013, one day I had severe abdominal pain and came to MCHG for checkup and found peritoneal metastasis with large amount of ascites and high tumor marker. The Multiple Disciplinary Team (MDT) of MCHG designed a special treatment plan for me. I took 6 times of interventional therapy, 4 times of natural therapy and combined with Traditional Chinese Medicine, my ascites disappeared and tumor marker declined soon. My attending doctor told me the tumor shrank by more than 95% in size, and I felt so relieved and excited. Comparing with traditional treatment like chemotherapy, this advanced minimally invasive treatment has less side effects and trauma.
As a businesswoman, TRAN THI DIEP thinks she is a strong and tough person. And of course her husband's support and encouragement helped her a lot during the past years. Even during the treatment, she was committed to her work.
Taking treatments and working is her common life style after she was diagnosed of breast cancer. TRAN THI DIEP never felt tired and she said, "Through working, I forget I'm a cancer patient. Work is also one of my incentives to fight cancer"
Regarding her 8 years of "cancer fight", TRAN THI DIEP would like to share that "Do not take cancer as death. Just trust in science and receive advanced treatment technology. Focus your mind on work and other meaningful things. Cancer is not that horrible as you thought."

If you have any questions, please contact us via online consultation, email or phone call. If you find our website useful, please follow our FaceBook and YouTube, health information will be updated regularly.
Online Inquiry
CLICK HERE!
Let's Have A Healthy Life!
Video
To show you
what is cancer by
videos
Chatting on Facebook

Become a fan of us!
+Follow
We are waiting for you.