Vietnamese Abbess Searches for Now Hope Abroad
  Hardship can build up a person while as a double-edged sword, it can destroy a person too. The choice would be individually different when people are facing difficulty, somebody would laugh to welcome it when some would cry and escape. A smiling lady came to Modern Cancer Hospital Guangzhou on Apr.2009 with her hardship. She is Ms. Luan from Hanoi, Vietnam.
  Ms.Luan is 55 years old and the abbess of a temple in Hanoi, Vietnam. Since she had been diagnosed breast cancer, she inquired many hospitals and doctors. Even She was cooperative with the doctor for surgery to remove the cancer, Ms. Luan had never thought about the recurrence of breast cancer. When it came to her, this positive lady did not compromise. Instead she took the treatments in France and Singapore actively and hoped that she can recover through the medical treatments from developed countries. But what regrettable was that the effects of those treatments were poor.
  Although suffering from cancer, surgery and other treatments and being weakening gradually, Ms. Luan, such an optimistic lady did not give up. With the help of friends, she came to China to try the new treatments, with the hope that the minimally invasive therapy from China can help her.
  Ms. Luan and her friends reached Modern Cancer Hospital Guangzhou on April 2009 when Ms. Luan's condition was very severe. Ulceration of the tumor on her right arm was obvious and the pain of her lumbar and legs was even unbearable while accompanied difficult breathe and walking. The medical staff in Modern Cancer Hospital Guangzhou planed a correspondent dietary based on her physical condition to build up her body. The experts also performed a comprehensive checkup for Ms. Luan, from which she was found post-operative recurrence of breast cancer via CT scan. And the tumor cells had spread to her right hand, both arms and bones. Rapid treatment was necessary. Considered her physical tolerance, Cancer experts made out the combined treatments after study, first would be interventional Chemotherapy, followed by particle implantation, Cryotherapy and photodynamic therapy.
  Ms. Luan kept a smiling face to cooperate with the doctors and nurses strongly for treatments. Her pain of lumbar and legs disappeared gradually while breath difficulty improved and she can even walk on her own. The tumors of bilateral lungs and right arm shrank obviously by CT scan, and then she discharged with stable condition.
  She was still alert after discharge and returned to Modern Cancer Hospital Guangzhou for follow-up over 10 times. Now her condition is under controlled. The nice smile and positive attitude of Ms. Luan moved the other patients deeply, which encourage them to be confident to against cancer.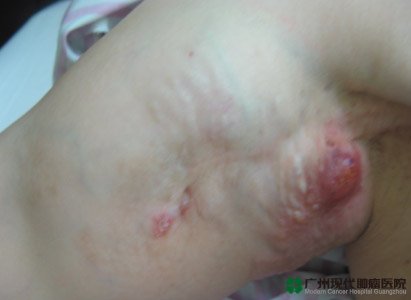 Before minimally invasive therapy for breast cancer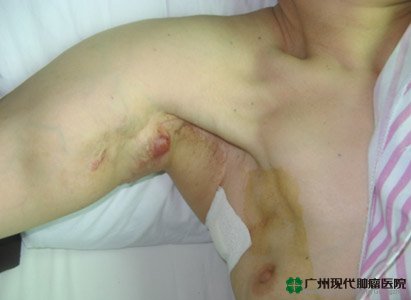 After minimally invasive therapy for breast cancer
  Knowledge extension: Photodynamic therapy
  It was allowed in clinical use by FDA of USA on 1996, and was permitted to apply in China by SFDA of China on 2009.Now it is one of the special treatments of minimally invasive therapy in Modern Cancer Hospital Guangzhou. Photodynamic therapy is to intravenously inject the photosensitizer (normal tissues intake it rarely) which would be absorbed greatly by cancer cells. 40 to 50 hours later, the lesions in patient would be exposed to laser radiation. Photosensitizer would take effect on cancer cells with the help of luminous energy. Then the cancer cells would be in toxic necrosis and the tumor vanishes little by little.
  Photodynamic therapy works within 48-72 hours and features small traumas and less pain, which can eliminate small lesions and reduces the occurrence of tumor. Moreover, its toxicity is low and is applicable in various cancers, especially for those cancer patients in late stage or old age and poor physical condition.
If you have any questions, please contact us via online consultation, email or phone call. If you find our website useful, please follow our FaceBook and YouTube, health information will be updated regularly.
Online Inquiry
CLICK HERE!
Let's Have A Healthy Life!
Video
To show you
what is cancer by
videos
Chatting on Facebook

Become a fan of us!
+Follow
We are waiting for you.