Minimally Invasive Treatment Made Me Reborn
  A truth hard to face
  On May 2012, Jasmin, who always thought she was healthy, suddenly found the abnormal yellowish vaginal discharge, which was few but enough to get her underwear wet through. This brought her all over sort of feeling. But the most embarrassing problem was the smell of this vaginal fluid, she could hardly bare it, not to mention the others around.
  Jasmin took it as common gynecologic disease that no attention was laid, and noticed the problem until the recurring fever had lasted for 4 month. She never had imagined she would develop cancer in such a young age that when her pathology report told her it was low differentiated and infiltrated cancer of cervix, stage Ⅱ, she could hardly cry but just felt dizziness.
  Repeated chemotherapy shatters her
  She started her long-term treatment then. She took treatments in Hong Kong and the Philippines in secession, the repeated chemotherapy in certain degree had relieved her condition but the side effects also shattered her greatly.
  Since her chemotherapy, she had developed the symptoms of nausea, vomit, diarrhea and heating feeling in abdomen and so on, and even could barely drink water, let say other food. Apart from her poor appetite and restless sleep, her body felt like lack of power and got a sharp drop on weight. Her emotion became anxious as well as her hair all fell. Watching her suffering, the family can do nothing but stop her chemotherapy and let her go back to Hong Kong.
  Minimally invasive therapy relives the symptoms and cuts down the size of tumor
  Fever attacked her again when it was less than a month to her last cycle of chemotherapy on Feb.2013. Her highest body temperature even reached 40°C, which followed by a series of symptoms like cough, abdominal pain. Jasmin knew that she has to stop the chemotherapy in case it will make her body weaker. Then the family start to seek for the new treatment.
  A friend learned her case occasionally in a talk, and introduced her Modern Cancer Hospital Guangzhou, where a relative of another friend accepted treatment and recovered. Jasmin was interested getting this news, because she can not give up and has to survive for her 3 kids, after all Hong Kong is closed to Guangzhou. The family began to search the information of Modern Cancer Hospital Guangzhou, consulted the specialists and finally decided to take the treatment in this hospital after general evaluation.
  Jasmin got to know those latest minimally treatment technologies after arrived at Modern Cancer hospital Guangzhou. And the radioactive particle implantation she accepted, is a brand new one she has never heard before. Through the elaboration of doctor, she not only knew its basic procedures, as well as its treatment effect.
  When talking about the physical changes after radioactive particle implantation, Jasmin said excitedly: " the most obvious changes after treatment is my fever went away, my abdominal pain, cough and anemia also relieved. "
  It was the third time for her to come back, and she felt the most relaxing moment she ever had after followup checking, because doctor told her the tumor vanished and she can discharge few days later. Facing the camera, Jasmin smiled brightly.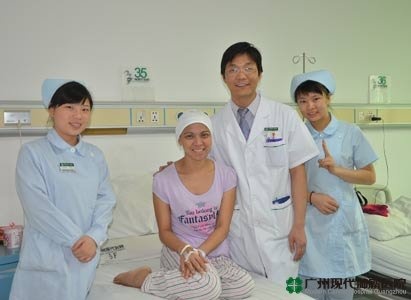 Jasmin Lisondra and Medical People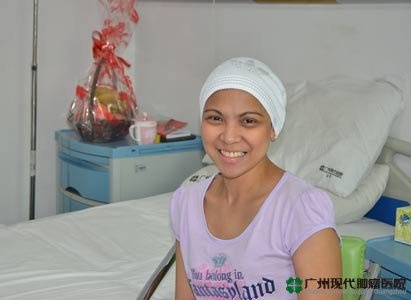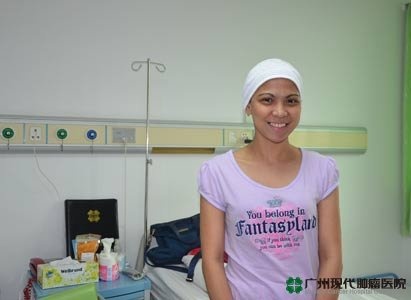 The Bright Smile on Her Face
If you have any questions, please contact us via online consultation, email or phone call. If you find our website useful, please follow our FaceBook and YouTube, health information will be updated regularly.
Online Inquiry
CLICK HERE!
Let's Have A Healthy Life!
Video
To show you
what is cancer by
videos
Chatting on Facebook

Become a fan of us!
+Follow
We are waiting for you.