Modern Cancer Hospital Guangzhou- A Hospital with Love and Kindness
  GUYEN THI TUYET, who is from Ho Chi Minh city, Vietnam found multiple uterus myomas in her body when she did the physical examination and among which, the biggest tumor was 64*66*65mm. After receiving the medical report, GUYEN was shocked and could not face the truth. With her husband's accompany, GUYEN went to another hospital for biopsy and CT scan, hoping for a positive diagnose. However, GUYEN was diagnosed with cervical cancer stage 3 at last. The local doctor suggested her take treatment immediately but GUYEN refused.
  GUYEN learned about the traditional cancer treatment has strong side effects and the therapy is not able to be designed individually. In order to receive a better treatment, GUYEN and her husband came to Modern Cancer Hospital Guangzhou. After taking the body examination and consulting with the experts, GUYEN took the combined minimally invasive treatments of three times of interventional therapy and one cryotherapy.
  During her hospitalization, GUYEN and her husband felt the superior medical service and advanced technology from Modern Cancer Hospital. To express their thanks to the hospital staffs and to wish the love and kindness they received from the hospital can go beyond the border and pass to more patients with cancer, they wrote a poem as follows:
  Kindness
  New atmosphere felt while I arrived;
  Every nursing worker is full of kindness;
  They knocked my door
  Inquired my condition
  If I needed nursing care
  They arranged it so fast;
  If I asked for help
  The only need was to press the bell
  The nurse came in one second;
  Nothing is permanent
  Only the peaceful mind;
  Kindness was always in their heart
  And they never hid their smile;
  Kindness can remove the doubt
  Kindness can make love stronger..
  Modern Cancer Hospital Guangzhou
  Everywhere are legends
  And a lot patients come from all over the world;
  Modern Hospital
  An excellent hospital even the visitors say so
  Perfect hospital
  Right choice was made
  I would leave without regret;
  Excellent treatment
  To stay here is like on vacation
  Everything is beyond expectation;
  Free to stay
  Come in and go out without any prohibition;
  Indeed a superb hospital even
  With counseling psychology;
  Triumph over disease real fast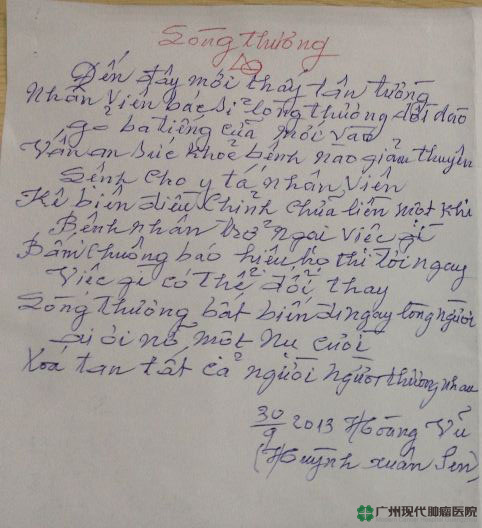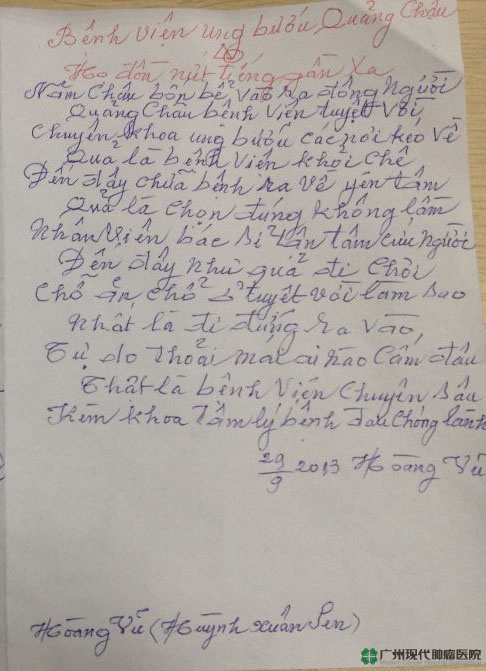 Modern Cancer Hospital Guangzhou
  Never had I been to Guangzhou
  Never had I known until I came;
  With full hair I came
  With bald head I left;
  I had short stay for treatment here
  Less than a month;
  No worry about my bald head, relatives;
  The door to the heart has been open
  So has the disease gone when I left.
  Love
  Love crosses the space
  Friendship goes beyond borders;
  We greeted each other when first met
  Flower of Love blossomed;
  One smile
  Ten times better than a dose of medicine;
  Everyone was joyful when met
  And wish each other healthy;
  Negative attitude is no good to your health, my friend
  Stay positive to fight the disease;
  Love is multiplied here;
  My new friend
  Open your heart
  Talk and smile
  Pain will no longer with you.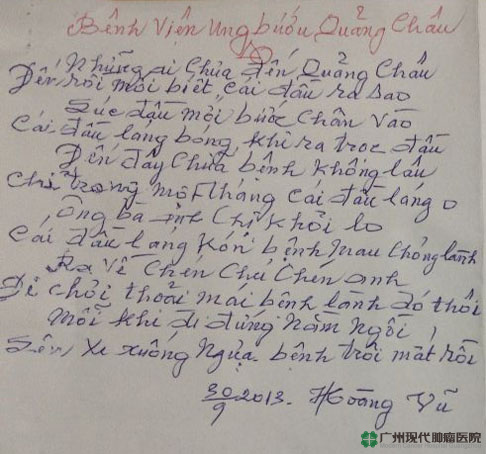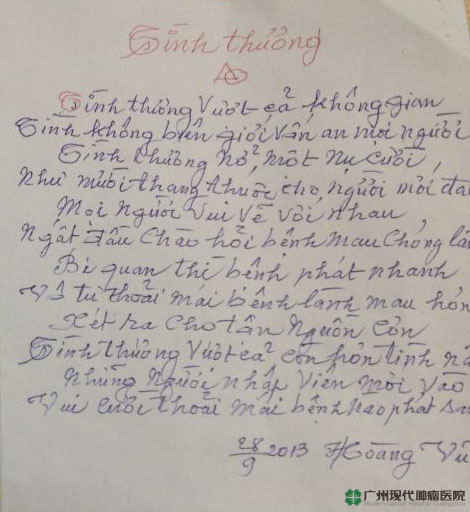 Treatment
  Cancer patients in late stage
  Health conditions cannot be good;
  Excellent effects with only one-month treatment
  No waste of money;
  Symptoms were lessened
  Patients felt better;
  Better health
  Easy walking;
  No numb hands
  No shaking legs
  What would be bothering you?
  Hospital's reputation runs everywhere
  A right choice we have made.
  Discharge
  Happily I left the hospital
  JHopefully I will not come back again;
  Several times I came and gone
  A lot of money has been spent
  And even hard to pay for the travelling again;
  I pray
  Please do not get worse or metastases
  I Pray
  For the total recovery;
  It is fine
  Money spent was worthy;
  My disease was cured;
  My heart is joyful
  Happily Friends and relatives came to congratulate me
  While I come home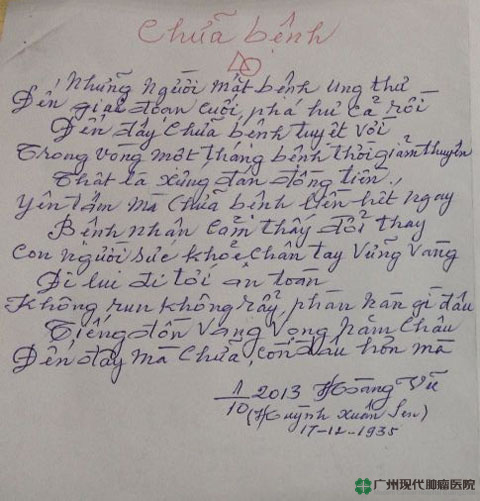 If you have any questions, please contact us via online consultation, email or phone call. If you find our website useful, please follow our FaceBook and YouTube, health information will be updated regularly.
Online Inquiry
CLICK HERE!
Let's Have A Healthy Life!
Video
To show you
what is cancer by
videos
Chatting on Facebook

Become a fan of us!
+Follow
We are waiting for you.