SRI:Interventional Therapy, the Reliable Treatment for Cervical Cancer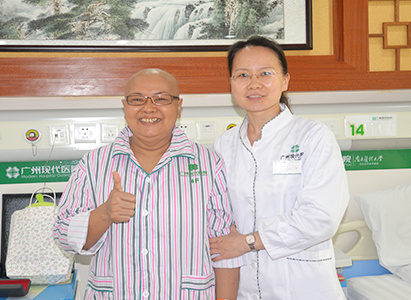 I am Sri Susilobani Tugiani, 59 years old, from Djakarta, Indonesia, a cervical cancer patient. On Nov.6, 2015, I came to Modern Cancer Hospital Guangzhou for interventional therapy and radical hysterectomy, and great improvement showed on disappearance of tumor, appetite recovering.
In 2015, I was hospitalized for vaginal bleeding, only to be diagnosed with cervical cancer through biopsy in local hospital. Though astonished, my optimistic family and I, as well as my friends, always believed that cervical cancer was not an incurable disease.
All information learned and I found that for local cancer treatment, only conventional therapies like surgery, chemotherapy and radiotherapy were available. Although one of my four children was diagnosed nasopharyngeal carcinoma and had accepted chemo and radiotherapy, but obvious side effects appeared after the treatment. His tooth got great damage according the side effects. Therefore, I determined to seek for treatments with better therapeutic efficacy while fewer side effects.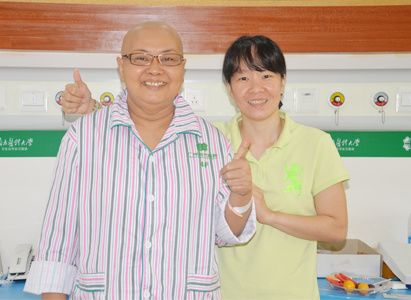 Fortunately, I heard about minimally invasive treatment when I was attending a symposium hold in Jogjakarta accidentally. Minimally invasive treatments were totally different from traditional ones, which had significant advantages like short treatment duration, quick recovery and few side effects. Great interest promoted me to have an in-depth consultation in Djakarta office personally, accompanied by my families and friends. When consulting in the branch office, the office staff introduced 18 kinds of minimally invasive treatments and patient surviving stories under minimally invasive treatment patiently, which gave me great confidence for accepting cancer treatment in MCHG.
Nov.6, 2015, it was the first time I came to MCHG. After a full evaluation of my case, the MDT medical team determined to adopt interventional therapy and radical hysterectomy as my final treatment plan. According to my chief doctor Lin Jing, the MDT medical team included doctors from comprehensive departments like medical department, surgical department, radiology department and pathology department, etc., which would work together to decide the most suitable and comprehensive treatment plan based on individual condition, aim at achieving the best treatment effect, avoiding one-sidedness for single treatment and reducing therapeutic faults.
Before the first interventional therapy, Doctor Lin told me details of this therapy and notices when performing the treatment. She also comforted me for no need to be afraid. As Doctor Lin said, no side effects appeared except some slight fever feeling inside my body during the treatment. In addition, reduced vaginal bleeding and physical condition improvement were achieved after the first interventional therapy. I was extremely delighted to see the therapeutic effect.
This is the sixth time I come back to MCHG for re-examination. Interventional therapy and radical hysterectomy help make great improvement on my condition. When I first arrived, I was so worried that I had no appetite for any food. But now, I can eat anything I want just like normal person. However, Doctor Lin informs me that having more vegetables and fruits, less fried and spicy food would be better for recovery.
Soon I will get discharged from hospital. For now, what I wish the most is returning back to normal living condition, running family business and taking care of my grandson. What's more, I am so grateful for selfless family accompany and encouragement, as well as high quality treatments from MCHG, which help me with a stronger confidence to fight against cancer. Sincerely, I hope other cancer patients may have an optimistic attitude just like me, believe that cervical cancer is not a fatal disease and get well soon. May god bless!
If you have any questions, please contact us via online consultation, email or phone call. If you find our website useful, please follow our FaceBook and YouTube, health information will be updated regularly.
Online Inquiry
CLICK HERE!
Let's Have A Healthy Life!
Video
To show you
what is cancer by
videos
Chatting on Facebook

Become a fan of us!
+Follow
We are waiting for you.