LAM SOOK YEE: Treating Liver Metastasis of Colorectal Cancer with Comprehensive Treatment of Interventional Therapy and Cryotherapy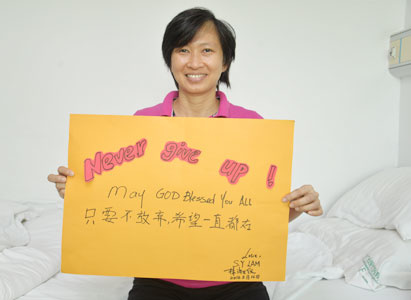 LAM SOOK YEE, comes from Kuala Lumpur, Malaysia. Running her restaurant, she used to have a happy life. However, God played a joke with her. LAM SOOK YEE has suffered from poor appetite, stomach ache and diarrhea since the second half of 2014, so she went to hospital and had blood test, but doctor there told her that she was healthy except for acid reflux. However, her condition did not turn better, but became worse. She then suffered from difficult defecation and bloody stool, she was so scared that she went to hospital again. This time she took CT scan, ultrasound, colonoscopy and many other examinations, and finally found out the problem: Liver metastasis from colorectal cancer.
Doctor in local hospital suggested LAM SOOK YEE to take colorectal cancer resection first and then take chemotherapy to kill the cancer cells metastasized to the liver. At that time, LAM SOOK YEE was so confused and helpless that she adopted doctor's suggestion. Before taking chemotherapy, the tumor in her liver was accounted for 30% to 40% of the liver. After taking 9 sessions of chemotherapy, the tumor shrank and was accounted for 20% of the liver. However, half year later, 75% of her liver was covered by cancer cells. Doctor told her that if she did not take chemotherapy in two months, she would lose her liver.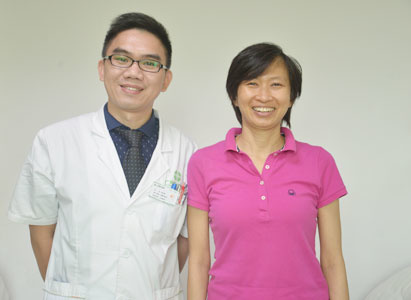 However, LAM SOOK YEE could no longer tolerate the side effects of chemotherapy. She was greatly tortured by the side effects like hair losing, acne, weight losing, etc. LAM SOOK YEE told us that she was desperate when taking chemotherapy; she did not want to talk with others at that time. Knowing that she had to take more sessions of chemotherapy, she even wanted to give up. Fortunately, she learned about Modern Cancer Hospital Guangzhou in her most desperate moment. At that time, Modern Cancer Hospital Guangzhou was holding free cancer symposiums in Malaysia. LAM SOOK YEE consulted Doctor Peng Xiaochi after the symposium, who is the chief doctor of MCHG; Doctor Peng explained her condition in detail and made a treatment plan for her. LAM SOOK YEE regained her confidence of life and decided to take cancer treatment in China after consultation.
When LAM SOOK YEE was hospitalized in Modern Cancer Hospital Guangzhou, her liver function was in a very bad condition. Her AST has reached to 498U/L. According to her condition, the Multidisciplinary Team of MCHG specially made her a comprehensive treatment plan based on interventional therapy and cryotherapy. LAM SOOK YEE said she was nervous when taking interventional therapy, but the significant efficacy of interventional therapy regained her confidence. After taking 7 sessions of interventional therapy and 2 sessions of cryotherapy, LAM SOOK YEE's AST has declined from 498U/L to 55U/L, the tumor in his liver shrank and necrosed.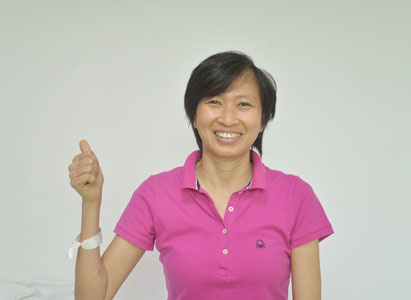 LAM SOOK YEE told us that Modern Cancer Hospital Guangzhou is very professional. Doctors and nurses here are responsible and experienced; they take good care of every patient. Although LAM SOOK YEE came here to take treatment along, everything is fine because of the careful nursing of nurses and doctors. Various kinds of activities are held by MCHG to help patient relax, including visiting Guangzhou famous scenic spots, shopping, climbing Baiyun Mountain, etc. LAM SOOK YEE used to fear of China, but taking cancer treatment in Guangzhou not only changes her mind but also helps her get a further understanding of China.
LAM SOOK YEE's appetite and sleeping becomes much better because her liver function returned to normal. She feels good now and regains her confidence, now she regains her desire to talk with others. What's more, she also returns to work, everything is getting better. LAM SOOK YEE: "Actually, having cancer is not entirely a bad thing. During the past two years, I learnt more about my life and my attitude towards peoples and doing things. There is lose and gain in my life, I am just focus on what I gain!" LAM SOOK YEE also shares her anticancer experience to other cancer patients: "I hope all cancer patients can have confidence in their treatment, keep hope and never give up." Here, we wish LAM SOOK YEE can always be optimistic and fight against bravely.
If you have any questions, please contact us via online consultation, email or phone call. If you find our website useful, please follow our FaceBook and YouTube, health information will be updated regularly.
Online Inquiry
CLICK HERE!
Let's Have A Healthy Life!
Video
To show you
what is cancer by
videos
Chatting on Facebook

Become a fan of us!
+Follow
We are waiting for you.