Modern Cancer Hospital Guangzhou Is the Choice Cancer Hospital --commented a Jakarta patients: HATTA and his wife LIM NAM KHIN
   "The Most beautiful Dream-a Chinese Dream"
-- A Letter from the Indonesian Couple
  Modern Cancer Hospital Guangzhou shall be recommended as the choice hospital for tumor treatment. The hospital is characterized by eminent doctors and their excellent medical skills, smiling nurses offering considerate nursing care as well as industrious cleaners. We must pay our highest tributes to the hospital for all our present happiness shall be ascribed to it. And we will take the staff's smiles back to Indonesia, engraving them in our minds for the rest of our life.
  We wish all the staff good health and good luck in everything and the hospital make still further progress in the future
   Yours Indonesian HATTA and LIM NAM KHIN from the 7th floor
   May 20, 2013
  This is a letter of thanks from an old Indonesian couple, who were closely bound to Modern Cancer Hospital Guangzhou because their hope of survival was reignited after misfortunate fell on them.
  Back in 2007, Mr. HATTA was admitted by Modern Cancer Hospital Guangzhou for rectum cancer. He had sought treatment in many countries like Malaysia and Singapore before he turned to Modern Cancer Hospital Guangzhou. The reason why he finally chose Modern Cancer Hospital Guangzhou lied in that the hospital fulfilled his wish of having no surgeries. Because he cannot bear the fact that he must live with an ostomy bag and become unable to control his urine and feces.
  Mr. HATTA said: "Although I was initially attracted by the hospital's techniques, what really moved me here were the patient and responsible doctors and the hospitable and thoughtful staff. Here I met the most amiable and approachable doctors." At their first hospitalization, the couple didn't trust the hospital completely. Therefore, they asked doctors various questions so as to know every treatment process very well. Though they repeatedly raised the same questions, doctors still kept answering them with patience and amiable smiles
  "Whenever I was distraught or anxious, doctors and nurses would enlighten me by patient explanations and reassuring chatting. Invariably, I would be in a much better mood after talking with them, which proved that cancer patients needed more psychological comfort and spiritual encouragement, "said Mr. HATTA emotionally, "Modern Cancer Hospital Guangzhou had done excellent job in this regards." It was probable that HATTA's optimism, detachment and his strong will against cancer had considerably contributed to his remarkable treatment effects and quick recovery. Amazingly, for the past six years, his rectum cancer never reoccurred. When he had CT scan in Malaysia, doctors who once suggested him to undergo surgeries was astonished by the total disappearance of cancer cells
  Rich Activities of Modern Cancer Hospital Guangzhou
  However, for the couple, life's ordeal was far from ended. LIM NAM KHIN, HATTA's wife was diagnosed gallbladder cancer in April 2013. Once again, the couple decided to seek treatments in Modern Cancer Hospital Guangzhou. HATTA consoled his wife: "good attitude is the sharpest weapon against cancer and I believe that you can regain health here just like me "
  Usually, the hospital would arrange a large variety of activities for hospitalized patients. And as long as Mrs. LIM was in good spirits, Mr. HATTA would accompany her to take part in those activities like climbing Lotus Hill, having Pearl River night cruise, watching movies, going out for shopping and sightseeing in Guangzhou, which could distracted her attention from the disease. The Doctors' comfort, nurses' care, her husband's accompany as well as her children's concerns about her all helped LIM to gather confidence in her fight against cancer.
  Since most Indonesian patients lived in the seventh floor, LIM and HATTA made friends with many cancer patients there. Frequently, they would discuss their conditions together and encourage each other. When speaking of Modern Cancer Hospital Guangzhou, they were unanimously full of praise for it. Mr. HATTA commented: "Guangzhou Modern Cancer Hospital is the choice hospital for cancer treatment, where cancer patients can regain health and carry on their dream of being alive."`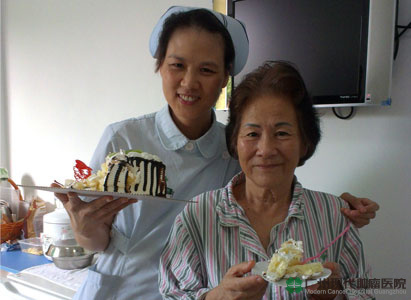 Doctors and Nurses Are Celebrating LIM NAM KHIN's Birthday
If you have any questions, please contact us via online consultation, email or phone call. If you find our website useful, please follow our FaceBook and YouTube, health information will be updated regularly.
Online Inquiry
CLICK HERE!
Let's Have A Healthy Life!
Video
To show you
what is cancer by
videos
Chatting on Facebook

Become a fan of us!
+Follow
We are waiting for you.