Group Consultation Builds up Trust
  On the afternoon of March 18, 2013, when entering the ward in eighth floor of Modern Cancer Hospital Guangzhou, we saw a smiling middle-aged man with ruddy cheeks in there. His enthusiasm and smiles suddenly narrowed the distance between us. He was our interviewee OEI JOYO HWIE PRASETYO who is from Surabaya, Indonesia.
  Seeking medical help everywhere but refused the treatment plans
  In 2012 June, he was startled to found blood in his urine and immediately went to a local hospital for check. When heard the doctor said that his left kidney had mass which was highly suspected as left renal carcinoma, he was stupefied. This is like a bolt from the blue that he can hardly believe. However, under encouragement from his family and friend, he actively received cancer treatment. As the medical condition in Indonesia is not developed, he, his family and friends searched treatment and hospitals from other countries. In August 2012, once again there was blood in the urine, he felt his condition got worse, although the local doctor gave him new treatment plans, he refused. Then they decided to go abroad for treatment. After found similar treatment plans in hospitals of Singapore and Malaysia, he refused to undergo it.
  Group consultation convinced him
  As he felt helpless, a relative told him that Modern Cancer Hospital Guangzhou has rich experience in treating tumors and he can try. Then with doubts, he went to Surabaya office of Modern Cancer Hospital Guangzhou consult the oncologist. The warm reception of the staff and the professional suggestions of the oncologist deeply impressed him. After discussing with family, he decided to go to the hospital. And then with help of the staff for Visa application, ward arrangements, money transfer, and hospital contact, etc. he took the flight to Guangzhou.
  One admitted he was expressed by the carefulness of the medical staff and attentive services. After a comprehensive check-up including CT scan and biopsy of left kidney, the final diagnosis was left renal clear cell carcinoma and the mass had 3cm larger than before. Then through a group consultation by considering the suggestions of director doctor, deputy doctor and chief doctors, a final treatment program was designed.
  Meanwhile, he unexpectedly agreed with this plan. Why? He said: "in other hospitals, once CT scan came out, the doctors would make the treatment plan right away without any discussion with their superiors and even biopsy. This made me feel their carelessness. While this hospital was different, the doctors performed biopsy of my left kidney mass after CT scan to further confirm my conditional mass biopsy. Besides, the doctors also had group consultation by collecting suggestions of the director doctor, vice director doctor and attending doctors and discussing my condition and treatment history, then final treatment plan was made. Furthermore, the doctors also explained patiently to me every treatment procedures and my condition. Their professional spirit and careful and responsible attitude made me relieved, so I did not hesitate to agree that."
  Successful operation brought his smiles back
  Under active cooperation with the doctors and his efforts, the operation went very smoothly. With doctor and nurses' care and guidance, HWIE PRASETYO got better and better and more smiles went back to his face. Now, his cancer has been well controlled and mental state is very good, and there is no bloody urine any more. During the interview, though we do not speak the same language, his smile let everyone in the room feel his inmost pleasure and excitement.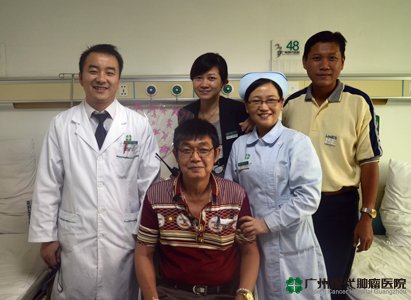 Group photo of OEI JOYO HWIE PRASETYO with medical staff
If you have any questions, please contact us via online consultation, email or phone call. If you find our website useful, please follow our FaceBook and YouTube, health information will be updated regularly.
Online Inquiry
CLICK HERE!
Let's Have A Healthy Life!
Video
To show you
what is cancer by
videos
Chatting on Facebook

Become a fan of us!
+Follow
We are waiting for you.