Chem Chhay from Phnom Penh, Cambodia: Love from Family Is the Key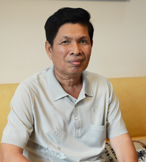 Phnom Penh
"The first time when I heard I had cancer, I was shocked and was in indescribable mood." said Chem Chhay, a very competitive man from Phnom Penh, Cambodia. He could not understand why he got this in return after all these contributions in his life?
"Honestly I found it difficult to face this truth; however I tried to re-organize my thoughts after being shocked for a while and avoid letting myself staying in the helpless state, because I understood that my husband was waiting for me to be with him to fight the disease." Chem Chhay's wife said.
Speaking from five years ago, in 2007, Chem Chhay has retired and was enjoying family fun with his wife and grandchildren. In July, Chem Chhay suddenly found fiscal urination pain, so he went to Thailand to do a CT examination which revealed lump in right flank, and it was further determined as kidney cancer afterwards.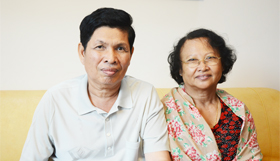 Phnom Penh and His Wife
"At that time, we chose surgery. Condition after surgery had also been controlled somehow. We discharged from the hospital after surgery, and we all thought that cancer would no longer hurt my body. It was really a huge shock to us that three years later it recurred again and got out of control." Chem Chhay and his wife told about their experience. In 2011 and after recurrence, Chem Chhay took some drugs but stopped them due to large side effects. In October of 2012, Chem Chhay and his family knew about the details about anticancer technologies of Modern Cancer Hospital Guangzhou, and then came to the hospital for treatments. After careful medical treatment, Chem Chhay's condition has finally been brought under control.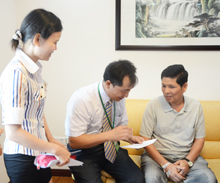 Group Photo from Phnom Penh and medical Staffs from Modern Cancer Hospital Guangzhou
"It is not only technologically advanced, but also doctors and nurses are responsible and skillful, regardless of disease problems or problems encountered in everyday life. All our problems or questions will patiently be solved in the soonest way." Speaking of treatment experience in Modern Cancer Hospital Guangzhou, Chem Chhay could not help praising: "Once, I was not feeling well at midnight, so we informed the staff, and they came over immediately to deal with the problem. Such quick assistance criteria really made us at rest and be assured that doctors and nurses were really responsible."
"In order to let my husband get the best recuperation, our way of life has been comprehensively reversed nowadays. In the past, when our children were not at home, my husband cook for me, but now in Modern Cancer Hospital Guangzhou, because there is a kitchen provided, I become a housewife, taking care of his daily diet, trying to transform his recipes to increase nutrition and flavors for him." said his wife happily.
"Five years of going through thick and thin together with my families made me deeply believe: the family is not only a natural presence, but also a responsibility and morality to deal with disease as the most effective force." told by Chem Chhay at the end of the interview.
If you have any questions, please contact us via online consultation, email or phone call. If you find our website useful, please follow our FaceBook and YouTube, health information will be updated regularly.
Online Inquiry
CLICK HERE!
Let's Have A Healthy Life!
Video
To show you
what is cancer by
videos
Chatting on Facebook

Become a fan of us!
+Follow
We are waiting for you.