Minimally invasive treatment changes the tumor from original coconut-size to egg-size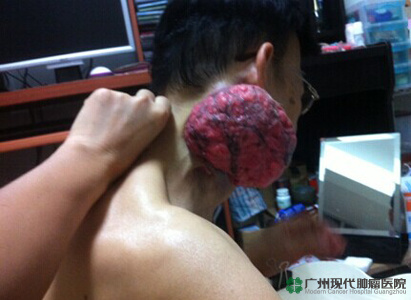 Before treatment, the tumor on PRASIT's right-side neck was much bigger than a fist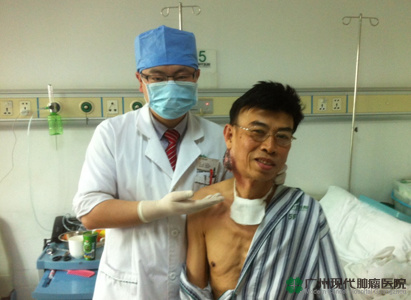 On April 5th, the day PRASIT left the hospital. And the tumor on his neck has shrunk into an egg size after the treatment
On April 4, it was PRASIT's first time having Thai food in China, he's very happy and nearly ate one whole fish. "This is the best dinner I've ever had for the last four years."He said with satisfaction after dinner. Because of the huge laryngeal tumor, he hasn't had a good dinner for 4 years.
Concerning about the side effects of radiotherapy and chemotherapy
Four years ago, PRASIT was diagnosed of laryngocarcinoma. He had chemotherapy under the suggestion of the local doctors, but the side-effects from chemotherapy frightened him, and made him resist such treatment. "Chemotherapy makes me vomit, now I am afraid of going to the hospital."He said. Later, local doctor suggested him to take radiotherapy and told PRASIT radiotherapy would cause total loss of his right-side teeth, and advised him to extract them before radiotherapy for less side-effects. So he pulled out all his right side teeth, but later he didn't take this therapy, because usually it needed to wait for a long time for the treatment arrangement in Thailand hospitals and he was afraid of the side-effects of radiotherapy and chemotherapy, so he gave it up, and just stayed at home for basic nursing care.
The perplex of huge tumor on neck
About one year ago, a tumor appeared on his right side neck, and it became bigger and bigger. When it grew into the size of a coconut, it broke through the skin, ulcerated and bled, some white liquid flew out. PRASIT couldn't fall asleep because of the pain, and he lost 20 kilograms. There was even one time, he dreamt that he was flooded with water woke up with a start, found out there was blood discharged from the ulcerated tumor, which had already soaked his pajamas, and he was lying in a pool of blood. Over the years, the entanglement of cancer made PRASIT almost collapsed. Every day, he looked into the mirror and measured the nasty tumor with both hands, thinking, wouldn't it be nice if one day it suddenly disappeared.
"Thanks to my wife, I am still here today," PARSIT said: "She has been accompanied by my side for the last four years, change the medicine for me for two or three times every day, suffered all the difficulties with me."The tumor oppressed PRASIT's air passage, esophagus and laryngeal airway, so he can only eat liquid food, his breathing became difficult, and his voice was hoarse. His wife made the food into juice for his convenience to drink.
The cooperation of MDT team makes the huge tumor become smaller
"Later we found out Modern Cancer Hospital Guangzhou China in newspaper, after that we also searched it on internet, but we still doubt about it, we don't know whether it's true or not, and we also worried about expense of the treatment." PRASIT said. After overall consideration, he accepted his wife's advice and came to Modern Cancer Hospital Guangzhou China on March 12, 2015, but at the same time, he was ready for never coming back to Thailand.
However, it's a turning point to PRASIT.
"It's really a miracle. After only 20 days of treatment, my tumor has become smaller and smaller, from the original coconut-size to egg-size. In addition, my sense of taste recovered two days before I left the hospital."PRASIT said happily.
According to the hospital diagnosis, the size of the tumor on his right side neck is 20x18x10cm, there's also a node sized 5x4x3cm on his left cervical lymph. PRASIT was diagnosed with laryngeal squamous cell carcinoma and bilateral cervical lymph node metastasis (stage IVb).
Considering that the tumor has oppressed his laryngeal airway and made him hard to breathe, the MDT group of Modern Cancer Hospital Guangzhou China decided to conduct tracheotomy on PRASIT to solve the difficulties in breathing and ensure the safety of the subsequent minimally invasive treatments. On March 14, hospital experts conducted the surgery successfully. Later on March 23 and March 30, he took interventional therapy and right-side neck tumor cryotherapy once respectively.
PRASIT's chief doctor took out the tumor photo he took on March 12, the day he was admitted to the hospital, and compared it with the tumor photo he took on April 5 which was the day he left the hospital, and said with glad: "the tumor has shrunk by four- fifth."
"After interventional therapy, I can see the tumor shrink every day."PRASIT said happily, "Especially after four days of interventional therapy, the tumor has shrunk by 40 percents. From that day on, I feel more confidence with my health. It's also on that day, I smiled---I haven't smiled from my heart for the last four years.
Though PRASIT's treatment was not over yet, he couldn't wait to share his experiences and let more people get the proper treatment as soon as possible. "In Thailand, many patients who suffered from cancer haven't found out suitable treatment yet, since God has given me the opportunity to reborn, I want to do something."PRASIT said he would post some information about Modern Cancer Hospital Guangzhou China on his restaurant to give patients another choice for treatment. On April 10, he and the other two patients who also had received treatment from Modern Cancer Hospital Guangzhou China and got good treatment effect, accepted the interview from second largest TV station , top two major newspapers in Thailand to share their anti-cancer story.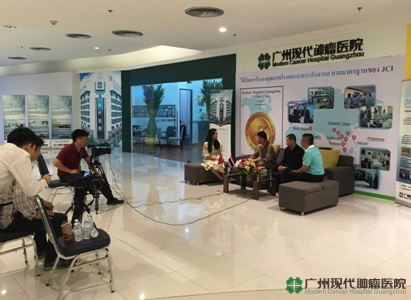 PRASIT is receiving interviews in Thailand
If you have any questions, please contact us via online consultation, email or phone call. If you find our website useful, please follow our FaceBook and YouTube, health information will be updated regularly.
Online Inquiry
CLICK HERE!
Let's Have A Healthy Life!
Video
To show you
what is cancer by
videos
Chatting on Facebook

Become a fan of us!
+Follow
We are waiting for you.