Thanks for Reaching Out to Me as Allah —Mr. SHIHAB, a liver cancer patient from Bangladesh
  I'm a RMAM and have close contact with Allah
  Mr. SHIHAB 36 years old from Bangladesh lives in the capital Dhaka, having a pure and substantial life. He loves his job and feels himself having close contact with Allah, for he is working as "RMAM" in the biggest mosque of local place. His daily work includes studying Quran and teaching the kids in the mosque.
  After a year of marriage, Mr. RMAM got a kid, a happy note of life. However, life is not always happy just like moon is not always full. In his prime, Mr. SHIHAB has suffered from hepatitis B for 8 years and hypertension for 5 years.
  Refusing Singapore and India, choose China for the treatment
  On July 1, 2013, Mr. SHIHAB happened to get abdomen swelling and pain, cough, vomit and loss of appetite. He went to hospital for check up accompanied by his sister in law. The result came out and he read it but didn't understand what it said until he saw in the last sentence of conclusion; the word "cancer" shocked him and made his brain blank at that moment. When he regained his consciousness, Mr. SHIHAB immediately called his elder brother who is an anaesthetist working in a local hospital of Bangladesh. At that time, Mr. SHIHAB's elder brother was having trip in India and visiting Indian hospital.
  Mr. SHIHAB's elder brother soon came to Mr. SHIHAB and made a lot of inquires, and finally chose Modern Cancer Hospital for the treatment. As his elder brother said, "Bangladesh is near Singapore and India, but we cannot offer the cost of Singapore hospital and Indian medical technology in treating cancer is not good as China. Therefore, we finally come to China."
  Bound to family shadow: six relatives suffered from cancer
  When arrived at Modern Cancer Hospital Guangzhou, Mr. SHIHAB had great psychological burden, always sighed and lost weight of 8 kg. Medical personnel took care of him carefully and interpreter Mr. Mark always accompanied him and finally opened his mind by his attention. We got to know Mr. SHIHAB's worry: there were six relatives getting cancer in his family; moreover his younger brother and uncle died from liver cancer. What worried him most was that his cancer has very large size up to 12.5*15.9*16 CM.
  Thanks for reaching out to me as Allah
  Modern Cancer Hospital Guangzhou sets up a MDT expert team which consists of specialists in cryotherapy, particle knife, surgery, chemotherapy, radiotherapy, interventional radiology, RF division, etc. The MDT expert team made out a best and most suitable treatment plan to Mr. SHIHAB according to his physical condition, cancer stage, economic condition and mental capacity, after a series of discussion. After the initial embolization surgery, his condition has been improved that his cancer size is shrunk, quality of sleep and appetite is also improved.
  Every morning, Mr. SHIHAB's elder brother goes to nearby market to buy Mr. SHIHAB's favorite foods, cooks them carefully and then sends the hot nutritious meal to him. Mr. SHIHAB enjoys the foods every much and can feel the love and concern of all aspects from his family and medical personnel. Maybe people are especially sensitive to others' love when in dire straits. Mr. SHIHAB said full of emotion, "there are so many people who love me and care for me, so I must strive to fight against cancer bravely."
  On the way of beating cancer, SHIHAB can feel Allah's light has been shining on him. Family has given him the power while thoroughgoing treatment of Modern Cancer Hospital Guangzhou has gave him the wings to leap the line between life and death.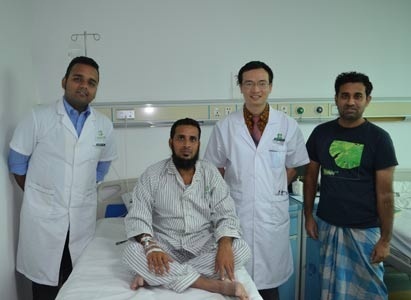 Joint photo of Mr. SHIHAB and his elder brother
If you have any questions, please contact us via online consultation, email or phone call. If you find our website useful, please follow our FaceBook and YouTube, health information will be updated regularly.
Online Inquiry
CLICK HERE!
Let's Have A Healthy Life!
Video
To show you
what is cancer by
videos
Chatting on Facebook

Become a fan of us!
+Follow
We are waiting for you.