Tran Quyluong from Ho Chi Minh, Vietnam: Here Bring People Confidence and the Sense of Safety
  In the afternoon of August 3, 2013, we met the Anti-Cancer Warrior Tran Quyluong on the 7th floor Modern Cancer Hospital Guangzhou and his brother. When we walked into the ward, Tran Quyluong and his brother were sitting on the couch laughing and talking. They greeted us in Cantonese the moment they saw us. Although we had known Tran Quyluong can speak Cantonese, we were really shocked at his pure and natural Cantonese accent, which also facilitated the following smooth conversation. Tran Quyluong also told us: "This kind conversation makes me feel intimate and can pull into the distance."
  Tran Quyluong is a cancer patient from Ho Chi Minh, Vietnamese. He had been treated in the Vietnam since the year 2011 the tumor was found. This time he chose to come to Modern Cancer Hospital Guangzhou for treatment was not only he believed the hospital can bring better treatment for him, but also he wanted to visit his father's hometown. "My father also lived in Guangzhou before and came to Vietnam in 1950, and although my brother and I were born and live in Vietnam, as foreign citizens of Chinese origin, we always wanted to return to Guangzhou." His brother explained to us about the reasons for them choosing Modern Cancer Hospital Guangzhou for treatment.
  During the Chat, Tran Quyluong told us about his treatment process in Vietnam. In August 2011, Tran Quyluong and his brother was busy on business matters, but one day, his brother accidentally noticed his sallow face with poor mental status, then he took Tran Quyluong to go to local hospital for examination and the doctors diagnosed him hepatitis B and hepatitis C, but the further CT diagnosed him liver cancer. In September 2011, Tran Quyluong underwent surgical treatment in the local hospital and had the condition stabilized. Unfortunately after one year later, liver cancer re-occurred.
  "After recurrence, we received chemotherapy in Vietnam, but the side effect was relatively large and the effect was not ideal, and later a friend introduced us to come here." Tran Quyluong said and also lifted his clothes to show us his surgical scars at the same time, "all the treatments received in Vietnam still could not make me get rid of the cancer. If I had known your hospital has better treatments, I would have come here for treatment at the very first beginning." At that time, we could truly sense the regret from the way Tran Quyluong spoke. "In Vietnam, he suffered a lot of pain, especially side effects like nausea, vomiting, hair loss and other symptoms of chemotherapy were very tough and occurred frequently, but he persevered. However, after several months of treatment in Guangzhou, his face seems to appear a little bit rosy and his condition is getting better. Dr. Lin said he can discharge after some consolidation therapy courses. Now we are no longer worried about the problem related to treatment." told his brother.
  The two brothers are talkative and during the interview, we have chatted many interesting things happened in Guangzhou. When we asked the impression of theirs about the city Guangzhou, they said that his father had preserved old photos, compared to decades ago, changes in Guangzhou are really too great. "But what still remain the same are people are kind, and passional traditional virtues have not changed. Especially the medical staffs of Modern Cancer Hospital Guangzhou are very attentive, enthusiastic for us, making us feel at home here and bringing trust and the sense of safety. "Tran Quyluong and his brother lamented.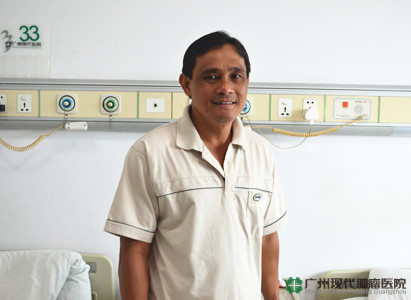 Tran Quyluong was sharing therapeutic experience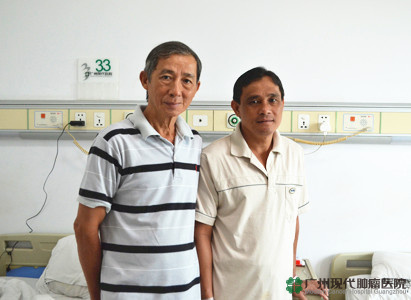 Tran Quyluong and his brother
If you have any questions, please contact us via online consultation, email or phone call. If you find our website useful, please follow our FaceBook and YouTube, health information will be updated regularly.
Online Inquiry
CLICK HERE!
Let's Have A Healthy Life!
Video
To show you
what is cancer by
videos
Chatting on Facebook

Become a fan of us!
+Follow
We are waiting for you.