Struggle with Lung Cancer and Seek Medical Treatment through Overseas Long Travel Distance
  Have you ever thought that health-kept and disease-free relatives suddenly suffered from fatal illness overnight? Uninterrupted day and night worry that one day when you open up eyes and find your mate pass away because the illness, has been lasting. I am now suffering from such kind of mental torture: my husband Ding Guanghong and I have been experienced a quiet life of thirty years together, but in August, 2012, he was checked out left lung tumor which was diagnosed as lung cancer. After knowing the fact, my daughters and I have been caught up in the day and night worry and fear that he might be taken away by the disease some day, and were so sad that he was tortured by the disease.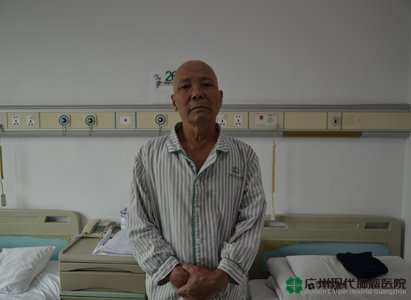 Detect the disease but dare not tell
  I worried about that if my husband knew the disease, he would give up his life, which was the last thing we wanted to see. So my daughters and I secretly discussed and agreed not to let he know what he was suffering from, instead, we just told him that he was suffering from a kind disease that required him to restore his health slowly so that condition would be improved. My daughters and I were running around to look for a good tumor hospital in the hope of arranging proper treatments for my husband as soon as possible. During this period, my husband's condition was getting more and more serious with rapid weight loss and continuous day and night coughing, which made him even experience physical fatigue phenomenon despite of his originally strong and healthy physical status.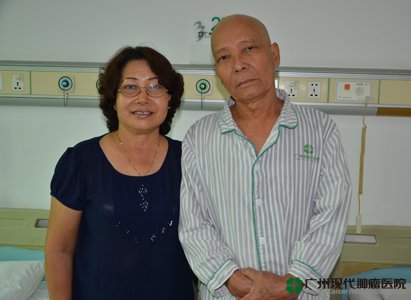 Despite of long distance, seek treatment overseas
  Whether it should not be confined within our own country to find the hospital, and expand the search range overseas? My daughters and I have spent several days exploring this issue. My younger daughter, as a translator, echoed my thoughts, and she said she had noticed Modern Cancer Hospital Guangzhou in the newspaper Pioneer, and also asked many Chinese businessmen about this hospital, what was more, she also got to know that this hospital has set up a branch office in Hanoi, so my daughters and I have learned many new treatment technologies of Modern Cancer Hospital Guangzhou through consultation, after discussion, we decided to send my husband to the hospital overseas for treatments.
  The happiest thing after coming to Modern Cancer Hospital Guangzhou is that I can live in the same room with my husband, which really makes me be able to do a better care-taking work for him, meanwhile, I even can cook his favorite foods in the kitchen to better restore and balance his body. This is what cannot be done in Vietnam.
  The attending physician – director Pang carefully inquired about my husband's medical history, and also had a warm chat with us, which completely made our exotic strangeness disappeared without a trace and brought us the sense of warmth. After consultation, director Pang developed a comprehensive treatment program for my husband, which combined interventional therapy and cryotherapy to target at my husband's tumor directly. After 3 times of interventional therapy and 1 time of cryotherapy, my husband has no longer felt difficulty in breathing, and his frequent coughing stopped; his basic self-care has no longer been a problem. Even the prostate disease troubled my husband many years, has been cured.
  Responsible director Pang takes ward around daily to inquiry about the changes about my husband's condition, diet, spirit, lifestyle, etc. Enthusiastic and cheerful nurses often help me take care of my husband carefully. After CT examination, director Pang told me that the originally 7 x 5cm tumor has reduced to 2-3 cm, and the symptoms have been improved a lot. Knowing my husband's condition being improved, I feel very excited and the pressure on my husband is also relieved. My husband and I are really thankful for what the doctors and nurses of Modern Cancer Hospital Guangzhou have done, and we have the true confidence in diversified technologies owned by the hospital, and I believe that the hospital can help my husband defeat lung cancer.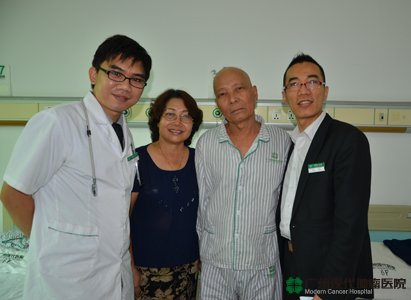 Maintain confidence and we will ultimately prevail over cancer
  My husband is a sports-loving person, because our living place is near sea, so daily leisure activity of my husband is swimming. But since suffering from lung cancer, my husband has never been to the beach for swimming, and I am looking forward to my husband re-taking a dip in the sea again a.s.a.p. after restoration of his body. Since my husband has been sick, all the family members have been spiritually and materially supported him, even including his 90 years old mother. I think this is the most worthy thing for the families of cancer patients, and my husband has been saying that it was the support of family members that made him still hold the faith and not be defeated by his illness torture.
  Recently my husband has proposed to share his anti cancer experience as a template and to tell other cancer patients not to confine within their country. It is well-known that medicine is without borders, as long as patients keep faith, believe in doctors, cooperate with treatments, they will eventually conquer cancer. After being hospitalized in Modern Cancer Hospital Guangzhou, my husband finally realized that life could be prolonged. He would like to share with you about his anticancer experience and I would like to help my husband to complete the task, as it is not only for my husband, but also for many cancer-suffered patients and their families.
  My husband's body is gradually improving; meanwhile my husband and I actively enroll in medical tourism services organized by Modern Cancer Hospital Guangzhou. Our favorite one is Pearl River Night Cruise: in the ship we really have enjoyed beautiful night scene of Guangzhou, China, what's more, we could know more cancer patients friends and share so much anticancer experience. Now my husband and I are looking forward to the Shenzhen tour a few days later...
If you have any questions, please contact us via online consultation, email or phone call. If you find our website useful, please follow our FaceBook and YouTube, health information will be updated regularly.
Online Inquiry
CLICK HERE!
Let's Have A Healthy Life!
Video
To show you
what is cancer by
videos
Chatting on Facebook

Become a fan of us!
+Follow
We are waiting for you.