Fighting Lung Cancer Optimistically and Being Treated Effectually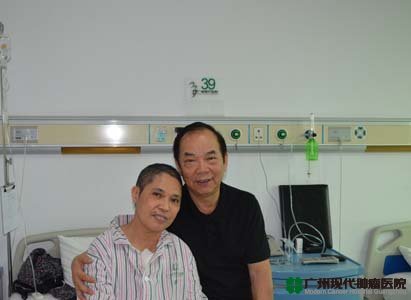 "This is the fourth time we came to Modern Cancer Hospital Guangzhou for treatments from July, 2012. My beloved wife's overall condition is greatly improved after receiving several times of treatments in the hospital. Now I want to share her story with you, and all the other cancer patients. I want to thank every doctor, nurse and translator who has help us in the hospital more and yet more." said Mrs. BUI THI THI's husband.
 Fighting Lung Cancer Optimistically
  "I have been with my wife for more than 30 years, we have a daughter and a lovely granddaughter. In my leisure time, I will go to travel or do some sports with my wife. Life was going on easy and happy. While days does not always goes on as well as people would like. In July, 2012, my wife felt sore throat and cough more and more seriously, so I accompanied her to a local hospital in Hanoi, Vietnam for check. The doctor said there are tumors found in the lungs of my wife, which should be treated immediately. We can hardly believe in the news, i have never thought that my wife would have cancer! But we calmed down soon after, since the disease needs to be treated as quickly as possible. After all, my wife accepted the fact with a positive attitude, and searched related hospitals for treatments together with me."
  "In a chance, a cancer patient recommended us to Modern Cancer Hospital Guangzhou,where she had been treated effectively. She told us that the hospital have a lot of advanced cancer treatment equipments and the excellent doctors there can help my wife greatly. After hearing her words, I took my wife to Guangzhou for treatments without no more considerations."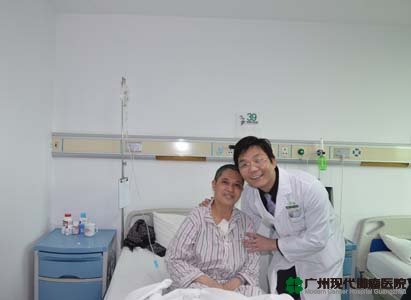 The huge tumor disappeared 70%
  "Before the treatments, my wife's condition was gradually deteriorated, she even had the symptom of dyspnea when first arrived in Guangzhou. But I kept telling her that her condition will be better as long as takes proper treatments optimistically! During the treatment period, I recorded my wife's body changes, consulted the doctors and nurses about tips of helping my wife every day. They always answer all my questions enthusiastically and patiently."
  "The expert team led by Director Peng, in Modern Cancer Hospital Guangzhou made a comprehensive treatment program for my wife personalized based on her individual condition. They explained that they will first give interventional therapy to my wife since the application of which can block the nutrition supply of the tumor and inhibit its growth and proliferation. After 6 times of interventional therapies, sore throat and cough were eased, my wife also get rid of difficult breathing. In order to consolidate the treatment effects, doctors implanted 40 particles in her lungs and combined with immune therapy to enhance the body's immune ability, which made her body fight against lung cancer better."
  "After the comprehensive treatments, the tumor in my wife's lung was eliminated 70%. The therapeutic effects made us feel excited and happy, I look forward to the day that my wife overcoming tumor completely."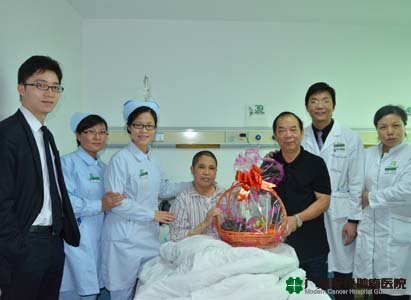 Moved by the hospital staffs
  "During 4 times of hospitalization, my wife and I gained a lot of heartfelt cares and moves from the medical staffs. Every time when we come to Guangzhou for treatments, the hospital staffs will provide us pick-up services, send us fruits and solve problems for us and send us to the airport when we are leaving. All these seems like just small actions, but they actually reflect the hospital's most emotional sincerity and cares for patients. We won't have a sense of strangers because of different nationalities in Modern Cancer Hospital Guangzhou, since there is no gap between people and people."
  "I often communicate with other cancer patients in the hospital. I shared my wife's treatment experience with them, hoping that they can have a good treatment effect as my wife. I also told them that they need to be relaxed, have a positive attitude as if they are not sick. Family members should always think for the patients, encourage them to actively cooperate with the medical treatments and avoid negative emotions, which will help the patient's condition improved to a great extent."
  "Chinese Spring Festival is around the conner, my wife and I will also go home to meet our families soon. After going back to Vietnam, I would like to share my wife's cancer fighting experience with more people, let more people know that there is a cancer hospital in Guangzhou which can help cancer patients a lot more."
If you have any questions, please contact us via online consultation, email or phone call. If you find our website useful, please follow our FaceBook and YouTube, health information will be updated regularly.
Online Inquiry
CLICK HERE!
Let's Have A Healthy Life!
Video
To show you
what is cancer by
videos
Chatting on Facebook

Become a fan of us!
+Follow
We are waiting for you.