To Fight Lung Cancer and Feel the Happiness of Life
  Mr. Huynh Cuu, from Ho Chi Minh, Vietnam, has never given much thought that he will die of lung cancer one day. When the rough dry cough occurred suddenly on Sep. 2012, he thought it was caused by cold that no attention was laid. However, the cough got serious a month later that bucking in drinking water developed and he had lost weight of 6 kg in the same time. As his physical and mental condition became weaker, this man who used to chat around with friends now can only stay in bed weakly, and can barely walk without the support of family. The family worried for him so much and had arranged some examinations in local hospital for him. Unfortunately, he was told of lung cancer through CT scans, the worse was that surgery is not a proper way for him as the tumor was just right there next to vessels. The family could not believe that Mr. Huynh Cuu had developed cancer even he kept doing exercise every day. Then they brought him to Thailand for further examinations, which had firmly diagnosed left lung cancer with metastases.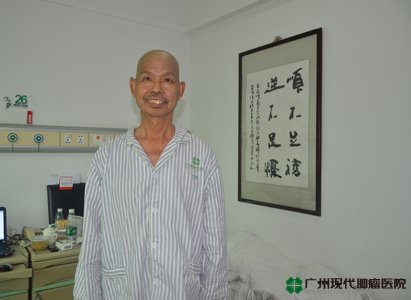 To fight lung cancer effectively by comprehensive treatment
  The family kept searching for reliable and professional cancer hospitals as they didn't trust the medical technology in Vietnam and Thailand that much, though they wanted Mr. Huynh Cuu to have treatment as soon as possible. The niece of patient in Cambodia lightened them up when the family was in desperation and worry. She introduced them Modern Cancer Hospital Guangzhou, an international and professional cancer hospital who has set up branch offices in Ho Chi Minh, Vietnam and made great treatment effect on cancer treatment through application of minimally invasive treatment integrated in traditional Chinese and western medicine. With the hope of try, the family came to Ho Chi Minh for consultation. Apart from that, in order to confirm the profession of hospital, the two sons of Mr. Huynh Cuu went to hospital for inspection and decided to take their father to Guangzhou, China for treatment.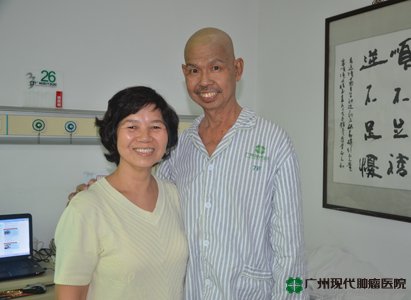 The attending doctor of Mr. Huynh Cuu, Dr. Pang soon came to the ward to inquire about his case and physical condition and arranged series of examinations for him soon after Mr. Huynh Cuu admitted to hospital. It was found that his lung cancer is in late stage, the mediastinal lympha had pressed the nerves that Mr. Huynh Cuu kept belching which affected his appetite and sleep quality. Dr. Pang had studied the case and treatments with the specialist team in hospital and finally made out a comprehensive treatment plan according to Mr. Huynh Cuu's condition. Cryotherapy would be the first to kill the tumor through temperature differences. Combined with it, interventional therapy will inject the medicine directly into the lesions to block the nutrition supplied to tumor so as to starve tumor to death. This comprehensive treatment plan not only kills the tumor cells precisely, while it won't bring patients great physical harm but can improve living quality efficiently.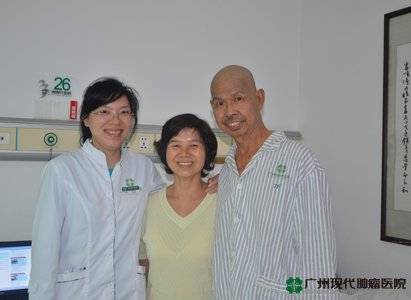 Being like a family harmoniously
  Both the physical and mental condition of Mr. Huynh Cuu is improved through comprehensive treatment. He now can independently manage some easy things in daily life and walk without support, while his bucking and cough reduce as well. The kindness and passion of doctors and nurses impressed him greatly in his hospitalization. Dr. Pang came to visit and encouraged him to fight cancer positively. With the encouragement from Dr. Pang, Mr. Huynh Cuu did not worry or be afraid of lung cancer any more, but believes that he can overcome it. The nice nurses came to talk to him every day to share with him the interesting things. He felt so easy and comfortable in hospital, just like in a big family.
  Being a lung cancer patient, Mr. Huynh Cuu had ever been worry, fear and anxious. But the One Day Free Travel of Guangzhou, arranged by Modern Cancer Hospital Guangzhou, helps him get rid of the negative minds and gain back the courage to fight cancer. Up till now, he has ever walked on Beijing Road, the Flower Square, and attended the Night Cruise on Zhu Jiang. He said the most impressive spot was the lighting show on Flower Square, they couples were enjoying the beautiful scene, feeling the happiness in life and talking to other patients, all those motivated him to fight cancer.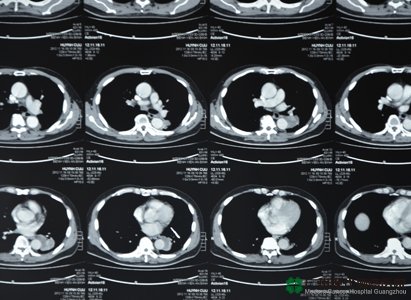 Mr. Huynh Cuu added: "Even lung cancer is a horrible disease, but as long as you cooperate with doctor about treatments and keep a positive attitude, you can overcome it and feel the happiness of life again."
If you have any questions, please contact us via online consultation, email or phone call. If you find our website useful, please follow our FaceBook and YouTube, health information will be updated regularly.
Online Inquiry
CLICK HERE!
Let's Have A Healthy Life!
Video
To show you
what is cancer by
videos
Chatting on Facebook

Become a fan of us!
+Follow
We are waiting for you.