Here is Very Friendly and Warm —HAKIM RUSLI from Jakarta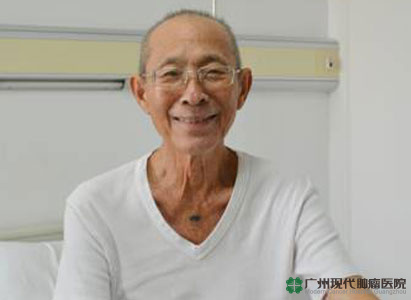 HAKIM RUSLI
"Everything here made us feel very warm. Since being diagnosed with lung cancer in 2011, we had received treatment once in Malaysia, Japan and other foreign countries, but Modern Cancer Hospital Guangzhou is the best in our opinion. For there has not only the most advanced treatment techniques but also the passionate and patient medical personnel who make us feel amiable and warm." This is the deepest feelings of HAKIM RUSLI's couple for their Chinese medical trip.
  Talking of HAKIM RUSLI's disease, his wife feels very guilty. She says, at the beginning of 2011, HAKIM RUSLI went to Malaysia for check-up due to cough, sputum and difficult breathing. According to PET-CT, Mr. RUSLI was diagnosed with lung cancer which really scared her.
  "We soon can start enjoying our grandchildren's fun, but unfortunately, the cancer attacks us. In the moment of knowing the result, I was really very scared and felt regret not helping him to management our company. If I had taken more times to help him, he wouldn't be so tired and then he wouldn't get this disease." Looking at HAKIM RUSLI who is lying in the bed, his wife says apologetically,
  Following the recommendations of doctors in Malaysia, HAKIM RUSLI went to Japan for his first treatment, but the result was not as well as they supposed. After a period of treatment, symptoms improved but soon they found that the cancer had spread to brain.
  Fortunately, they came to Modern Cancer Hospital Guangzhou. Mr. RUSLI's condition has been controlled after accepted treatment. "Here has advanced technologies and responsible medical personnel. Dr. Lai patiently answered all my questions regardless of disease problem or daily problems encountered in life and solved my problem in the soonest manner", Mr. RUSLI's wife could not help praising when it comes to the experience of hospitalization, "for example, my husband once had allergy in his arm and diarrhea. After we told Dr. Lai these problems, he immediately dealt with them. Having this kind of responsible doctor, we feel assured."
  It is not only the technologies and medical personnel that make them satisfied, but also the hospitalized condition. HAKIM RUSLI says that the ward is very spacious that patient and family members can stay in same room. This is good to take care of patient, at the same time it can save a large amount of rent. Moreover hospital has special kitchens for patients and their family. "This is very rare and humanistic," says Mr. RUSLI's wife, "we can buy fresh foods whatever we want in nearby market and don't need to worry our eating problem."
If you have any questions, please contact us via online consultation, email or phone call. If you find our website useful, please follow our FaceBook and YouTube, health information will be updated regularly.
Online Inquiry
CLICK HERE!
Let's Have A Healthy Life!
Video
To show you
what is cancer by
videos
Chatting on Facebook

Become a fan of us!
+Follow
We are waiting for you.