Advanced lung cancer patient MD Rezwanul Haque: I am not the outcast of Allah
MD Reawanul Haque was once the only patient from Bangladesh in modern cancer hospital in china. I began to notice him from one day evening, that day he was telling his nurse that he wanted to go out, the nurse did not agree because there were more injections to be given in the late evening, he was protest loudly: "No, No!" very childishly.
Later during the interview, I have mentioned it specially asking him "do you have confident on your disease" , he answer then " cancer is really a complex disease, but if someone is always worried about the disease itself, then he is gone. Losing confident is the biggest enemy to a cancer patient. I am feeling good, I am happy". I think setting himself into happiness is the key for him to fight against cancer.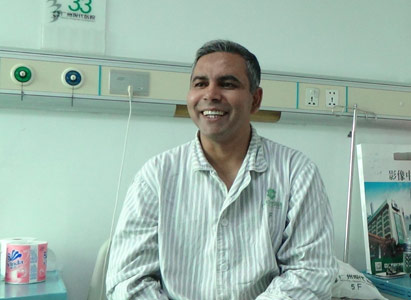 Rezanul Haque during interview
Years old suffering, indicating advanced lung cancer
Ten years ago, when 34-year-old Rezwanul Haque had car accident, a steel plate was placed in his broken right leg, after a lapse of nearly a decade, bone pain here actually passed out an incredible news - - ⅳ stage lung cancer with bone metastasis
That day was April 28, 2013, just 2 weeks after Bangla New Year, the diagnosis of cancer made the whole family shrouded in grief all of a sudden. "I think Allah does not want me to live in this world anymore !" Rezwanul Haque suddenly lost all the confidence in working which also made a big loss in his business. Even more, the most thing to make him sad is that cancer might make him lose his two daughters - his eldest daughter was four years old, the youngest daughter was only 3 months at that time.
Regarding the treatment, rezwanul Haque had almost no treatment choice, he contacted all big hospitals in Bangladesh and even few well known foreign hospitals, but all came to a common plan of chemotherapy only, he later on went to the trust Indian hospital for treatment. After the first chemotherapy, the pain of side effects tormented him so that he would never forget: "I feel life running out, desperately vomiting, no appetite at all, even weight decreased from 63 kg to 58 kg." when he came back to Bangladesh , the family saw his weak body feeling very distressed. Chemotherapy made his taste become very disordered, for the same dish he felt salty at noon, but when he took at night ,it became bitter. For that. his wife Donu always brings him different flavors food patiently every after two hours, let him taste to push him eat a little. He said that "although this, every time I ate something is like a war" , but taken care by his wife, his weight increased a little bit.
Recurrent disease, treatment options changed for several times
Upon knowing the treatment technology in Modern cancer Hospital Guangzhou China, all his family members told Rezwanul Haque to go there for more treatment options, Chinese hospital has more solutions to alternative chemotherapy, perhaps no longer side effects of chemotherapy he needs to withstand. Holding the desire of life extending, Rezwanul Haque set his first step to Modern Cancer Hospital Guangzhou China soon, which has broken the saying of" Chinese hospitals has lower Medical standards "again badly. .
Because his wife need to take care of the children,his business partner took the initiative to accompany him to assume the task of treatment abroad, which, Rezwanul was deeply moved: "He not only stopped the business and brought his family on one side to take care of me, and would prefer to make sure I ate every after two hours even he himself did not eat anything...... "
Treatment history of an advanced lung cancer patient
September 3, 2013, Rezwanul Haque finally finished 5 times anti-pain bony radiotherapy and six times chemotherapy recommended by Indian doctors, CT examination efficacy evaluation of PR, that was to say, his tumor shrunk by more than 50%. But good news did not last long. When he admitted in the hospital in China, doctors found that the tumor has increased again, what was worse, pleural effusion appeared at the same time . Which means the 2ed line treatment should be started soon. Chinese oncologist immediately re-enact the plan according to latest condition, by mid-November 2013, Rezwanul Haque received three times interventional treatment followed by seed implantation, this time, tumors shrunk by more than 50%, chest effusion has totally disappeared which was a good sign for the patient. Another follow up check up was given after 2 months, Chinese found there had been new progress of the stubborn lung cancer, the Chinese doctor again had to change the program for him ,3th line treatment of targeted cancer drugs and Cryotherapy were given by the end of 2013.
"This is the CT results on 7th April 2014, compared to the one in 30th November, 2013 can be found clearly that at present the foci in lung has basically shrunk after the 3th line treatment. In addition, the pain in the right shoulder and right leg the patient had has basically disappeared neither." explained by doctor Tang Cheung, the oncologist of Rezwanul Haque.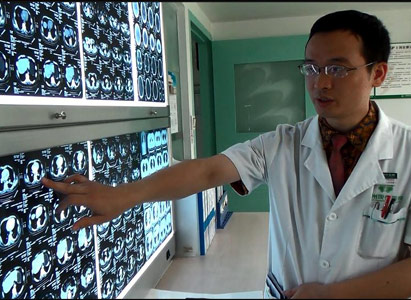 Doctor is comparing the CT imaging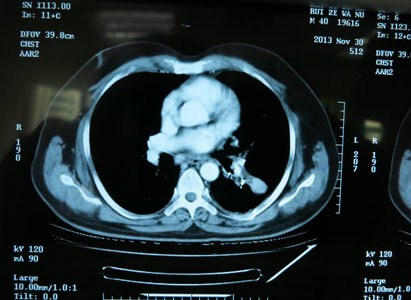 The CT given after 2ed line treatment (Nov 2013)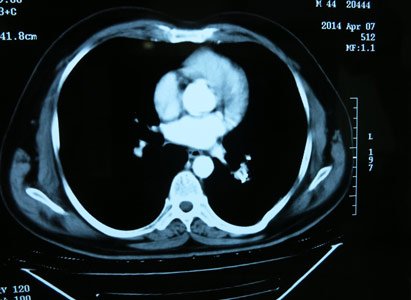 The CT given after 3th line treatment, the highlights at Rt is the seed (7th April 2014)
"Dr. Tang Xiangzhuan said patient's treatment has been very successful, he was very cooperate doctors in modern cancer hospital, under the comprehensive treatment so that it reached a very good effect. Compared to traditional chemotherapy, interventional therapy only for local administration of tumor tissue, so the side effects are much lesser, high local medicine concentration can achieve a better therapeutic effect," Dr. Tang Xiangzhuan explained.
"Undergoing these treatments, I basically had no discomfort, now my sleeping, eating and everything is as ordinary people" said the patient himself.
During the following up in 6th April, 2014, rezwanul Haque's weight has been restored to 74 kg. "The patient's condition is quite stable; this follow up is mainly to consolidate therapeutic effect. Rezwanul Haque is now in the consolidation phase of treatment.
I do not want be absent during your growth
In addition to good treatment options, family support is also a source of confidence and strength to Rezwanul Haque. two daughters are even his greatest spiritual pillar .To let him feel free for treatment, his eight brothers and sisters tried to arrange the treatment costs.
During his treatment in China, Rezwanul Haque talked with the kids over phone almost every day, just hearing their voices made him feel an integrated day. ''You would never know, what a one-year-old child can tell during her prayer, but my little daughter every time piously prayed: Allah, let my father's illness get better earlier! "said by Rezanul Haque with his eyes red. " Once I finish the CT scan in Bangladesh, doctors said children must stay away from me for six hours, my wife told the children that can not be close to your father, they are well behaved children I believe, but which was not expected happened, when I was sent to the ward, they were talking to me through the door that: Dad, you open the door, we can at least see you from far'...... "Describing by Rezwanul Haque with tears in his eyes. I could never forget that day, the tears from a man.
Every time he came back home from China, he always brought gifts for his daughters. But to his daughters' concern, to see his father is a much bigger gift than to received any gifts. When Rezwanul Haque heard the daughters saying, "Daddy, we are happier to see you come back, we don't need any gifts" the simple words touched the bottom of his heart. And same to Rezwanul Haque, staying with his daughters and his wife is the happiest moment in his life, his greatest wish now is to try to stay with the girls around, see them grow up healthy and happily.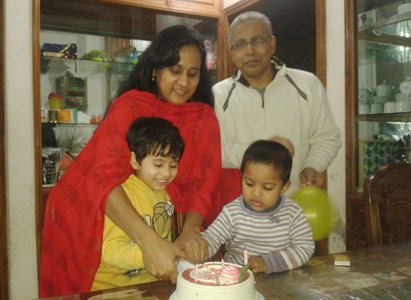 Happy birthday to his younger daughter (16th Jan. 2014)
Here is my second home
In fact, since the 3th line treatment, Rezwanul Haque also clearly felt his body has been greatly improved, and after CT scan reviewing by the end of January 2014 which has showed a stable condition, it gave him great confidence, he decided "COME BACK " to start his business again.
From the 2ed follow up treatment, he did not need any accompany because of his stable condition. " Expect for doctors and nurses, the bangla interpreters David and Ali also helped me a lot, this is another reason why I could come alone for following up" Thanked by him.
There was another beautiful story, on his way back from China, he met a Bangladeshi friend Mr. Zakir, after Zakir knowing that's a cancer patient, Zakir encouraged him and welcomed him to visit his house in China next time. During the interview, Mr. Zakir was also there, for rezwanul's gratitude, it seemed that he was a bit embarrassed.
I am thinking, a small action from us, which is just the key point for the patients. Caring starts from you and me.
No fear and always hoping. This is what I learnt from MD Rezwanul Haque, a 44-year-old last stage lung cancer patient from Bangladesh, Wish all his dreams can be true.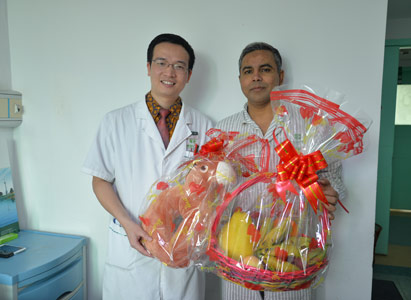 Rezwanul Haque and his doctor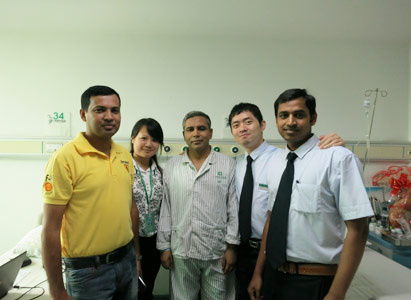 From left to right
Mr. Zakir, reporter, Rezwanul Haque, Daved, Ali
If you have any questions, please contact us via online consultation, email or phone call. If you find our website useful, please follow our FaceBook and YouTube, health information will be updated regularly.
Online Inquiry
CLICK HERE!
Let's Have A Healthy Life!
Video
To show you
what is cancer by
videos
Chatting on Facebook

Become a fan of us!
+Follow
We are waiting for you.