Kurniawan Sutanto: I Will Strive to Pass this Test
"Kurniawan Sutanto, Indonesia, male, 43-year-old, stage IV lung cancer…" that's what I saw in the patient's medical record before I went into the VIP ward to see him. I was told that the patient was once a very hard-working person, but now, unfortunately, he was a lung cancer patient. Because he was unwilling to have any invasive surgery, he just accepted traditional Chinese medicine and radiotherapy given by local hospital. Three months later when he found there was no improvement in his disease, he decided to come to Modern Cancer Hospital Guangzhou for a new hope.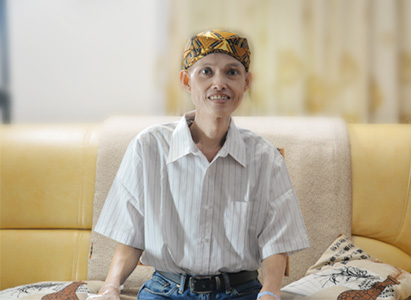 Kurniawan Sutanto
When we entered his ward, I saw a very thin man, he was Kurniawan Sutanto. The high cheekbones and deep-set dark brown eyes indicated that he was suffering from cancer. However, he had very good spirit. He and his wife welcomed us warmly as we came in.
After we greeted each other, Kurniawan Sutanto began to tell us his story.
"In 2013, I have been coughing a lot but there was no other discomfort. Later I went to a local hospital for physical examination and the doctor told me that I had phthisis. But after one month, which was April, the doctor found fluid in my lungs in another examination and told me to have a biopsy. The result showed that there was tumor in my lung. So my doctor suggested me to have a surgery or take some traditional Chinese medicine. And because I was afraid to have surgery, I just took some traditional Chinese medicine. I also took three months of radiotherapy, but it showed little improvement, so I stopped."
"After I got cancer, my weight decreased from 68 kg to 45 kg. The cancer made me feel tense, I am so afraid to die." said Kurniawan Sutanto. "After I got cancer, I become very sensitive. On December, 2013, my boss gave me a sick leave and told me that I can go back whenever I recovered. After I got lung cancer, I had no strength, and I couldn't walk too far. I even did not want to know my disease, so I just left my wife to communicate with the doctor."
One day when he was watching TV, he saw an advertisement saying that Modern Cancer Hospital Guangzhou can treat cancer without surgery; he was deeply attracted by the advanced treatments provided by the hospital, such as interventional therapy and cryotherapy. So he told his wife: I will go to this hospital.
As soon as Kurniawan Sutanto admitted the hospital, MDT group held a joint consultation for him and worked out a very detailed treatment plan. "I have had interventional therapy and cryotherapy. Before I admitted the hospital, my whole body felt very weak, but now, I feel much better, and I have more strength than before. I do not cough any more. The tumor in my lung also shrunk a lot. I gained 0.5 kg after the treatment. During my treatment, I can also live a normal life. I have stopped my treatment to go to a voting activity, because it was presidential election of Indonesia at that time."
Kurniawan Sutanto was the father of three children, and the youngest daughter was still in the kindergarten. He said his wife and all three children encouraged him to fight against cancer bravely since he got this disease. "My youngest daughter used to play in my office room a lot. After I got cancer, she often asked me, dad, when will you go back to work? I known she wanted me to get better soon. And my wife, she was the person who always here accompanied me and took care of me." When mentioned his wife, there was gentleness in Kurniawan Sutanto's eyes. "She is my true love." he said affectionately.
Kurniawan Sutanto and his wife
When we turned to Kurniawan Sutanto's wife, she told us that her husband did not want to face his disease at first. She said that she did not want to let him know it too. " I know him very well. I have to wait for a right time to tell him the truth." When Kurniawan Sutanto found out his disease, he was not surprised. "I've been in remission since I received treatment here. I feel very good. I think I am stronger than before. There is more confidence in me." And he said "Life likes to play test on those with great ability. I will strive to pass this test."
His words reminded me of the words in James - O-Bible: There is a blessing on the man who undergoes testing; because, if he has God's approval, he will be given the crown of life.
May Kurniawan Sutanto conquer cancer and win the crown of life.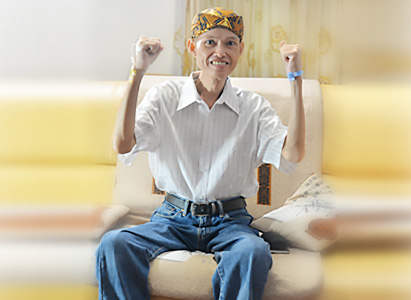 Kurniawan Sutanto: I will strive to pass this test
If you have any questions, please contact us via online consultation, email or phone call. If you find our website useful, please follow our FaceBook and YouTube, health information will be updated regularly.
Online Inquiry
CLICK HERE!
Let's Have A Healthy Life!
Video
To show you
what is cancer by
videos
Chatting on Facebook

Become a fan of us!
+Follow
We are waiting for you.