Help Father to fight against Cancer with Love and Company
Alex's Son:" Love and company are the best encouragement to my father".
Alex Chan, a 55-year-old man, who lives in Manila. He used to have a happy life with three sons. However, the happy life was destroyed by a sudden cancer. In April 2015, cough and pain in the left lung drove him to the hospital for examinations. Unfortunately, he was diagnosed with lung cancer. Considering the side effects of chemotherapy, he just took some herbal medicines instead of receiving the chemotherapy immediately. Nevertheless, taking herbal medicines gave no relief to his condition; his condition became worse and had left pleural effusion. Introducing by a friend, Alex learned that there are advanced minimally invasive therapies in Modern Cancer Hospital Guangzhou which could help to treat cancer, so accompanied by his families, he went to Modern Cancer Hospital Guangzhou for treatment.
The doctor first gave him a systemic physical examination after he was hospitalized. The CT scan showed that Alex was suffered from poorly differentiated adenocarcinoma of left lung (stage IV) with metastases to pleura and liver. According to Alex's condition, the Multidisciplinary Team (MDT) from Modern Cancer Hospital Guangzhou specially made him a therapeutic plan: interventional therapy + radioactive particle and chemical particle combined implantation. His son indicated that the diagnosis and treatment in Manila were made by doctor, nurse and oncologist from one department, while in Modern Cancer Hospital Guangzhou, the treatment plan was made by a whole team with doctors from different specialized fields.
On June 9th, 2015, Alex received his 1st interventional therapy. Unlike the multiple side effects of chemotherapy, Alex only felt pain occasionally. Five days after the interventional therapy, he felt no discomfort and could eat normally. His son mentioned that they even climbed the Baiyun Mountain and had a good time with each other. They took a breath of fresh air and strengthened the body at the same time. Later, Alex received radioactive particle and chemical particle combined implantation on June 19th and the second interventional therapy on June 30th. After taking three sessions of therapies, his physical and mental condition turned better.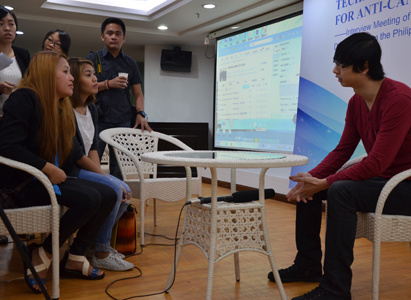 Alex's son was being interviewed
Regarding to the treatment differences between Philippine and Modern Cancer Hospital Guangzhou, Alex's son said that the interventional therapy directly inserts medicine to the cancer, which results in better therapeutic effect and less adverse effects, compared with the normal chemotherapy. He also mentioned that the service of Modern Cancer Hospital Guangzhou was so considerate, as it not only provided free translation and laundry service, but also organized regular travel for patients, which made them feel warm.
It was a long and hard process to fight against cancer. When asked how he gave his father encouragement, Alex's son answered:" Love and company are the best encouragement, I would like to stay with my father to help him to fight against cancer." In order to take good care of his father, he took a long vocation to accompany his father every day, and fought against cancer with positive attitude. He thought that other patients in Modern Cancer Hospital Guangzhou were very nice and they made many friends during the hospitalization. The good efficacy of other patients increased their confidence of fighting against cancer. He also recommended other cancer patients to go to Modern Cancer Hospital for treatment in that its advanced minimally invasive therapies could treat cancer effectively.
If you have any questions, please contact us via online consultation, email or phone call. If you find our website useful, please follow our FaceBook and YouTube, health information will be updated regularly.
Online Inquiry
CLICK HERE!
Let's Have A Healthy Life!
Video
To show you
what is cancer by
videos
Chatting on Facebook

Become a fan of us!
+Follow
We are waiting for you.