BRATA WAHYU RIZAL: Defeat Lung Cancer with Minimally Invasive Therapy and Confidence
Coming from Surabaya, Indonesia, Brata was a long-history smoker, who had smoked for 44 years since 12 years old. Especially at his middle age, four packs of cigarette for a day had become his routine. His wife always tried to dissuade him off smoking even quarreled with him, but it didn't work at all. However, June 2016, Brata quit cigarette overnight. Actually, the reason for smoking cessation stemmed from a bad news: he was diagnosed as lung cancer.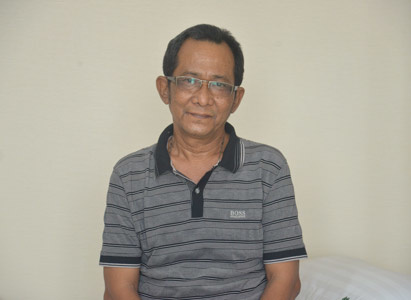 BRATA WAHYU RIZAL

April 2016, beginning to suffer from chest distress, short breath and cough, Brata came to have a checking-up and found pleural effusion in the local hospital. The doctor told him that it might be cancer as it was back again after two-month-ago drainage. However, the definite diagnosis for his disease wasn't made at that time. As an optimistic person, he didn't worry too much. When it came to choose the hospital, he took the advice from his son who was a doctor. His son told him that St. Stamford Modern Cancer Hospital Guangzhou is a highlevel hospital and suggested that he should have a consultation at Medan branch office of St. Stamford MCHG first. The reason why they made this choice was that one of his son's friends came to MCHG as well for a treatment and reached a very good effect.
June 2016, accompanied by his wife, Brata arrived at MCHG. After a detailed check, Brata was diagnosed as lung cancer stage2, with right pleural effusion and a 1.4cm tumor. According to doctor, it was all because of his excessive smoking. At this time, Brata developed a strong aversion to cigarette and was unwilling to smoke again.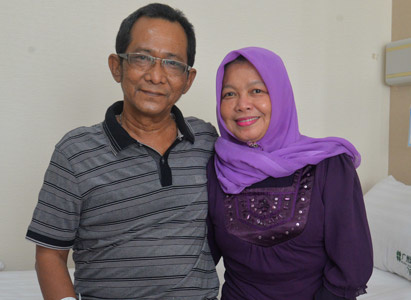 BRATA WAHYU RIZAL and his wife
According to the Brata's detailed diagnostic result, MDT from MCHG arranged him to do puncture drainage for pleural effusion first and then made a medical plan that combined interventional therapy and cryotherapy. After the first part of treatment, Brata got better soon without chest distress and cough. Except a bit of nausea and appetite loss, there were no more other side effects. In the second part of treatment, as doctors made preventative measures for his side effects before, his appetite and spirit were improved a lot. After this treatment, Brata's tumor has shrunk a lot and even almost gone. On August 7, 2016, accompanied by his wife and niece, Brata came back to MCHG for his third follow-up. During the past dozen days, he took the interventional therapy and natural therapy. And his condition becomes better and more stable.
Brata said that, during the treatment, what impressed him most were the patient and considerate doctors and nurses. Here, he felt like at home. The therapeutic schedule was tailored individually according to his condition so that the effect for treatment could reach such a good effect within a short time. During the interventional therapy and cryotherapy every time, he didn't feel uncomfortable. He said that the doctor would tell him everything to note clearly and explained his every question in detail, which made him warm. In addition, everything would be prepared well as long as he contacted the branch office when he came back for a return visit. He was very confident as the fact that there are 18 minimally invasive technologies in MCHG can be chosen, unlike the hospital in Indonesia which only has oral chemo medicines and intravenous chemotherapy for him to choose.
At present, Brata begins to dissuade friends and relatives off cigarette as he has completely experienced the harm cigarette brought. Besides, he encourages those patients who are suffering from cancer like him, "keep positive and have confidence in doctors. Fight with doctors, as treatment is not only the business of doctors."
If you have any questions, please contact us via online consultation, email or phone call. If you find our website useful, please follow our FaceBook and YouTube, health information will be updated regularly.
Online Inquiry
CLICK HERE!
Let's Have A Healthy Life!
Video
To show you
what is cancer by
videos
Chatting on Facebook

Become a fan of us!
+Follow
We are waiting for you.