Interventional Therapy and Cryotherapy, New Hope for Lung Cancer Patients
Coming from Medan Indonesia, TAN LEE HIONG is a modern female who manages her own career and family well. She is a tough person, but when she talks about her first diagnosis with lung cancer, she cannot hold back her tears. Even now, she could still sense the sorrow when she was first claimed as lung cancer. At that time, she frequently wondered why it was her suffering from lung cancer.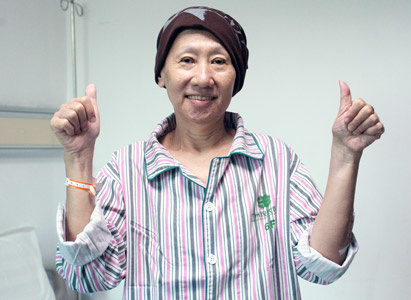 TAN LEE HIONG
At the end of 2015, TAN LEE HIONG began coughing slightly, but she thought that it might be just an ailment. Therefore, she went to buy some antitussive (cough) medicine in a drugstore. However, the medicine did not work and her coughing had lasted for almost half a year. One day, her husband was leaving for Penang, Malaysia to have a regular physical examination. Given her coughing had not been alleviated at all at that time, TAN LEE HIONG decided to go to Penang to have a body check with her husband. However, the diagnosis result frightened TAN LEE HIONG extremely that there was a tumor with 9cm size in her right lung according to the CT scan. In order to have a correct diagnosis, TAN LEE HIONG did a biopsy, which indicated that she got lung cancer stage 4. Doctors from Penang told her there were no specialists and advanced technologies treating her disease in Penang, so TAN LEE HIONG had to come back Indonesia to seek treatment for her disease. What disappointed her was that the answer from Indonesian doctors was the same as the Penang's. At that time, she felt hopeless and helpless. She didn't know where she should turn to for treatment. And what worried her most was that she had no ideas whether there was a hope for her recovery from lung cancer.
Half a year later, when a local doctor suggested that she should leave for China to treat her lung cancer, the name of St. Stamford Modern Cancer Hospital jumped into her son's mind immediately. Without second thought, they came to the Indonesian office of the hospital for a consultation. After learning the professional MDT(multidisciplinary team) and advanced technologies in St. Stamford Modern Cancer Hospital Guangzhou, TAN LEE HIONG decided to go to Guangzhou for seeking treatment. When arriving at St. Stamford Modern Cancer Hospital Guangzhou, TAN LEE HIONG realized she came to the right place.
Accompanied by her husband, TAN LEE HIONG arrived at St. Stamford Modern Cancer Hospital Guangzhou on May 30, 2016. After several examinations in detail, the multidisciplinary team of St. Stamford MCHG specially made her a comprehensive treatment plan including interventional therapy and cryotherapy according to her condition. During the first treatment time, she got two sessions of interventional therapy and one session of cryotherapy. As she finished her first intervention, she got poor appetite, but nearly one week later, it became normal and her coughing had been alleviated. For her second intervention, she had already adapted to it and her coughing had gone. What's more, she felt much better after taking cryotherapy without any side effects. After the treatment of two cycles, the CT scan indicated that her tumor had shrunk apparently, which made her feel more confident in the treatments. Now, it is the third time for TAN LEE HIONG to come for St. Stamford. She has undertaken the intervention recently and she is quite positive towards her health condition. She hopes that the next treatment here could bring her more good news.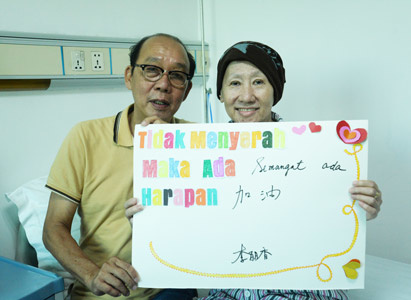 TAN LEE HIONG and Her Husband
Knowing that TAN LEE HIONG's conditions become much better, her families are very happy and they believe more in the medical technology in China. They want to introduce St. Stamford MCHG to more cancer patients. TAN LEE HIONG mentioned that the medical technology in China is more advanced than that in Indonesia. In Indonesia, there are only traditional treatments for lung cancer, such as chemotherapy, radiotherapy, etc. There are no cryotherapy, interventional therapy and other minimally invasive therapies in Indonesia. What's more, the services in Modern Cancer Hospital Guangzhou are humanized; doctors and nurses here are friendly and nice. She feels that St. Stamford is her second home. She feels very lucky that she has chosen the St. Stamford MCHG.
According to TAN LEE HIONG, cancer teaches her about life and how precious it is. Thanks to St. Stamford MCHG, she gets another life chance. When she comes back to Indonesia, she will enjoy her life and cherish every moment to stay with her families. TAN LEE HIONG knows that there are many helpless cancer patients in Indonesia who do not know where they should turn to for treatment like she used to. She would like to recommend St.Stamford MCHG to those cancer patients, which is fantastic and reliable.
If you have any questions, please contact us via online consultation, email or phone call. If you find our website useful, please follow our FaceBook and YouTube, health information will be updated regularly.
Online Inquiry
CLICK HERE!
Let's Have A Healthy Life!
Video
To show you
what is cancer by
videos
Chatting on Facebook

Become a fan of us!
+Follow
We are waiting for you.