THANK YOU LETTER
  I am a patient admitted at the room 15-16 of the 6th floor of Guangzhou Modern Cancer Hospital. I would like to thank the whole staff of Guangzhou Modern Cancer Hospital.
  1) Director Peng;
  2) Director Li;
  3) Doctor Zhong;
  4) Doctor Mei;
  along with all the medical staffs, and translators who had been so warm to me. I will never forget the period when I was hospitalized. My body is now recovering for almost 50% and it is all thanks to the enthusiastic, caring, and heart warming treatment and care showed by the doctors. When I get back to Vietnam I will surely advertise, for people to know how great Guangzhou Modern Cancer Hospital is. The medical staffs are responsible, and they treat patients in a professional manner.
  The paper is short to describe one's gratitude, so once again I would like to sincerely thank all the medical staff and hope you will make further progress.
  And lastly to wish that all medical staff of the hospital to be always happy and stay young.
  Thank you very much!
  2012- 3 -21
  Wang Yuzhi
  15- 16bed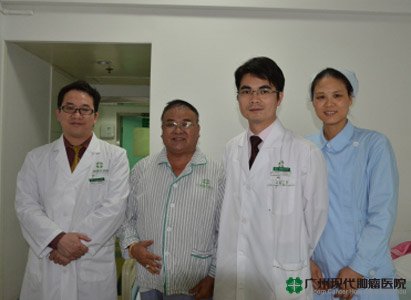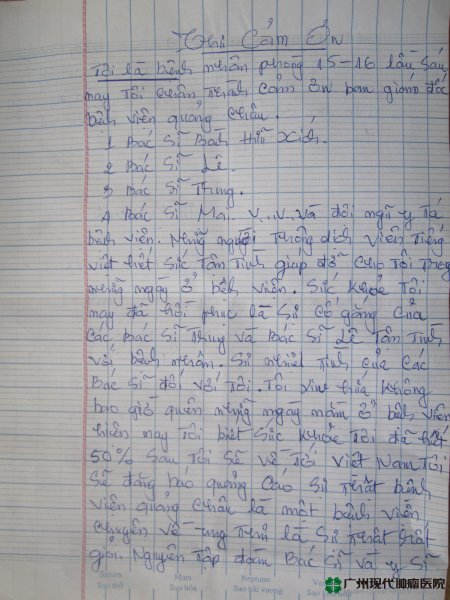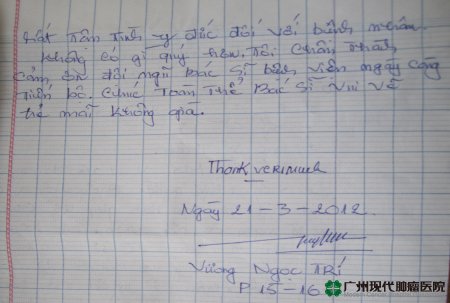 If you have any questions, please contact us via online consultation, email or phone call. If you find our website useful, please follow our FaceBook and YouTube, health information will be updated regularly.
Online Inquiry
CLICK HERE!
Let's Have A Healthy Life!
Video
To show you
what is cancer by
videos
Chatting on Facebook

Become a fan of us!
+Follow
We are waiting for you.