Adde: my nuclear weapon to resist cancer---- the radio-particle knife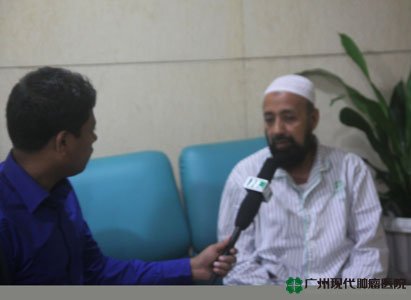 Shifting between two hospitals for treatment, but no improvement happened.
  Some day of May, 2009, Adde accidentally found a palpable solid mass in the gap between the lower abdomen and the thighs. It was not painful. In fact, it was difficult to be found without touching. Adde didn't pay much attention to it at first, until two month later he found the mass continuously growing. He had no choice but go to the hospital. The B-ultrasound and needle biopsy indicated it was non-Hodgkin's lymphoma.
  With the suggestion of local doctors, Adde had a lymph node dissection to the right groin and underwent six cycles of chemotherapy. CT after the treatment showed that there was no recurrence. However, a month later, Adde found enlargement of the lymph nodes in his left groin, where no lymph node dissection had been performed. Again, he started the journey of seeking for treatment.
  With the suggestion of his family, Adde went to Singapore, where he performed another lymph node dissection to his left groin in a local famous hospital and got the same pathological results as before, namely, non-Hodgkin's lymphoma. However, the difference was that, the PET and CT reports showed that there were infiltrations in the supraclavicular lymph nodes, mediastinal lymph node and retroperitoneal lymph node, which indicated his condition had not been improved. On the contrary, it had become worse. Therefore, he continued to take treatment in Singapore and stayed in hospital for three months. As time went by, Adde had spent a lot of money, but he could not see any good sign of improvement. Instead, his hair kept falling down, and he lost his confidence and hope.
  In February of 2012, Adde frequently suffered from fever, with temperature high to 39℃ and red papules all around the body. Seeing the worsening of his condition, Adde felt great depression. Until one day, his friend told him that Modern Cancer Hospital Guangzhou, which is a cancer specialized hospital, may be able to treat his disease, for it has experienced oncologists and advanced equipments. Hearing that, a hope rose within Adde's mind. After a discussion with his family, he decided to go to Modern Cancer Hospital Guangzhou to have a try.
  After accurate analysis, Modern Cancer Hospital Guangzhou decided to perform minimally invasive therapy for Adde.
  On his arrival to Modern Cancer Hospital Guangzhou, Adde told every detail about his treatment to the specialists through interpreters. He talked whatever he thought of, as if he was afraid that there was something missing. The specialists patiently listened to him and asked every detail about his condition, family history, any pain occurred and his previous treatment process. The specialists also analyzed his previous medical reports to him. Hearing their analysis and feeling their patience, Adde gradually felt peace within his heart.
  Soon he cooperated with the specialists in comprehensive health examination. In order to confirm his condition and prepare the most detailed and accurate basis for the subsequent treatment, the specialists also arranged further examination for him, in which the CT result revealed that there were several swollen lymph nodes in his left groin, among which the biggest one is about 2*7cm. Meanwhile, a swollen lymph node sized in 2*2cm was found in the left supraclavicular area. After that, a biopsy to the lymph nodes in the left groin was done and finally diagnosed him with stage 4 non- Hodgkin's lymphoma.
  Hearing the result, Adde and his family gasped with admiration to the patience and consideration of the medical staffs of Modern Cancer Hospital Guangzhou and said that they had never had experienced such meticulous and accurate examination and treatment before. In order to work out the most suitable treatment for the patient, the specialists held a joint consultation for Adde's case and finally decided to perform systemic chemotherapy and 125I seeds implantation to him.
  However, Adde hesitated when hearing the treatment plan, for he had never heard about 125I seeds implantation before. "What are 125I seeds? They are radioactive, aren't they? How can we use them to human body? Are they safe?" Adde kept asking these questions. He shook his head saying that he would rather have another surgery than try on this new technique. Anyhow, he had made the preparation for a surgery before admission to the hospital.
  To eliminate Adde's misgivings, the specialists found abundant materials for him and patiently explained to him how 125I seeds take effect in treating cancers. Specialists told him that 125I seeds are only 0.8mm in diameter and 0.4mm in length. They are to be inserted into the cancer tissues through a special device. With theγrays continuously radiating the cancer cells in a short distance, the treatment can get the same effect as that of surgery. Therefore, 125I seeds implantation also is named radio-particle knife therapy. Although 125I seeds are energy radionuclide, their radiation range is not more than 1.7cm. That is to say, if the 125I seeds are implanted 1.7cm below the skin, they will not cause any effect to the normal tissues or organs of the patient and the people around.
  After the professional and informal explanation of the specialists, the misgiving of Adde and his family was eliminated. They finally decided to undergo 125I seeds implantation. On August, 9, 2012, minimally invasive therapy to the left groin, namely, 125I seeds implantation was performed as scheduled. It made a great success under the cooperation of Adde.
  On September 1, Adde came back for follow-up check. Both Adde and his family were restless waiting for the result on that day. Finally, the result came out and doctor told them that the tumor in the left groin had shrank from 2*7cm to around 1*2cm,while the size of that in the left supraclavicular area had become only 1*0.5cm. Hearing that, Adde shook the doctor's hand gratefully and failed to utter a word.
  On September 22, a Bangladeshi journalist group came to Modern Cancer Hospital Guangzhou and had an interview to Adde. When talking about his treatment, Adde showed his satisfaction to the treatment effect, saying that he would be able to go back home soon. He shared the whole treatment process with the journalists and emphasized that 125I seeds implantation is an advanced and magic technique, which is safe and reliable. He hoped that he could tell more patients about this technique through media. He was also willing to fight against cancer with other patients with the support of advanced anti-cancer techniques of Modern Cancer Hospital Guangzhou.
If you have any questions, please contact us via online consultation, email or phone call. If you find our website useful, please follow our FaceBook and YouTube, health information will be updated regularly.
Online Inquiry
CLICK HERE!
Let's Have A Healthy Life!
Video
To show you
what is cancer by
videos
Chatting on Facebook

Become a fan of us!
+Follow
We are waiting for you.