Interventional Therapy Is an Important Treatment for Aged Cancer Patients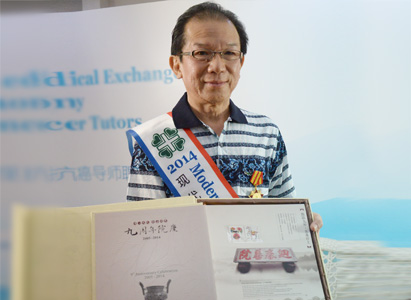 Tjong Men Tjong was awarded as anti-cancer warrior
"It was three years ago, I had a very severe fever, and I felt nausea often. My lymph nodes in the neck and groin also became grossly enlarged. I went to a hospital in Malaysia to try to find out what happened to me, but at last I was diagnosed with lymphoma." Tjong Men Tjong from Indonesia told us his story. In his memory, the doctors in Malaysia advised him to take a surgery, and asked him to test his blood before the surgery because the patient's bone marrow must be ensured as normal. Tjong Men Tjong followed his doctor's advice, but because there was something wrong with his blood, so he had to give up the resection operation.
Tjong Men Tjong was very disappointed, but by accident he learnt about Modern Cancer Hospital Guangzhou, a professional cancer hospital which specializes in using minimally invasive therapies to treatment middle or advanced cancer patients. Tjong Men Tjong knew China had very developed medical technology at present. Through consultation, he knew that there was no need of traditional surgery for him, so he came to China in August 2014.
"After the third interventional therapy in Modern Cancer Hospital Guangzhou, I felt great improvement. My lymphoma shrank a lot. I didn't feel nausea any more, neither the pain. I started to get better." Tjong Men Tjong smiled "When I received the first interventional therapy, I was so nervous that I even forget to stop breathe which was essential for the treatment. My doctor was very patient, he kept told me how to it and help me to relax. That treatment was very successful."
Tjong Men Tjong said there were little side effects. After the interventional therapy, he only felt a little nausea, but that didn't affect his appetite, he had very normal eating.
Tjong Men Tjong like photography. He had a photo studio in Indonesia. But lymphoma affected his hobby and career. "In June, 2014, I started having a severe headache, I suffered bone pain, and I always felt nausea. Cancer made my weight decreased 5 kg, and because of that I couldn't work as usual. I hoped that I can get well soon, so that I could go to America earlier and join my family there. I also wanted to take some photos at that place."
Indonesians love eating fried and spicy flavor, but Tjong Men Tjong thinks it is unhealthy eating habit and may lead to cancer. "During my treatment, the doctor didn't allow me to have heavy foods. I eat meals in the hospital dietary room, where all foods are very light and healthy. In the future, I will pay much attention to my diet. I will face cancer positively, receive treatment positively and enjoy my life."
To aged patients like Tjong Men Tjong, interventional therapy provides a very important and effective treatment for them, because there is often vital organs degradation in elder patients, and the decrease of whole body endurance usually makes the traditional treatment of big trauma and high risk not a right choice for them.
Tjong Men Tjong suggested: "If any physical abnormalities was found, one should have a check early to ensure an early treatment, because that will ensure a good prognosis. I have great confidence for my next treatment."
If you have any questions, please contact us via online consultation, email or phone call. If you find our website useful, please follow our FaceBook and YouTube, health information will be updated regularly.
Online Inquiry
CLICK HERE!
Let's Have A Healthy Life!
Video
To show you
what is cancer by
videos
Chatting on Facebook

Become a fan of us!
+Follow
We are waiting for you.