My Sister and I Prefer Minimally Invasive Therapies for Cancer Treatment
My name is Tong Peav, a 64-year-old man, from Cambodia. I am a civil servant who still fights in the workplace in the retirement age due to shortage of personnel in our office. Last August in 2014, stuffy nose, sore throat, cough and other discomforts drove me to hospital for examinations. And doctor told me it's just a common cold, so I didn't pay much attention to. Later, however, the nasal construction became worse and worse. Thus, I went to hospital for check again, and this time, a tumor was found in my left nasal cavity.
Not confident for the medical condition of Cambodia, I went to Thailand for further examinations, where doctors suggested me to do a pathologic test. I was pretty uneasy during that time, worrying about the possibility of having genetic cancer, since my younger sister was diagnosed with lung cancer before. Unfortunately, nightmare came true later: the biopsy result showed lymphoma. I was really frightened. However in midst of sadness, there is a silver lining that the lymphoma was in early stage.
Doctors in Thailand suggested me to hospitalize for conventional treatment immediately, which I refused, since I wanted to seek for new treatments & better hospital. My sister told me that Modern Cancer Hospital Guangzhou applies seed implantation, interventional therapy, cryotherapy, natural therapy etc., which have fewer side effects. She thought that would do better for me. As she took treatments in the hospital for her lung cancer and her condition is under well controlled. Moreover, I learned that a lot of patients from Thailand and Cambodia seek treatments in this hospital, too. Compared with other countries in southeast countries, I think China has more advance technologies. So I decided to come to Guangzhou, China for treatment after discussing with my family.
I arrived at Modern Cancer Hospital Guangzhou on Oct, 23, 2014, when doctors gave me a systemic examination. After that, they made me a treatment plan: interventional therapy + radiotherapy. I was so nervous when taking the 1st interventional therapy, but which turned out to be good. The whole procedure only lasted for 30 minutes or so and I didn't even feel any pain. However, some side effects showed up later. I got ulcer in the mouth. Sore throat, not able to ate anything, couldn't sleep well at night. I was so depressed at that time, not knowing what to do, but my sister and daughter kept encouraging me. Exactly at that time, I was acquainted with Ly Sen who comes from Cambodia, too. He went to Vietnam for treatments before, where doctors gave medication only. But he stopped taking the pills 10 days later due to severe side effects. After hospitalized in Modern Cancer Hospital Guangzhou, he took cryotherapy, which shrank the tumor effectively. His experience made me more confident. After a period of treatment, the discomforts disappeared gradually, and my obstructed nose got free as expected.
Feeling better and better, the second follow-up revealed the tumor size decreased obviously in my nose and it even disappeared in the third follow-up. I am so grateful to Modern Cancer Hospital Guangzhou. I used to be so afraid of cancer but now I am not, as I received good therapeutic effect. I hope other cancer patients will not give up treatments, too. Adhering to positive treatment is critically important.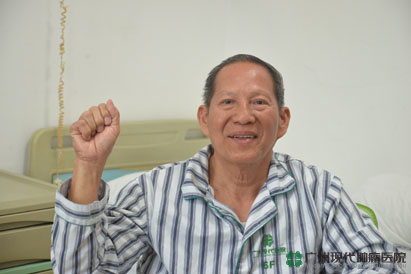 Tong Peav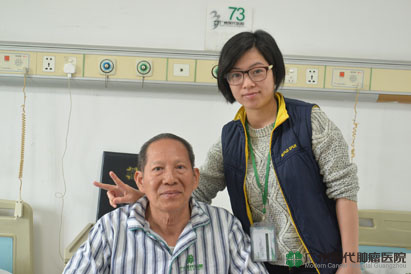 Tong peve and the medical staff
If you have any questions, please contact us via online consultation, email or phone call. If you find our website useful, please follow our FaceBook and YouTube, health information will be updated regularly.
Online Inquiry
CLICK HERE!
Let's Have A Healthy Life!
Video
To show you
what is cancer by
videos
Chatting on Facebook

Become a fan of us!
+Follow
We are waiting for you.