ANACLETO LABIS:My Prolonged Life
Name: ANACLETO LABIS
Nationality: Philippine
Preoperative Diagnosis: Stomach in low grade Type B cell Non-Hodgkin lymphoma at stage IV with infiltration of right lung
I am ANACLETO LABIS, from Manila, Philippine. Before I am retired I was a bank manager. I loved my job and I had worked for 27 years. I was optimistic towards life but last year a medical report of gastroscopic biopsy brought me into sadness.
I remembered one day in 2013, my excrement suddenly became black with blood. Firstly I thought it was due to the fast pace of life and unhealthy living habits because I smoked and sometimes drank. Thus, I stopped smoking and drinking wine but the condition did not improve. My wife suggested me to take an inspection at hospital because my wife was also a doctor. I took gastroscopic biopsy and doctor found out that there was a tumor in my stomach. I can't accept this result so I went to another hospital, St. Luke, to take PET-CT. I also was diagnosed with stomach cancer. The doctors at Philippine suggested me to take surgery but I refused because I can not accept the result that my stomach was removed. Thus, my families and I had to look for another suitable therapy.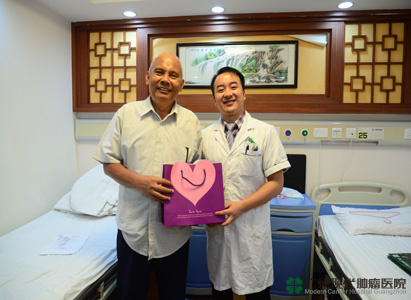 I accidentally knew Modern Cancer Hospital Guangzhou at the Phil Star Magazine and I was impressed by its minimally invasive therapies. So I told my wife because my wife was a doctor and she can give me professional suggestions. She suggested me to make a call and consult Manila Office. Dr. Lim at Manila Office introduced minimally invasive therapies with details and Dr. Lim told me that if I took minimally invasive therapy, which was with small trauma and painless, I can avoid taking operation. What Dr. Lim said gave me confidence. I also brought my medical reports and discussed with Dr. Lim. Dr. Lim found out that my tumor had already infiltrated to lung which Philippine doctors didn't find out. I told my families and my wife and son suggested me to Modern Cancer Hospital Guangzhou to receive therapy. I began my therapy at Modern Cancer Hospital Guangzhou and hoped to regain health.
So far I have received six times therapies at Modern Cancer Hospital. My niece accompanied me to go Modern Cancer Hospital Guangzhou once and I came to here alone for the rest of times. I met many Philippine cancer patients here and we always shared the anticancer experience. Though I took therapies far away from my home, I did not feel lonely because the medical staffs were friendly. I never thought I was a cancer patient here and I lived a happy day everyday except that I had to lie on bed for 24 hours after interventional therapy. Usually, I did not need to lie on bed and I did not need my families to accompany me. I called my families at Manila everyday and told them that I had been good in the hospital. I listened to music and watched TV for the rest of time. If I need any help, the nurses and interpreters would help me.
I totally took six times of interventional therapies and three times immunotherapies. The process of therapies was relaxed and painless. I only felt painful when the nurse gave me injection everyday but it was tolerable. Good mood helped time go fast. For now, I have received six times therapies at Modern Cancer Hospital Guangzhou. Every time I completed my therapy, I got surprised that my condition had been improved a lot. When the doctors told that the infiltrated tumor in lung had gone, I was thrilled. Next time I only needed to treat the tumor in my stomach. Especially after the fourth therapy, not only the symptom of pain gradually relieved but also my physical fitness was better than before. My appetite was better and ate more. I also gained a lot of weight and my face was ruddy. I felt energetic and looked like as the normal.
When I first came to Modern Cancer Hospital Guangzhou, I measure my life in days. After the sixth therapies, my condition was improved a lot. Especially for a cancer patient at stage IV, it was a miracle and also a best luck. In my difficult time, I accidentally knew this hospital which helped me avoid the pain of operation and trauma of radiotherapy and chemotherapy. Without any toxic side-effects, I regained my health. I believe only when we choose the suitable therapeutic regimen, keep optimistic, build up enough confidence and stick to the end, life will be held on your hands. At here, I share my anticancer experience and my thought and hope every cancer patient can regain health. Enjoy your life!
If you have any questions, please contact us via online consultation, email or phone call. If you find our website useful, please follow our FaceBook and YouTube, health information will be updated regularly.
Online Inquiry
CLICK HERE!
Let's Have A Healthy Life!
Video
To show you
what is cancer by
videos
Chatting on Facebook

Become a fan of us!
+Follow
We are waiting for you.