Care First, Excellence Next---A voice from a cerebral infarction patient
  Modern Cancer Hospital Guangzhou recently has hospitalized a 67 -year-old patient surnamed Li with cerebral infarction. Two days before hospitalization, the patient felt dizziness and weakness, and had ataxia, mouth askew, loss of appetite and slurred speech. Director Jiang Xilin studied his case and suspected cerebral infarction. After blood abstraction and CT examination, it was confirmed as cerebral infarction, therefore, Director Jiang Xilin immediately performed TCM and Western medicine treatment for him and it gained efficacy significantly. After two days of hospitalization, the patient has returned to normal and currently stayed stable condition.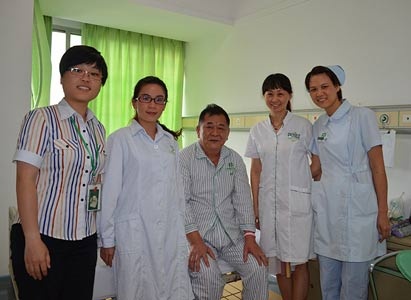 It is reported that, in the event of cerebral infarction, the brain cells located in central area of infarct location would experience irreversible damage; if left untreated timely, it will lead to local brain tissue necrosis. Besides, patients shall remember that the sooner the better treatment for cerebral infarction.
  The patient was very touched by the hospital. When the leadership of Modern Cancer Hospital Guangzhou and the author visited Mr. Li, he said sincerely, "Modern Cancer Hospital Guangzhou really deserves its reputation. I was really moved that Director Jiang personally helped me move into the 6th floor; the nurses were very careful and enthusiastic, which made me feel like I was living in my own home. Before treatment, doctors and nurses explained clearly and answered all my questions patiently. After all, the services of this hospital are really good." Mr. Li also said: "I have been very trusting Modern Cancer Hospital Guangzhou, and even I told my relatives and friends including the neighbors that as long as they need to see a doctor, Modern Cancer Hospital Guangzhou shall be regarded as the first choice!? Why should we choose this hospital? First, the therapeutic effect is good, as you can see, every time I would ask Director Jiang to help me as both his skill and ethnic are good; second, the service level is good: doctors and nurses are so patient and careful. All these have contributed my efforts to introduce this hospital to more patients."
  Medicine practice is a process, while the demeanor of medical staff reflects not only the ethics, but also the inherent character. During the process, patients concern not only medical outcomes, but also pay more attention to the feelings of inner heart. Director Jiang Xilin usually says: "As a physician, we shall pay attention to details, care for patients to understand their pain, and constantly strive to do a good job, exceeding their expectations to try to achieve excellence, only through this way, we shall be able to gain patients' gratitude and respect."
  The medical staff of Modern Cancer Hospital Guangzhou emphasize communication with patients, and strengthen humanistic care, and have brought humane services and personalized service philosophy to the patients, as their execution culture is "Work with Devotion, work with Love".
If you have any questions, please contact us via online consultation, email or phone call. If you find our website useful, please follow our FaceBook and YouTube, health information will be updated regularly.
Online Inquiry
CLICK HERE!
Let's Have A Healthy Life!
Video
To show you
what is cancer by
videos
Chatting on Facebook

Become a fan of us!
+Follow
We are waiting for you.