P.PHITHAKDECHATHANAKIT from Thailand: I Trust Modern Cancer Hospital Guangzhou
  83 years old P.PHITHAKDECHATHANAKIT is from Bangkok, Thailand. He should have been enjoying the family happiness and living a dignity old age. However, the ruthless disease attacked him like an unexpected storm. In May 2013, due to a mass in the gum of the left lower jaw, he went to a local hospital for examination and was diagnosed with gingival squamous carcinoma. This unexpected news cast a haze onto the family that used to be full of happiness.
  Refused surgery only to find better cancer hospital
  After being diagnosed with cancer, he has gone to many local hospitals, where all the doctors advised him to do a surgery but he refused. At the same time, his family also has been looking for better cancer hospital for him. Eventually, all hard work pays off. He occasionally saw in the newspaper the report of Modern Cancer Hospital Guangzhou and learned that it is a cancer specialized hospital with advanced cancer treatment technology and individualized services. After consultation and investigation, he decided to go to Modern Cancer Hospital Guangzhou and started the road of oversea treatment.
  Trust on Modern Cancer Hospital Guangzhou strengthened his confidence to treatment
  After the treatment in Modern Cancer Hospital Guangzhou, he gained very good effect. Now, he can open wide his month, speak loudly and maintain a good mental status, which make him very happy. "During my hospitalization, all the doctors and nurses were very concerned about and responsible for me, especially Chief Physician Dr. Dai and Dr. Lai. They thoroughly learned about my condition and patiently told me the cautions. In a word, I benefited a lot during my hospitalization and my confidence towards the treatment was strengthened." P.PHITHAKDECHATHANAKIT unreservedly expressed his praise to the medical staffs of Modern Cancer Hospital Guangzhou, and even the environment there, "Modern Cancer Hospital Guangzhou is a good place for rest and treatment. It is located in the foot of Baiyun Mountain, with fresh air, sufficient sunshine and good ventilation."
  Optimistic attitude reinforced his faith of anti-cancer
  During the interview, his optimistic smile and confident words affected all people present. Diagnosed with cancer, he did not show any fear or helplessness. He said he had gone through many ups and downs during his life and that cancer is only a tiny difficulty for him, of which there is no need to be scared. A good attitude is an effective medicine for anti-cancer. During his hospitalization, he often actively took part in the activities of the hospital and did some reading every day. 83 years old as he is, he still continues study. After arriving in Guangzhou, he specially went to the bookshop and bought a few books. "It's never too late to learn", this can appropriately describe his action.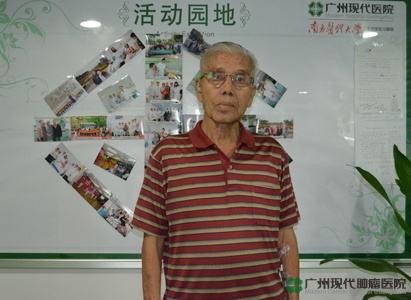 P.PHITHAKDECHATHANAKIT was taking treatment in Modern Cancer Hospital Guangzhou
If you have any questions, please contact us via online consultation, email or phone call. If you find our website useful, please follow our FaceBook and YouTube, health information will be updated regularly.
Online Inquiry
CLICK HERE!
Let's Have A Healthy Life!
Video
To show you
what is cancer by
videos
Chatting on Facebook

Become a fan of us!
+Follow
We are waiting for you.